Firehouse Subs
Address:
  Multiple. Check
WEBSITE
.
Cost:  Not McDonald's prices, but better food and reasonably priced.  Check the MENU.
Appropriate Age:   Any age.
Our Review:  Today at lunch time, the kids and were driving through Houston talking about what we should eat. We drove past a Firehouse Sub sign, and my 2 year old  said, "Oh, Firehouse Subs.  I love it there.".   So, there you have it.  We pulled in to Firehouse Subs.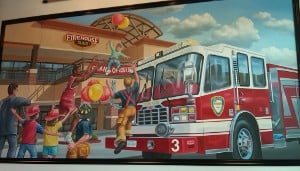 Firehouse Subs was founded by Firemen and each location has it's own unique fireman decor. From what I know, they all have a unique mural (and we always need to sit right in front of it).  There are also jackets and boots and tools and… It's really a lot of fun for my 2 and 4 year old firemen.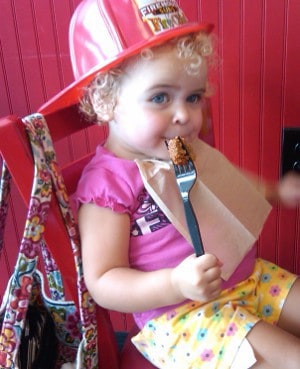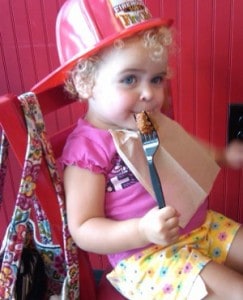 The kid's meal includes a small sub, Oreos, drink and fireman hat for $3.69. I wish they offered milk, but my son is thrilled to get the cherry lime aid from the soda fountain. Some locations let you swap the Oreos for chips.  I usually get the veggie sub combo meal with a cookie and giant ice tea.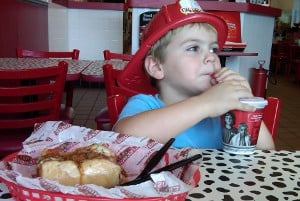 Check your local Firehouse Subs for promotions. Some have free birthday lunches when you show an ID and others let kids eat free on Sundays. All location have a free rewards program. Ask for your card to start earning a free combo.