So what if you send your child to preschool with great expectations that he will be well loved and nurtured as a young learner... but instead he is ignored, mistreated and his self confidence disappears bit by bit?
How awful would it be if you noticed these changes in your child but he could not communicate exactly what was happening and you were not at school each day to see for yourself? And what if you did not have the financial resources to transfer your young student once you were certain he was in a bad environment?
Read the story of Houston mom Allison Falender, her passion for the Collaborative for Children and how they are bringing child care education experts into existing child care centers in high risk neighborhoods!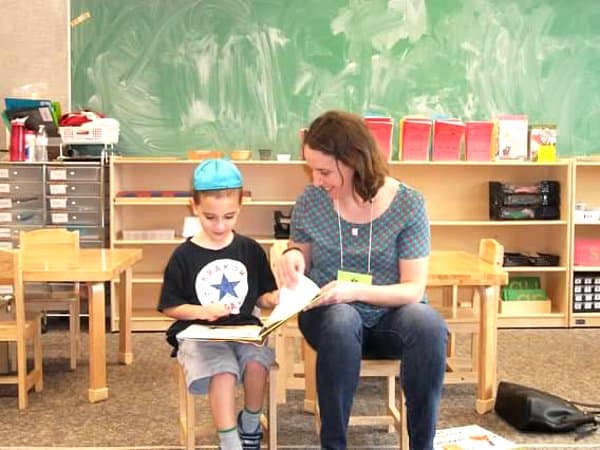 Our Son's Story
My husband and I are the parents of three boys, ages eight, five and one. In the fall of 2013, my middle son started his second year at one of the most prestigious child cares in Houston. We had every expectation his educational experience would be positive since the previous year went well and our oldest son excelled there a few years before.
You can imagine our surprise, then, when we realized the teachers for the 2 year old class were treating him harshly. We did what we could to improve the situation—parent/teacher meetings, pep talks, discussions with the head of the school—but nothing changed. We weren't sure if this was due to a lack of understanding on behalf of the school on how to help children thrive, bad hiring choices or what, but by the end of the year, my son had stopped talking and was afraid of adults. We had essentially lost a year of our son's education and his self-esteem hung in the balance.
But wait—this story has a good ending! First, we removed our son from the school he was in and placed him in a child care environment where, because of a far better fit and curriculum adapted to helping young children learn and grow, he thrived. Most importantly, we spent a lot of time loving and working with him. In the end, it paid off: He will start kindergarten in the fall as a happy well-adjusted child reading and writing in both English and Russian.
Why Collaborative for Children?
We are grateful we got our son back on track but doing so required financial resources and parents who are fortunately able to advocate for him. Not all children have this support and statistics lay bare the unfortunate impact on their lives and our community.
For instance, 60% of children starting kindergarten in Houston cannot identify all the letters of the alphabet and 78% cannot recognize numbers. Those children start school with a huge disadvantage. If they are not able to catch up by third grade, research shows they are four times more likely to drop out of high school. They'll be 40% more likely to become a teen parent and 70% more likely to be arrested for committing a violent crime.
These statistics as reported by Early Matters, combined with our personal experience, developed in me a passion for helping young children access the highest quality education possible. After doing some research I realized that Collaborative for Children is a powerful ally for parents, educators and others who share this goal.
The word "collaborative" is very telling—this 501c3 nonprofit works alongside childhood educators, families, local leaders and others to positively influence the lives of young children. College Bound from Birth, the Collaborative for Children's unique flagship program, brings child care education experts into existing child care centers in high risk neighborhoods and transforms those child care centers to meet the highest standards.
I started volunteering Collaborative for Children 18 months ago. Since then, I have seen incredible transformations occur at child care centers large and small, new and old. Children who participated in the first College Bound from Birth program in 2008, for example, are now achieving outstanding test scores in their Houston Independent School District schools. Their scores are significantly higher than their neighborhood peers who did not have access to the benefits of the program.
How You Can Get Involved
There is a lot you can do to ensure Houston's children have the opportunity for a good early childhood education. Three ideas are below:
1. Support the Collaborative for Children financially. Every $1 invested in early childhood education can save $8 in long-term costs associated with remedial education, criminal justice and welfare payments. Our annual Circle of Friends community campaign just kicked off and we have ambitious goals. Supporters can make a donation by clicking HERE.
2. Raise awareness about this important cause! Write a letter to your state legislator about the importance of early childhood education. Let them know that you vote and this is important to you.
3. Identify creative ways that your community can support the Collaborative for Children. Could you organize a small fundraiser with your play groups? Could your community adopt an early childhood education center?
My son is thriving, and I couldn't be more proud. My husband and I knew what to look for and we knew we had to move him to a better situation than his first child care experience. Many families in Houston don't have that knowledge, or those options. Let's help make quality child care accessible to ALL Houston children so our next generation will be prepared to succeed in school and life.