Sad news!  This Farmers Market has been cancelled!  There just wasn't enough traffic to keep it going.
********
Montrose finally has a farmers market!  We've been waiting and waiting for this day!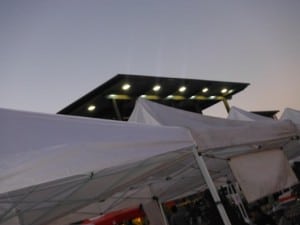 On the 2nd and 4th Thursdays of each month, from 3:00-7:00pm, the HEB Montrose Market will host a Farmers Market in the side parking lot.
The Farmers Market kicked off on January 10, 2013 with about 10 booths with local produce and wares.
In our normal style, the kids and I made a loop of the entire market, trying samples at each booth, before deciding on our purchases.  At the end, the kids declared 3 winners.  The favorites were:  Cin Chili & Co., Lavande and Swede Farm.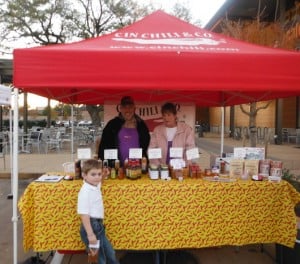 Cin Chili & Co.sells chili, hot sauces, rubs, seasonings and barbeque sauce.  And, usually, spicy things just make me sweat and cry.  That said, we tried the Haute Knots and my kids loved them.  The pretzels were coated in spices, but they were not spicy.
The little bag was $2.00 and lasted us about 5 seconds.  Next time we need to buy the economy sized Haute Knots!
For those of you that are more brave, try the chili mix or the hot sauces.  With 3 Texas born children, I'm sure we'll be buying these someday soon.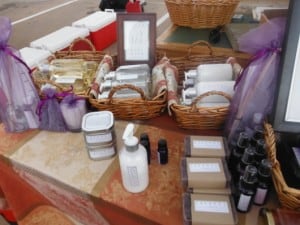 Another winner was Lavande, with all things Lavender.  This was the best smelling booth at the farmers market.
Lavande has soaps, lotions, sprays, lavender for cooking and so much more.  According to the farmer, mosquitoes are repelled by lavender as long as it is on all exposed skin.  The Mosquito Spray is $11 for the big bottle, contains grain alcohol and lavender and is completely chemical free.  To prove that it is safe, Farmer Craig sprayed it in his mouth.  In this mouth!  That was an effective strategy because we bought a bottle!  (We'll report back on what the mosquitoes say about it.)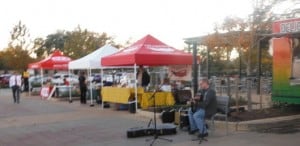 Since the kids were fighting over our first lavender purchase and I really wanted my own item, I purchased the Linen Spray for $11.  It contains lavender, peppermint and eucalyptus oils.  The farmer suggested that I store it in the fridge and use it as a cool morning wake up spray.  This I have done and I LOVE it.  And I've sprayed it all over my house.  The lavender smell is way better than the kid smell.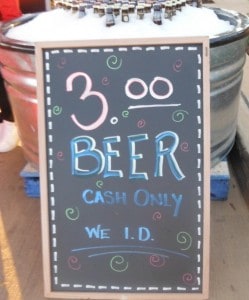 To make Lavande even better, the farm is open to the public.  The farm is located between Houston and Austin in Bellville.  Go HERE for information on tours, events and to pick your own lavender!
It is a happy coincidence that our 3rd and final winner from the farmers market is Swede Farms and they also open their farm to the public!
Swede Farm sells goat milk, cheese, yogurt and soap.  My kids were sold on the chocolate goat milk.  Each bottle is $5 and includes pasteurized goat milk and a finely chopped candy bar.  This ice cold drink was gone in a few minutes.
What I liked best was that we were invited to visit the farm.  By just making an appointment, you can visit the farm, for free, in Waller, Texas.  Go HERE to learn more.
At the farmers market you will also find live music, the HEB food truck and $3.00 beer.  Be sure to visit every 2nd and 4th Thursday of the month!