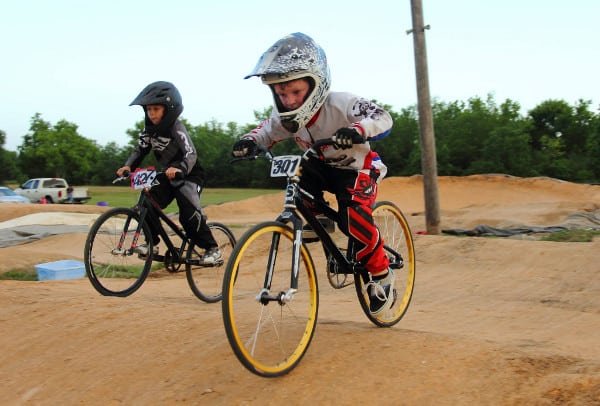 If your children can walk, they can race BMX with the entire family. This information comes from Houston dad, Daryl!
First, the best thing about BMX is you get to participate and have fun from day one.
We currently have a few tracks in the Houston area, including Rockstar Energy Bike Park, Pearland BMX and Katy BMX.
To get started you need a BMX style bike (and it can be used, cheap, or expensive). The track does have a few loaners but you have to get there when they open.
Bikes are sized to the rider. From micro mini up to Pro XXL. Kids can even start on strider/balance bikes and move up from there.
For safety a helmet ( full face recommended) , long pants (jeans or other sports pants) and long sleeve shirt is required. (Short sleeves are okay with elbow pads.)
New riders are giving a one day pass for free, after that you have to become a member of USA BMX (best done at local track so they get credit).
Tracks usually have a practice night for $5-7 and a race night including practice for $10-12.
The best thing to do is come out to a race and watch and talk to people and ask any questions you have. You will find people there are very friendly and happy to help get you started.
Any other questions don't hesitate to ask in the comments!