El Real – Our Search for Houston's Best Restaurants for Kids!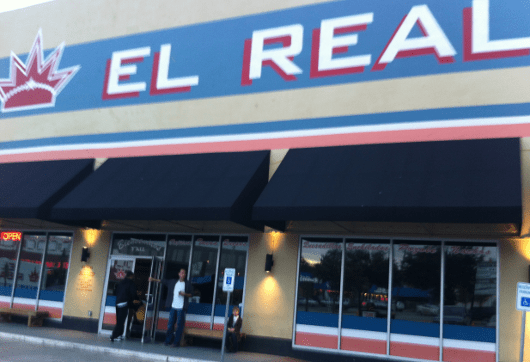 Location:
1202 Westheimer Houston TX 77006
Age Appropriate:
All ages
Price:
$-$$
I'm Juliette! My husband, my 6-year-old and I love going out to eat and we are sharing our restaurant finds with you.
El Real in Montrose is our pick for this week. I drive by it everyday on my way to work and I keep telling myself that we have to go!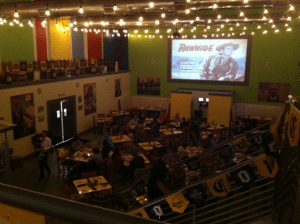 I love the decor, it is classic Mexican style. Their first huge room has a wall with funky chairs and a big screen showing old cowboy movies in black and white (a nice change from sports!).  They have a small patio overlooking Westheimer and a second floor, where we sat. Their bathrooms are clean and well-equipped.
The atmosphere is casual and the lightning is dim and intimate. A highlight is the little booth where they make the tortillas, my son loves watching them being made.
Ah the tortillas!!!! This is why we went back! We all remembered how good they were and we were not disappointed on Saturday! They are unique, fluffy and fresh.
Their menu offers the staples of Tex-Mex restaurant with a twist. Their puffy taco for instance is not your everyday taco. They use a soft flour tortilla that they fry: the result is mouth-watering! I picked beef fajitas, my husband the Leo's platter and my son chose the fluffy (soft) taco from the children menu.
We snacked on their complimentary and delicious ( and addictive) chips while we waited for our dinner. Everything was tasty, flavorful and fresh and we cleaned our plates. My son impressed me with his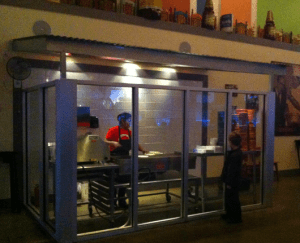 innate ability to eat tacos and really enjoyed his dinner.
They also offer great desserts but we could not eat one more bite so let me know what you think of their tres leches if you go. We did try their house margarita, a success too.
So whenever you feel like a real Tex-Mex meal (they are open all day!) head to El Real, you and your taste buds will be happy you did!
See you next week for our next culinary adventure!