Fuddruckers – BigKidSmallCity's Search for Houston's Best Kid Friendly Restaurants!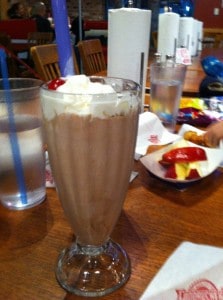 Location: 3929 Southwest freeway Houston Tx 77027
Age Appropriate: All ages!
Price: $
Hi, I'm Juliette! My husband, my 6-year-old and I love going out to eat and we are sharing our restaurant finds with you.
This week, we played it safe and went to an old faithful place: Fuddruckers (by 59 and Buffalo Speedway). When we started going there, the decor was really fun: a return to the 50's. It has since changed to a more subtle Americana look. It is more subdued for sure!
There is a big room with big Tvs and a smaller room with video games and other games. It is casual and clean and the bathrooms are well equipped for children.  They have some round tables that are a little sheltered and with banquettes, always a favorite with my son.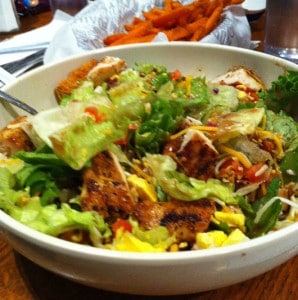 You order, pay and then you wait for your buzzer to ring and go pick up your dinner.  Their hamburgers are really fresh and they are very open about the quality of their meat. You get to choose the weight of your burger and how you want it cooked.
My husband chose the 3-cheese burger with bacon and I chose a chef salad (most of the entrees are around $8.00). Our son had just eaten pizza at a birthday party so he snacked on my croutons and I ordered him a side of sliced apples.
And of course we had to have the house specialty: their (chocolate) milkshake! It is always delicious, rich and creamy.
Fuddruckers has a topping bar where you put your dressing on your burgers and they have something for everyone: salad (leaves or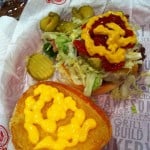 shredded), sliced pickles or relish… You can see the different toppings my husband put on his hamburger.
My salad was really good, it was fresh, the balsamic vinaigrette was delicious and it is a full meal.
We left full and happy, probably the effects of the chocolate shake and I hope your family will feel the same if you try Fuddruckers for your next outing!
See you next week for our next culinary adventure!