Buddy Carruth Playground for All Children at Hermann Park – Visiting Houston's Parks, One Week at a Time
Address:  Hermann Park, 6001 Fannin St, Houston, TX ‎
Cost:  Free!
Appropriate Age:  Any age!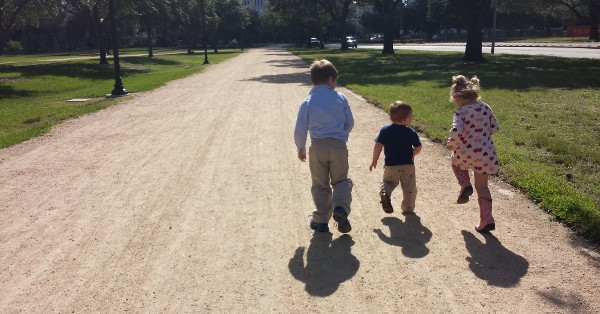 Hermann Park is one of my most favorite places in Houston. There are a ton of things to do, most of them are free and the park is just beautiful.
We often make plans to visit the playground, park, gardens, theatre, lake, pedal boats, train or zoo.  More often than this, when we find a little extra time but can't decide what to do, we just head to Hermann Park.  With so much going on, we are never disappointed.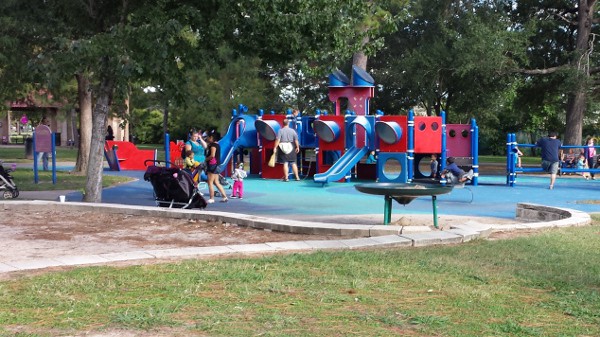 One part of Hermann Park is the Buddy Carruth Playground for All Children.  This playground is on the west side of the park and includes 3 play areas plus a splash pad.  Most of the equipment is accessible to children with disabilities.
This side of Hermann Park, with the play structures, has pavilions for parties, bathrooms, lots of open space.  It also has a train stop.  If you board at Kinder Station, by the Zoo, you can jump off at this stop.  Or, if you are at the park, you can jump on the train for free and ride back to Kinder Station.  (To depart from Kinder Station, you need to buy a ticket.  At any other stop you can jump on for free, as long as there is space.)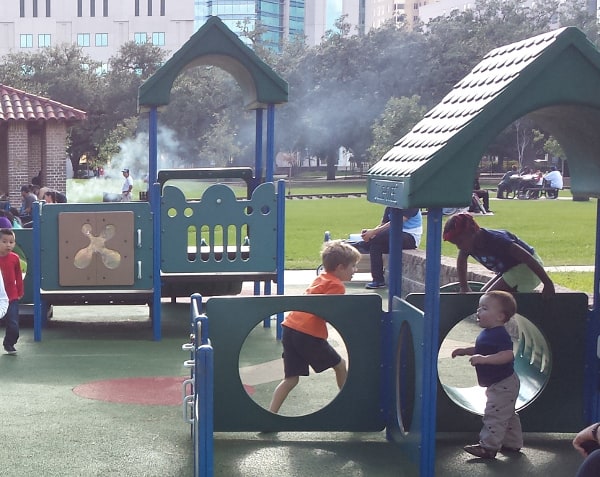 There is a toddler playground that is low to the ground and has several little houses for the little kids to explore.  For bigger kids, there is another area with play structure, sandbox, spring riders, bars, swings and a tire swing that everyone wanted to try.
And then there was the best play area.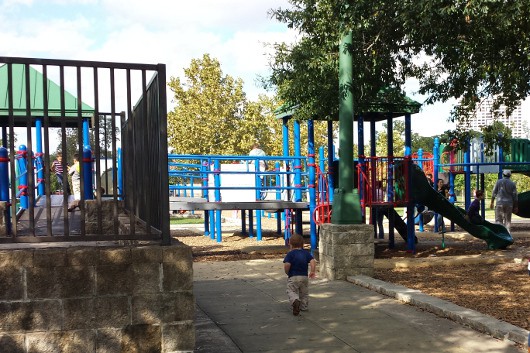 The biggest play area had zip lines, slides, bridges, bars, swings, balance beams and everything a kid could want.  This playground is good for the big kids, but my younger ones also liked it best.  They all spent an hour running, jumping, sliding and swinging.
There are a few benches for parents and plenty of space for a picnic blanket.  But, I do not think you will be able to sit.
Although my kids love this playground, it's not perfect for parents.  First, the play structures are in a big open space and there is nothing to contain the kids.  I could almost trust my 6 and 4 year old to stay close, but my 2 year old required constant chasing.
Also, the play structure is so big, that it is a little difficult to know where the littlest ones have gone up or down, unless you are constantly on their heels.
And finally, everyone in Houston seems to love this playground.  On the weekends we have been there, there have been a lot of kids running around.  The park can handle the numbers fine, but the chaos makes it even harder to watch the little kids.
So, my review is that I do like the playground but it is not for a lazy weekend afternoon.  If we go on a weekend, I have to be prepared to dart in and out of playground equipment to be sure my 2 year old does not disappear.
That said, I LOVE Hermann Park on any day of the week.  If the playground is just too crazy, I suggest walking around the trail, visiting the Japanese Garden, taking a train ride, feeding the ducks, renting a pedal boat or visiting the zoo.
View Larger Map