Roland Chavez, Candidate for Houston City Council At-Large Position 3, Interviewed by Houston Kids Ages 4-7 (Non-Political, Non-Partisan)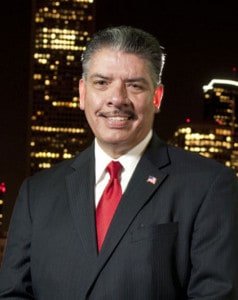 During this election season, BigKidSmallCity is getting to know the candidates in the City of Houston election.  Our goal in our non-partisan, non-political research is to help Houston kids better understand the political process.
This is not for political purposes or endorsement.  This is however, for kids.
Aylen (7), Joe (6), Senia (5) and Brooke (4) created the questions and I edited for clarity.  Below is the interview with Roland Chavez, Candidate for Houston City Council At-Large Position 3!
***
1.  What does a city council member do?
A City Council Member works with others to make sure the citizens are safe, neighborhoods are safe and clean, and that the city has enough jobs so people can find work to help out their families.
2.  What do you do to get elected?
I will try introduce myself to people all over this city so voters can decide if they would like to support me because of my hard work wanting to help people and because of my knowledge of the city.
3.  What do you like to do in Houston?
I like to travel to all parts of Houston and see the different attractions the area has to offer. The parks, the museums, the many festivals, parades, the different foods, and the seasonal events
4.  What is your favorite thing about Houston?
The history of Houston. My father was born here and my family still lives in the original area my father was raised as a child. I can remember what the city looked like as a child and how it has grown today. I love the history of this beautiful city.
5.  What is your favorite Houston annual event?
All the Christmas events, and how the city lights up during Christmas.  It also reminds me of being a child again enjoying everyone and the children all having fun and learning the true meaning about giving and Christmas.
***
For kid-friendly reviews of the Houston City Elections, go HERE.
If you are a candidate and have not filled out a questionnaire or set up a meeting, please contact me at Jill @ BigKidSmallCity.com.