Don Cook, Candidate for Houston Mayor, Interviewed by Houston Kids Ages 4-7 (Non-Political, Non-Partisan)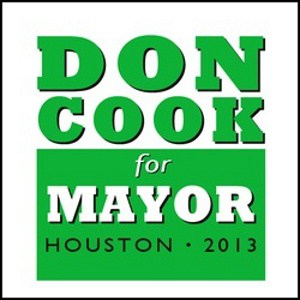 During this election season, BigKidSmallCity is getting to know the candidates in the City of Houston election.  Our goal in our non-partisan, non-political research is to help Houston kids better understand the political process.
This is not for political purposes or endorsement.  This is however, for kids.  Aylen (7), Joe (6), Senia (5) and Brooke (4) created the questions and I edited for clarity.  Below is the interview with Don Cook, Candidate for Houston Mayor!
***
1.  What does the mayor do?
The Mayor is the head elected official in city governments which have mayors, as most (but not all) cities do.  Since the only purpose of government is to help the people, the mayor then tries to organize and encourage other elected officials (city council members)
To change laws (write and pass new laws, or get rid of old laws that aren't working out) to laws that help the people better.  This may sound easy, but writing good laws can sometimes be very complicated. Then the mayor and the other elected city officials supervise city employees such as the police, garbage collectors, recycle materials collectors, street repairers, parks maintainers, city taxes collectors, money (or budget) supervisors, and so on to make sure they do what they are supposed to do and follow the laws, including the ones we might have recently changed.
2.  What do you do to get elected?
You try to tell all the people what you will do to help them if you are elected, so they will see that you can help them better than any of the other candidates, and vote for you.  If you get over half the votes in Houston city elections, you win.  Sometimes neither of the two persons with the most votes have over half, and we have to have what is called a 
runoff election
 between the two top vote winners.
3.  What do you like to do in Houston?
Lots of things, but mostly I like to walk, talk with, play with, work with, dance with, eat with, sing with, and help the people of Houston.
4.  What is your favorite thing about Houston?
The people of Houston are the thing I like best about Houston, and being able to do the things I just listed, plus stuff I forgot to mention, in question three with them.
5.  What is your favorite Houston annual event?
The annual November election for various offices and propositions (propositions mean laws) is my favorite annual event in Houston, because I and the other people of Houston then get to directly be government "of, by, and for the people," as someone famous once phrased it, when we vote.
***
For kid-friendly reviews of the Houston City Elections, go HERE.
If you are a candidate and have not filled out a questionnaire or set up a meeting, please contact me at Jill @ BigKidSmallCity.com.