C.O. "Brad" Bradford, Incumbent Candidate for Houston City Council At-Large Position 4, Interviewed by Houston Kids Ages 4-7 (Non-Political, Non-Partisan)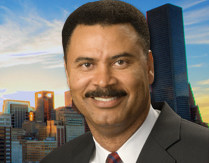 During this election season, BigKidSmallCity is getting to know the candidates in the City of Houston election.  Our goal in our non-partisan, non-political research is to help Houston kids better understand the political process.
This is not for political purposes or endorsement.  This is however, for kids.
Aylen (7), Joe (6), Senia (5) and Brooke (4) created the questions and I edited for clarity.  Below is the interview with C.O. "Brad" Bradford, Incumbent Candidate for Houston City Council At-Large Position 4!
***
1.  What does a city council member do?
City Council is the legislative body for the City of Houston. Along with the Mayor, City Council members make policies and ordinances to help keep our City safe, repair streets, pick up garbage, ensure the quality of our water and develop the City's budget each year. Council members talk to and meet with citizens to determine what other problems or concerns need to be addressed in their neighborhoods.
2.  What do you do to get elected?
I talk to and communicate with citizens just like you and others. People like you with websites and other forums help me to get my message to Houston residents. I explain my position as a candidate as trying to help our youth with after-school programs and summer job opportunities. Our streets must be kept safe and many repairs are needed. Also, our senior citizens need relief too from some of the fees, taxes and permitting requirements that the city of Houston has placed on them.
3.  What do you like to do in Houston?
I like Houston's parks, zoo, museums, restaurants, schools, colleges and universities. Houston is a beautiful City. I talk to students, just like you, and others about staying in school, studying hard, having fun and learning about Texas and the rest of the world. As a police officer and attorney, I like to talk with students and adults about safety measures they should take around their home, school and businesses.
4.  What is your favorite thing about Houston?
Houston is a very large City with a variety of events and opportunities for everyone.
5.  What is your favorite Houston annual event?
The Houston Livestock Show and Rodeo is my favorite annual event in Houston. I have participated and held a Lifetime membership for over fifteen (15) years.
***
For kid-friendly reviews of the Houston City Elections, go HERE.
If you are a candidate and have not filled out a questionnaire or set up a meeting, please contact me at Jill @ BigKidSmallCity.com.