CLOSED: Amazon Grill – BigKidSmallCity's Search for Houston's Best Restaurants for Kids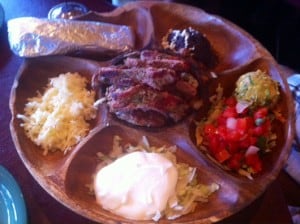 Address:  5114 Kirby Dr, Houston TX 77098
Hours:
M-TH: 11am-9pm
F: 11am-10pm
Sat: 11am-10pm
Sun 11am-9pm
(they also deliver!)
Cost:  $-$$
Appropriate Age:  All Ages!
Hi I'm Juliette! My husband, my son, almost 6, and I love going out to eat and we are sharing our restaurant finds with you.
We had family visitors last weekend so we decided to go to one of our favorite restaurants: Amazon Grill. It is owned by the Cordua family who also runs Churrascos and Americas.  Amazon is their very child friendly place!
The atmosphere is lofty, cool and relaxed. They have a patio and a kind of sunroom that can be reserved for parties. Their bathroom is spacious and has a changing table.
If you ask my son the best things about Amazon he would say the free plantain chips as appetizers and the tres leches cake. We all love tres leches and this is our favorite, I hope it will become yours too!
We ordered the Beef Taquito kit ($14.95) and the chicken taquito kit ($12.95). It is always delicious and fresh and quite copious so we shared with the children. (Amazon also has a children menu). Since it was a special night for us we decided to treat the 4 children to the tabletop Smores ($6.95), which as you might guess, was a huge success. While they were enjoying their desserts, we took our time to savor every bite of our Tres Leches ($5.00)… How much nicer can life be? Not much if you ask anyone from our party that night!
So we hope you will give Amazon a try and let us know if this restaurant has also become one of your favorites!  To see more reviews on Amazon Grill, go HERE!
See you next week for more culinary adventures!