CLOSED: Amazon Grill
Address: 5114 Kirby Drive, Houston, Texas 77098
Cost: Reasonable
Appropriate Age: Any age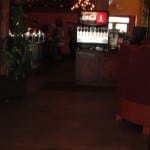 Our Review: Located on Kirby, just south of 59 and north of Bissonnet, Amazon Grill is easy to find. We've been driving by for years and wondering what it was all about. Last Sunday when the, "Where should we go?", question came up, we happened to be driving by and pulled into the lot.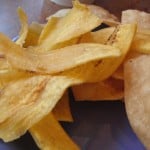 Amazon Grill is a Michael Cordúa restaurant and belongs to the Churrascos, Americas and Artista family. Of these award winning restaurants, Amazon Grill is the family friendly one.  Once at Amazon Grill, I confirmed the family friendly claim. Parking is easy in the big lot and ordering is done right at the counter.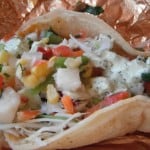 The restaurant made me think of a fancy Berryhill Baja Grill. There is a self serve drink, chip and salsa station and you seat yourself. The difference is that everything, including the decor, meals and even the chips, are fancier at Amazon Grill. Meals seemed to be about $10+ across the menu but were substantial. My favorite difference was the chip station with tortilla and plantain chips.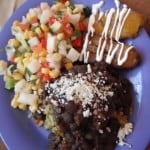 I ordered the Skinny Fish Tacos ($10.95) with grilled fish, jalapeña tartar sauce, crunchy cabbage & pico de gallo, served with cilantro rice, black beans, maduros and vegetables escabeche. The kid plates are all $4.95 and come with french fries or fresh fruit, drink & cotton candy. Joe had the cheese pizza and Brooke had the cheeseburger.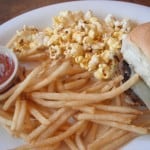 We found a table and highchair, filled up on drinks and chips, and our food was delivered as soon as we sat down. The servings were very generous and the kids were pleased. I had 3 fish tacos and a plate full of toppings, rice and beans.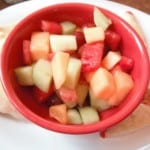 We devoured our food and ate many plates of plantain chips.  The tacos were great but the plantain chips will get me back there again.  The kids liked the huge bowl of fruit and the popcorn that came with the cheeseburger.  I did not see the cotton candy that was advertised, but since my kids had forgotten about it, I did not ask the staff.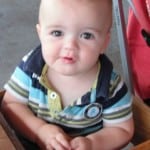 When James had thrown a sufficient number of cheerios on the floor, I did my pick-up routine and we left happy.
The food was good and the restaurant was perfect for families – not too fancy but not too cheesy. We're sure to go again soon. This time I'm signing up for the eclub ahead of time to be sure I get the best deals.