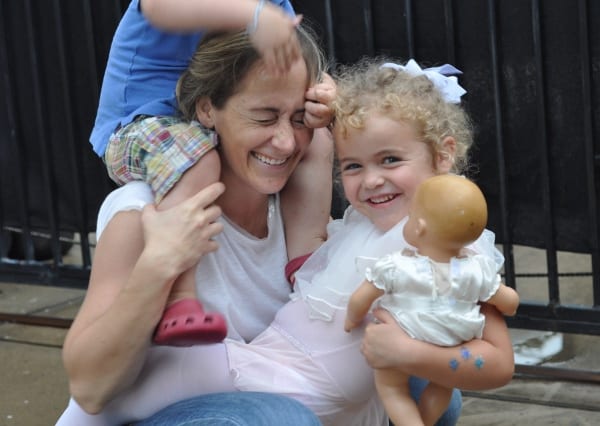 I did it. After 13 years of working as an electrical engineer, after having 3 kids, after returning to work after 3 maternity leaves, after spending 7 years as a full time working mom, and after 3 years as a full time working mom and blogger... I left my career in telecommunications.
For the last 13 years, I have held one of Corporate America's best jobs, at one of its best companies. I had little supervision, lots of responsibility, flexible hours, no dress code and the opportunity to work from home between business trips.
At Qualcomm, I worked as the Technical Account Manager, managing North American customers designing phones and tablets for Verizion, ATT, Sprint and the other carriers. I traveled around the United States and Asia, managing the technical side of designing a device. Working with the west coast and Asia, my mornings were usually free to take the kids to school. Working for a great company, slipping out for an hour long school performance was easy. I had a good job, good pay and an amazing healthcare plan.
The problem was that it never stopped. Designing a phone is easy. The trick is making it small, reliable, with a long battery life, without being hot to the touch... all while being affordable and first to market. The critical issues that must be solved "now", just never stop.
Each night I would clear my inbox, only to wake up with, no exaggeration, 100 new emails from Asia. The day time would bring hundreds more emails, constant conference calls and online troubleshooting. Meetings at 8:00pm and 11:00pm were common. And it just never stopped.
For the last 3 years, I have been managing my job, my family and BigKidSmallCity.com, with the plan of someday leaving Corporate America. BigKidSmallCity.com is now a go-to resource for things to do in Houston with kids, but actually deciding to leave a steady paycheck and a fantastic healthcare plan is hard to do. Until this happened...
Last summer, I was on another 8:00pm conference call. My husband was out and I was attempting to get the kids to sleep between un-muting and talking to the customer. I soon found myself scolding my sick 2 year old, who just wanted to be held, so I could calm down my adult customer that was being unreasonable and loud.
Soon after this meeting, I told my boss I was done.
It is bitter sweet to leave the job I have held since college. I worked for a great company that had the stability that many would love to have. But I've never been passionate about building mobile phones.
For years, my goal was to make BigKidSmallCity.com, and adventures with my kids, my full time career. I'm happy to report that after 3 years, I'm moving in that direction. Despite the uncertainly of not having a guaranteed paycheck, I feel as though a 500 pound weight was lifted off my chest.
BigKidSmallCity.com is part of the bigger BKSC Group. In addition to the website for things to do in Houston, with kids, we are marketing consultants for local businesses, writing several full page advertorials running in the Houston Chronicle (along with other projects).
So here we go... December 2014 marks the start of the full time career that I am passionate about!