At BigKidSmallCity, we believe the more we know about the people of Houston, the smaller our city feels. And who better to meet than a Houston mom and pediatrician that offers on-time appointments, access to the doctor via telephone, text, e-mail, and house calls?!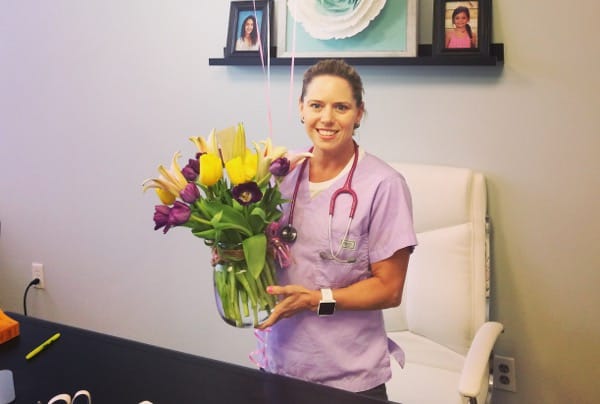 Meet Dr. Alana Kennedy-Nasser of
purePEDIATRICS
! In her own words, she tells us about her family, her medical practice and what she loves about Houston!
Born in Baton Rouge, I quickly made my way to Dallas, Texas as a young girl and as the saying goes, Once a Texan, Always a Texan! I am married and have four amazing kids, two of
which are college-age, one in high school and the youngest in elementary school.
We live in Bellaire and love spending time outdoors and enjoying the local art scene. Our weekends are filled with soccer tournaments, exercising, lunch outings with friends and being with
our family.
In the midst of parenting and working, I earned a Bachelor's Degree in Broadcast Journalism at Southern Methodist University, Go Mustangs! Then, I completed medical school at the
University of Texas in San Antonio, Pediatrics Residency at Tulane University Health Sciences Center in New Orleans, and Pediatric Hematology/Oncology Fellowship at Texas
Children's Hospital (Baylor). After fellowship, I remained as faculty at Texas Children's Hospital for five years as a Bone Marrow Transplant physician, primarily focusing on
patients with high-risk leukemia and lymphoma.
During my time there, I became a passionate patient advocate and was very well acquainted with the families I cared for; everyone has my cell phone on speed dial! The hours were long
and many weekends were spent at the hospital, and soon I realized that I was spending less time taking care of my own family.
In 2013, I ventured out into private practice - aiming to expand my practice to include comprehensive and preventive general pediatrics with the hope to have a much better family-work-life balance. I wanted to be able to volunteer at my children's schools and be a room parent - guilt free! Thanks to a very supportive husband and family, I was able to fulfill this vision and now love what I do.
Tell us about purePEDIATRICS:
I had an epiphany in late 2012; I took my children to their pediatrician, whom I really like, for their well child visits. An astonishing 2 hours later, after being trapped in a small exam
room waiting to see the doctor, seeing her for approximately 7 minutes, waiting to get shots and then waiting to be observed, I realized that I had real questions and concerns that didn't
have time to be addressed by the doctor. I wanted to talk about nutrition and the latest on prevention. I thought to myself: "I am an oncologist! Let's discuss cancer prevention! The
average pediatrician spends less than 10-15 minutes on an annual well-child visit and much shorter times on a sick child visit. I wondered, what if we spent an hour with each patient?
Studies have already been done; the results are clear. Patients are more satisfied, more developmental assessments are done, more time is spent discussing prevention, nutrition
and wellness if we just spent more time with each patient.
What started as a chance encounter at the pediatrician's office resulted in the birth of purePEDIATRICS, a personalized, membership-based pediatric practice in Houston. I started purePEDIATRICS in 2013 and we have grown from a small office in River Oaks to our new office in Bellaire allowing me to walk to work!
I am very grateful to have the opportunity to continue my passion of being a patient advocate for my families here at purePEDIATRICS. Our families love the convenience of scheduling on-time appointments, even the same day, and having access to the doctor via telephone, text, e-mail, or in the convenience of the family's home. Yes, we provide house calls!
The purePEDIATRICS team is committed and dedicated to ensuring every family has the best experience in and out of the office. The average time spent per family is 30 minutes for sick child visits and an hour for well child visits. We also specialize in minimizing pain and fear from procedures, such as shots and blood draws.
In order to provide this high level of service, we are an insurancefree membership-based practice. However, we provide our families the necessary documentation required to submit their insurance claim for reimbursement of procedures and services rendered.
Tells us what you love about Houston:
When we moved to Houston in 2004, we fell in love with the city. To us, Houston is a large city that feels cozy, with a wonderful blend of cultures, art, entertainment, sports and parks
for families and athletes. As an avid runner and triathlete, I spend my "alone" time running or cycling with friends all over Houston and at our extraordinary green spaces. Memorial
Park is my favorite place in Houston because people from all ages and abilities come together for a common goal - to be outside, exercise and enjoy life. Vitamin D is sooooo good
for you!
Tell us your favorite thing to do with kids:
We find green space and use it. We love visiting Memorial Park and the Bayou. We also participate in local activities like Bellaire's Trolley Run, the popular Art Care parade,
Discovery Green and the famous Houston Zoo. With two avid young soccer players in the family, we also spend a tremendous amount of time at either one of their soccer games or
cheering on our favorite professional team, the Dynamo.
Tell us your favorite annual event in Houston:
Houston Marathon! While I have run many marathons, I am definitely a cheerleader at this race. It is great to see so many people come out, make silly signs, drink hot cocoa and stay
warm while cheering on thousands of runners through the streets of Houston. It is nice to see hard work pay off for them.