You know you can get dressed up, go to the grand Wortham Theater and watch the amazing Houston Ballet perform. But did you know that your preschooler can train with them?
When our sponsor, Houston Ballet, told me this, I was intrigued… but is professional technical training too much for little kids? Before I signed up my sweet and silly 5 year old, I decided to ask the experts.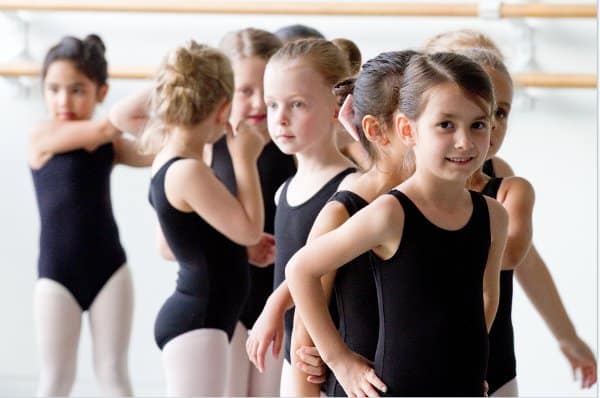 First up was Auroramay Rodriguez, a 5 year old in Pre-Ballet. She said, "I like dancing at the Houston Ballet because it is so much fun because you can do turns. You can dance and you get to wear tutus!".
Her mom, Rita Rodriguez, follow up by saying, "The Houston Ballet preschool program instructors know how to train the children in an extremely fun manner. While terminology is still taught, the students do not realize they are technically training because they're just having fun and learning to love ballet.".
Next I asked Scarlett Solum, a 6 year old in Pre-Ballet. She said, "The Houston Ballet is fun. My favorite steps are plies and tendues. I like having a pianist and seeing the professional dancers in costumes.".
Her mom, Marie Solum, also said, "As a dance teacher and former dancer myself, I am absolutely thrilled that my daughter has the opportunity to attend the Houston Ballet preschool program. I formerly taught my daughter myself, but there is no comparison to learning ballet from high-level professionals.".
So there you have it… turns and tutus, plies and tendues, professional dancers in costume and a love of ballet. The experts love Houston Ballet!
Registration is now open for all Preschool Summer Classes, running June 5 – 17 & August 7 – 19. Check out Houston Ballet's website for all the details.
If you also want to see if Houston Ballet Academy is right for your family, you can attend a week-long Children's Workshop over the summer.
Houston Ballet Academy's Children's Summer Workshops are themed based on popular story ballets in Houston Ballet's repertoire! From June 5 – 9, students can explore movement and musicality based on Artistic Director Stanton Welch's lavish production of La Bayadére.
Children will also be invited to create their own costumes and show off what they've learned for parents at the end of the week. Tuition even includes two tickets to tickets to Houston Ballet's production of La Bayadére at the Wortham Theater Center.
The Children's Workshop section on the Houston Ballet website has all the info.