Houston parents, your daycare and preschool search just got a lot easier. Winnie's new daycare and preschool search helps parents in Houston find quality child care in just a few clicks.
When Anne Halsall, mom of 2, started looking at preschool options for her oldest son, she was at a loss for where to begin. She was new to the area and didn't know other parents who could give personal recommendations.
"I really had no idea where to begin." said Anne. "I knew there had to be tons of great preschools all around me, but I just couldn't find them." Google was no help, as it only brought up the big, popular schools that had long waitlists.
This experience inspired Anne — a software engineer and one of the co-founders of parenting tech startup Winnie — to make the daycare and preschool search process easier for other parents by bringing it online. "At Winnie, we feel strongly that both children's and parent's lives are enriched when they have access to quality childcare and early education opportunities," said Anne. "We want everyone to be able to find this information. That's why we are making it accessible and free to use."
Anne, along with the rest of the team at Winnie, recently launched a comprehensive, searchable and free directory of all the daycares and preschools in Houston. Listings include detailed descriptions, photos, tuition information, availability data and more. And in addition to this wealth of information, Winnie also contains reviews from parents whose children have attended the daycare or preschool. This way even if you don't know someone directly who sent their kids to a specific daycare or preschool, you can still get the inside scoop.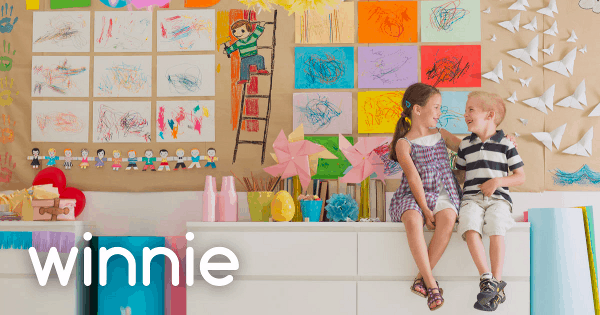 Sophisticated search
One of the reasons we love Winnie's new daycare and preschool search is that it is more than just a listing of all the providers — it's a powerful, fully interactive search tool. You can refine your search with keywords like "montessori" or "bilingual" to find the programs that match exactly what you're looking for. You can even choose to only see daycares and preschools with 8+ hour days, something that is critical for working parents. We also love the interactive map that allows you to zoom to a very specific neighborhood and find providers close to your home or work.
In addition to all the large daycare and preschool facilities, included in the results are small in-home providers that are otherwise extremely hard to find online. In-home providers are a great option many families don't know about where children receive highly individualized care in a home setting.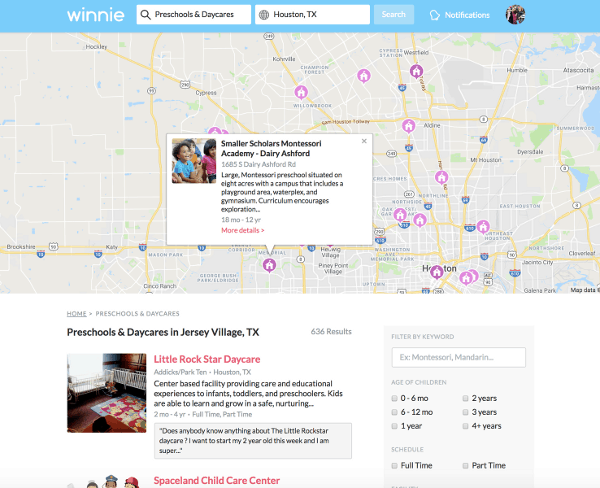 Safety first
One of the most useful features of Winnie's new tool is the link to the licensing database on a daycare's Winnie page under the "Contact Information" section. Click on the license number to be taken to a full report from the Texas Department of Family and Protective Services. All licensed child care providers are inspected regularly and these inspections, along with any complaints filed against the provider, are public information.
What's next
"We really want to get the word out about Winnie because when you have child care, you have options. Whether you utilize it or not, just knowing what your options are is very powerful," Anne explained. You can check out the childcare options available to you at https://winnie.com/houston/childcare.