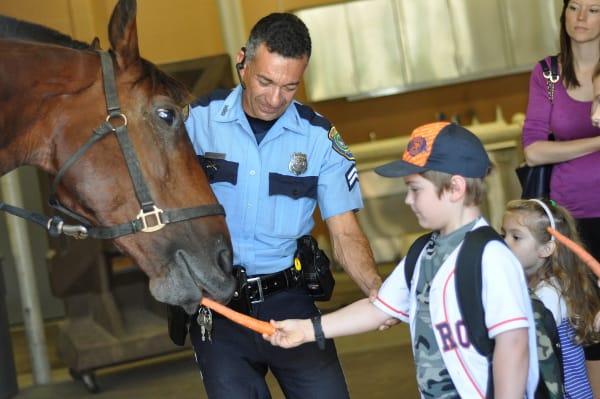 Visiting the Houston Police Departments Mounted Patrol Stables is one of the coolest free things to do in Houston. In October, we had the most amazing time feeding the horses and learning about the Mounted Patrol at the BigKidSmallCity Meet-Up. Over Winter Break, we're going to do it again!
On Monday, December 22, 2014 at 10:30am, you can bring your kids, carrots, apples and peppermints and join us as we talk to Houston's Mounted Patrol Officers, feed the horses and learn about their jobs!
December 22 is a HoustonISD school holiday. Check your calendars before signing up to be sure you will be in town for this event! The stables are at 5005 Little York Rd. Houston,Tx. 77016 (off of I59, NOT off of 290).
UPDATE: This Meet-Up is now FULL. To be notified about future meet ups, go HERE!
If you want to join us on Monday, December 22, 2014 at 10:30am, you must:
1. Fill out the form below.
2. Be one of the first 25 to respond. Spaces are very limited and the last tours filled very quickly. You will receive an email saying you have a spot or you are on the waiting list.
3. If you get a spot, bring your kids to the Houston Mounted Patrol Stables on December 22, 2014 at 10:30am. (5005 Little York Rd. Houston,Tx. 77016)
4. The tour will be about 1 hour.
5. The event is FREE. Feel free to bring carrots, apples or peppermints for the horses. Apples need to be quartered (but seeds are fine).
6. Check your calendar before signing up and make every effort to attend. Since spaces are so limited, we want as many little police men and women to get a chance as possible. If you need to cancel, email me at Jill @ BigKidSmallCity.com right away.