Address: 1820 S. Dairy Ashford, Houston, Texas 77077
When a friend told me she was going to the Toddler Skate session at the Dairy Ashford Roller Rink I immediately decided we had to try it too! This session is only for kids ages 7 and under and adults with them, so I thought this would be a perfect opportunity to try out skating without getting run over by lots of big kids.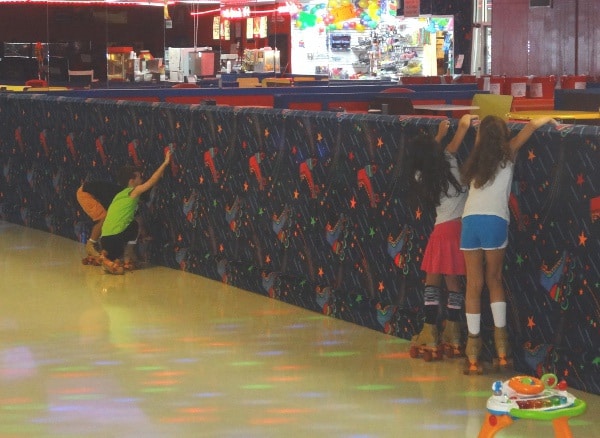 As soon as we arrived, though, I started to have some doubts about the wisdom of our plan. Apparently Toddler Skating isn't just for roller skates. The people in line around us had brought scooters, small tricycles, and even miniature grocery carts! Turns out that bicycles and motorized vehicles are not allowed, but pretty much anything else with wheels is fair game!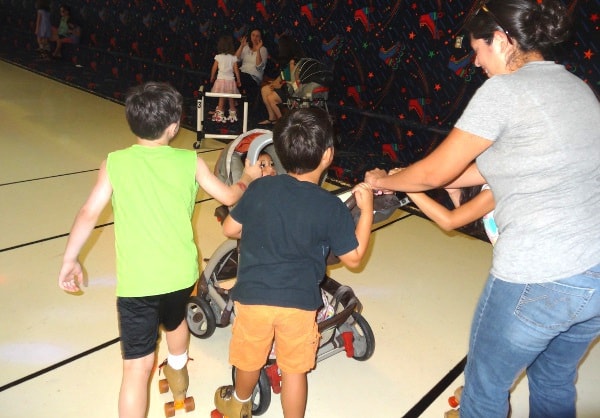 Despite my concerns we paid our $5 per person and went in to get our skates. A short while later we were laced up and ready to roll! Well, sort of roll. At first it was more like inching along the wall! My friend Alex saved the day by bravely venturing out, on skates, with her 10 month old in a very stable stroller. All four big kids (two five year olds and two 7 year olds) immediately latched on to her and the stroller and it was hysterical!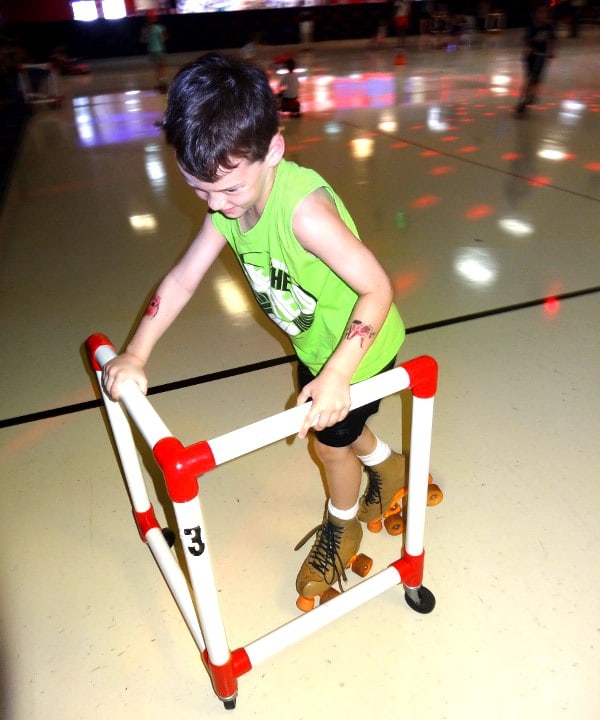 A short time (and many falls!) later the kids were starting to get a little more comfortable on their skates. They still didn't want to get too far from me or Alex though, so I decided to rent a Skatemate for them to use. A Skatemate is a PVC pipe contraption that is kind of like a walker on wheels. The kids hold on to it as they become more comfortable balancing and it prevents most of the falls, although a few times they managed to take it down with them! After taking turns on the Skatemate all of the kids became comfortable enough to venture out a little further on their own.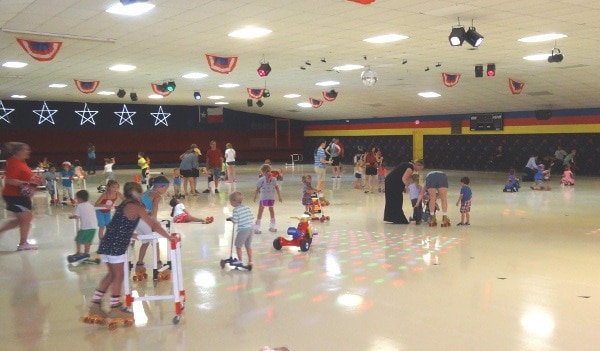 Earlier I mentioned that other kids had brought all sorts of toys to the rink. Now that our kids were becoming more independent I kept a much closer eye on them to be sure they didn't run over a two year old chasing a toy or get run over by a four year old zooming by on a scooter. Despite the craziness on the floor we didn't have any mishaps and it certainly gave the whole outing more of a party atmosphere!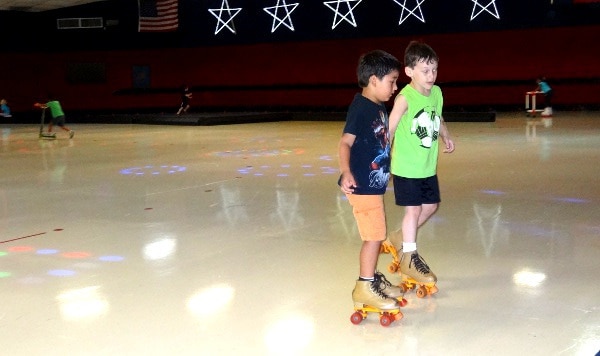 The music being played over the speakers was perfect for the young crowd. There were lots of songs from Disney soundtracks and well as some older mainstream music like "Walking on Sunshine" by Katrina and the Waves. The kids knew many of the songs and enjoyed listening to them as they tried to skate over the colored lights swirling on the floor.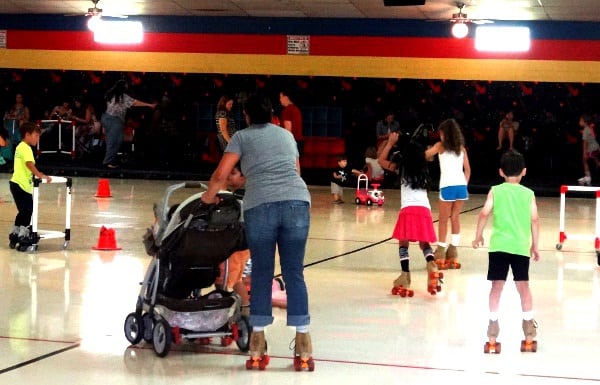 For those of you who may be concerned about getting on skates yourself, you don't have to do it if you don't want to. Although Alex and I laced up (for the first time in about 20 years for me!), there was a good mix of adults with skates on and those without. It certainly would have been easier without them especially when my five year old came at me like a rocket and grabbed me to help him slow down! I am glad I did it because it was a lot of fun and I quickly picked up some of my old skills, though I don't think I'll be trying the Hokey Pokey any time soon!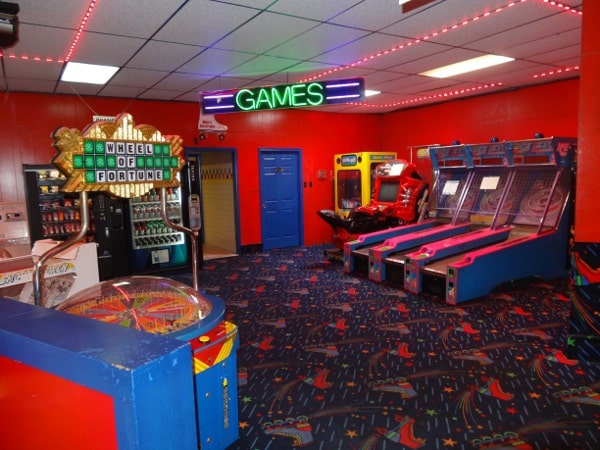 In addition to the skating floor there is a small arcade area and a prize counter where kids can redeem any tickets they may win. We had so much fun skating that other than the first time we walked through the area the kids didn't even ask to play any of the games.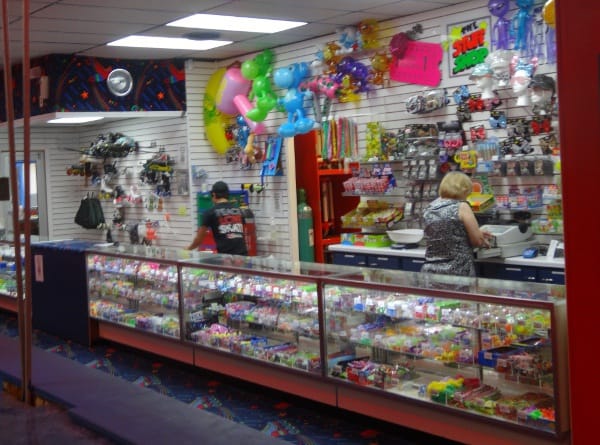 Nearby is also a snack bar. They have kid-friendly food like hot dogs, hamburgers, chicken nuggets, and nachos as well as drinks and desserts. We didn't stop here either, so I can't give you an opinion on the quality.
Also near the front are the bathrooms. The women's room was clean, but I have no idea of the state of the men's room. Honestly, I'm not sure that I would want to go look because young boys aren't known for aiming well, and trying to do it on skates must make it a lot more difficult!
The two hours of the Toddler Skate session passed by quickly and the kids were sad when it ended and we had to turn in our skates. They cheered up though when we immediately made plans to meet there again the next week!