HISD Mandarin Chinese Language Immersion Magnet School – Still Accepting Applications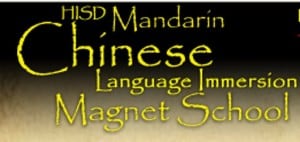 HISD is opening a brand new Mandarin Chinese Language Immersion Magnet School (MCLIMS) in August 2012.  Although most HISD schools have filled their 2012-2013 roster, MCLIMS is still accepting applications.  The standard HISD curriculum will be taught.  Half of every day will be in Mandarin, taught by a native speaker, and half of the day will be taught in English, but a different native speaker.  The immersion will give the children the opportunity to become fluent speakers, readers and writers of Mandarin Chinese.  For details, go HERE.
I have been very interested in this school, and have gathered the following information.  For first hand information from the experts, contact the school at 6300 Avenue B, Bellaire, TX 77401, 713-556-6947, mclims@houstonisd.org.
1.  Location:  The school is taking over the Gordon Elementary Campus.  This campus has been an overflow HISD campus and the current Gordon kids are being offered a spot at MCLIMS, or  are being sent back to their zoned schools if they are not interested in the program.  That said, MCLIMS is currently only accepting pre-k through 2nd grade students.  The current Gordon 3rd, 4th and 5th grade classes will remain on the campus until they move on to middle school.  As the children enrolled at MCLIMS get older, the MCLIMS program will expand.  The plan is to extend the Mandarin program through High School.
2.  Building:  The Gordon Elementary building has an outdoor campus where children walk outside to go between classrooms.  (Think 90210 but not in Beverly Hills.) It also has many modular buildings on the property.  The Bellaire location feels safe but the building is pretty old and, in my opinion, ugly.  That said, the school is on a big lot and there is talk of an upcoming bond issue to build a new school.  The incoming principal says the goal is to have a K-8 school. This summer, the building will be getting a mini make over. There will be the basic painting and updates as well as technology upgrades for each classroom.
3.  Staff:  Bryan Bordelon is the young new principal and looks to be a very strong leader for the school.  Bordelon, who was a HISD English teacher, lived in China as a child and speaks Mandarin Chinese with advanced proficiency.   At a recent information session, the Chinese gentleman next to me was surprised to meet Bordelon in person.  From how well he spoke Mandarin on the phone, this All-American blonde was not what anyone had pictured.  It was unexpected and exciting because I happen to have an All-American blonde 4 year old who could blow people away if he spoke Mandarin.
Bordelon has said that they are recruiting top teachers that happen to also speak Mandarin.  They have signed on a HISD teacher of the year and some HISD campus teachers of the year.
4. Why Mandarin: China is a fast growing country and our children will likely have the opportunity to do business in Mandarin after graduation. And if there are doubts about the future of China, there is still Taiwan, Hong Kong and Singapore as future partners. And, if you still don't buy it, just think about how useful it could be to just train a young brain to be bilingual.  And, finally, the Mandarin program will offer 90 minutes, instead of the HISD standard 60 minutes, of math each day. This appeals to the engineer in me.
Parents do not need to speak Mandarin. All Mandarin work will be done at school. However, HISD is working to give each family a free Rosetta Stone license and tutoring classes in case parents want to learn with their children.
5.  Buzz:  There is a lot of excitement about this program. The HISD superintendent opened the San Diego immersion program, which is expanding, and is determined to make the HISD program successful. A lot of people are watching this school and, in my opinion, this means that there will be money and resources  sent in its direction. Also, this school is 100% magnet, which means that every family that attends has gone out of their way to apply. It is good to attend school with families who want to be there.
Mandarin programs are growing throughout the United States.  This Houston program is going to be one to watch.
6.  Unknown:  MCLIMS does not exist yet.  You cannot take a tour of the classrooms and you can not see it in action.  The school will still be in the old building and the construction plans are unknown.  The PTO is still being formed, the after school programs do not exist yet, the library is starting over now and the uniform is still being defined.  On top of this, you have no idea who will be at school with your child, if they will be well behaved and good friends, and if your child will like being immersed in an unknown language.
7.  Advantage:  Even with all the unknowns, this program has a lot to offer.  Since 2012-2013 is the first year, the school is still filling their classrooms.  (For kindergarten, there will be 4 classes of 22 students.)  Next year, once the program has been tested, there is sure to be a waitlist.  Also, after this initial year, new students will only be accepted into Kindergarten.  (Older students will need to speak some Mandarin to enter grades 1+.)
An immersion program is the way to learn a language. (I took Spanish for 4 years in high school and just ask me what I know now.)