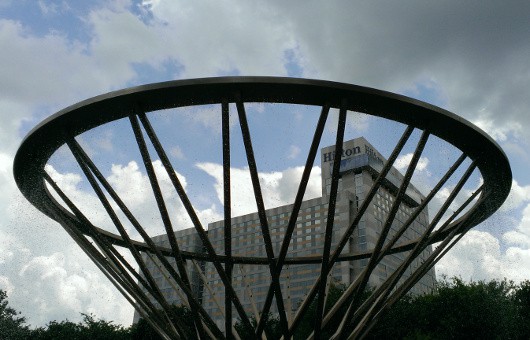 This Saturday is the annual
FUNomenal Family Festival
at Discovery Green! Be sure to head Downtown on March 8, from 10:00-6:00pm. I'll be there and can't wait to meet you!
7 Things You Need to Know:
1. This is a FREE event with A LOT going on.  This includes Baby Olympics, character and princess appearances and music. Amerigroup RealSolutions Zone will host two foam parties for kids (split up by age), water balls and a moonwalk! Rides provided by Houston Party include QuadJumper, Super Slide, Meltdown, King of the Mountain, Rockwall, Jungle Maze, Amazon Obstacle Course, Houston Rocket, Chair Swing and Tubs of Fun. Go HERE for details!
2. BigKidSmallCity's Booth will on the Andrea and Bill White Promenade, not too far from The Lake House restaurant and the restrooms. If you walk between the two brick buildings, towards the Hilton, you will find the booth! We are conveniently located between the coffee cart and cupcake truck, making Saturday the best day ever (for me) at Discovery Green. See the park map HERE!
3. I want to meet you!  I love meeting the people of Houston. Come say "hi" and tell me you follow BigKidSmallCity and your kids can pick a small prize from the super secret treasure box.
4. In the BigKidSmallCity tent you will also find a free photo booth and a free craft table! Julie of Nhem Photo will take pictures of the kids and you can download it after the event. Kids will also get to work on a craft with Artist Kelly Coral of Island of Blue!
5. It's going to be busy!  Last year 10,000 people came to this event. You can take METRORail to the Main Street Square station and walk ~5 blocks to the park. You can also drive and find paid parking on the street or many lots. There is going to be a crowd, but it will be lots of fun. If it gets too busy for you, just come hang out in the BKSC booth! I promise to give out free and heartfelt compliments all day long. Just use code word I-Really-Need-Some-Encouragement and I'll tell you how great you look in your blue jeans and what a good job you are doing getting out of the house and having fun with the family. Really. Try it!
6. Win ticket, just by stopping by! Main Street Theater is giving us a family 4 pack to a Spring Break show of A Year with Frog and Toad! Stop by the booth to enter to win!
7. Does your kid want to be featured on BKSC? Stop by the booth for a kid interview, and he or she may be featured on the website! We'll be asking hard hitting questions, like what is your favorite color and what do you like about Houston!
Be sure to stop by the booth between 10:00-6:00 on Saturday. Stay for 2 minutes or stay all day. I can't wait to meet you!