Things to Do in Houston, with Kids, for Winter and the Holidays! Houston Events For November 1, 2019 – January 5, 2020
Plan ahead for November and December! Here are all the family events, brought to us by Springfree Trampoline, scheduled for November 1, 2019 through January 5, 2020.
As events pop up, we'll add them to the list… and since this is being posted so early, be sure to click the links and check before you head out to each venue.
If you are looking for Holiday Festivals, Train Rides, Lights and Shows, go HERE!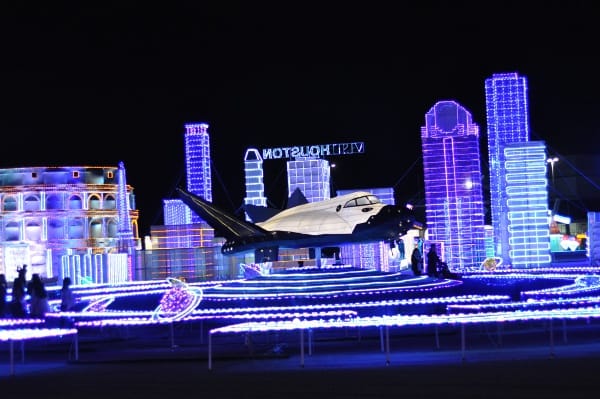 Quick Links:
Full Events List:
Friday, November 1, 2019:
Children's Story Hour – 10:00am – Hermann Park Centennial Gardens
Día de los Muertos – 6:00pm-10:00pm – Discovery Green
Family Movie Night: Hotel Transylvania 2 – 7:00pm – Levy Park
Saturday, November 2, 2019:
Texas Renaissance Festival – Todd Mission, Texas
Houston Come Play (Lego Event) – 10:00am-2:00pm – Lindsey Waterside Garden at Discovery Green
Heartmade Harvest Market – 10:00am – 5:00pm – Main Street Square
Young Writer's Workshop – 10:30am – Discovery Green
Day of Dead Festival – 11:00am-7:00pm – MECA
Movies at Miller: Toy Story – 6:30pm – Miller Outdoor Theatre
Stargazing with Houston Astronomical Society – 7:00pm-9:00pm – Discovery Green
Sunday, November 3, 2019:
Texas Renaissance Festival – Todd Mission, Texas
Day of Dead Festival – 11:00am-7:00pm – MECA
Concert Band & Soldier's Chorus of the US Army Field Band – 6:00pm – Miller Outdoor Theatre
Monday, November 4, 2019:
MFAH Playdate – 10:45am – Museum of Fine Arts Houston
Tuesday, November 5, 2019:
Wednesday, November 6, 2019:
Nature Storytime – 4:00pm – Nature Discovery Center
Children's BINGO – 4:30pm – Levy Park
Rockets vs Warriors – 6:30pm – Toyota Center

Thursday, November 7, 2019:
Free Museum Entry
Find a museum district restaurant HERE.
PLAY 60 at the Park – 5:00pm – Evelyn's Park
Star Wars: The Empire Strikes Back—in Concert – 8:00pm – Jones Hall

Friday, November 8, 2019:
Children's Story Hour – 10:00am – Hermann Park Centennial Gardens
Night Market – 6:00pm-10:00pm – Asia Society
Santa's Wonderland – 6:00pm-12:00am – College Station
Hands of Liberace – 7:00pm – Miller Outdoor Theatre
Star Wars: The Empire Strikes Back—in Concert – 8:00pm – Jones Hall

Saturday, November 9, 2019:
Texas Renaissance Festival – Todd Mission, Texas
Veteran's Day Celebration – 9:00am-5:00pm – Lone Star Flight Museum (Veterans get in free)
Home for the Holidays – 10:00am-7:00pm – Old Town Spring
Young Writer's Workshop – 10:30am – Discovery Green
Star Wars: The Empire Strikes Back—in Concert – 2:30pm & 8:00pm – Jones Hall
Santa's Wonderland – 3:00pm-12:00am – College Station
Dream of America – 7:00pm – Miller Outdoor Theatre
Sunday, November 10, 2019:
Texas Renaissance Festival – Todd Mission, Texas
Cricket Buffet and Cricket Eating Contest – 12:00pm – The Health Museum
Home for the Holidays – 12:00pm-5:00pm – Old Town Spring
Veteran's Day Celebration – 12:00pm-5:00pm – Lone Star Flight Museum (Veterans get in free)
The Best Christmas Pageant Ever – 12:30pm & 3:30pm – Main Street Theater at MATCH
Rainard School for Gifted Learners Open House – 1:00pm-3:00pm – Rainard
Star Wars: The Empire Strikes Back—in Concert – 2:30pm – Jones Hall
Santa's Wonderland – 3:00pm-11:00pm – College Station
National Dance of Siberia – 7:00pm – Miller Outdoor Theatre
Monday, November 11, 2019:
Santa's Wonderland – 6:00pm-11:00pm – College Station
Tuesday, November 12, 2019:
Santa's Wonderland – 6:00pm-11:00pm – College Station
Wednesday, November 13, 2019:
Be LOVE Parents & Kids Creative Movement & Dance Party – 10:30am – Studio NiaMoves
Nature Storytime – 4:00pm – Nature Discovery Center
Children's BINGO – 4:30pm – Levy Park
Santa's Wonderland – 6:00pm-11:00pm – College Station
Rockets vs Clippers – 6:30pm – Toyota Center

Thursday, November 14, 2019:
Free Museum Entry
Find a museum district restaurant HERE.
Barrel of Monkeys Story Time – 10:00am – Second City at Second Baptist Woodway
Santa's Wonderland – 6:00pm-11:00pm – College Station
Friday, November 15, 2019:
Children's Story Hour – 10:00am – Hermann Park Centennial Gardens
ICE – 5:00pm-11:00pm – ICE at Discovery Green
Magical Winter Lights – 5:00pm-11:00pm – Gulf Greyhound Park
Santa's Wonderland – 6:00pm-12:00am – College Station
Born to Dance – 7:00pm – Miller Outdoor Theatre
Rockets vs Pacers – 7:00pm – Toyota Center
A Christmas Carol – A Ghost Story of Christmas – 7:30pm – Alley Theatre
Saturday, November 16, 2019:
Trains Over Texas– – Houston Museum of Natural Science
Texas Renaissance Festival – Todd Mission, Texas
HALS Free Train Rides – 9:00am-2:00pm – Zube Parkbr> HTX Market – 10:00am-3:00pm – Axelrad
Holiday in the Gardens – 10:00am-10:00pm – Moody Gardens
Unplugged Adventure – Dark Sky, Soft Light – 11:00am-12:00pm – Indiangrass Preserve
ICE – 11:00am-11:00pm – ICE at Discovery Green
Home for the Holidays – 12:00pm-5:00pm – Old Town Spring
A Christmas Carol – A Ghost Story of Christmas – 2:30pm & 7:30pm – Alley Theatre
Magical Winter Lights – 5:00pm-11:00pm – Gulf Greyhound Park
Galaxy Lights – 6:00pm-10:00pm – Space Center Houston
Santa's Wonderland – 7:00pm-12:00am – College Station
Park to Port Bike Ride– 7:30am-12:00pm –Hermann Park Bill Coats Bridge
42ft – A Menagerie of Mechanical Marvels – 7:00pm – Miller Outdoor Theatre

Sunday, November 17, 2019:
Trains Over Texas – Houston Museum of Natural Science
Texas Renaissance Festival – Todd Mission, Texas
Houston Archives Bazaar – 10:00am – 2:00pm – White Oak Music Hall
Holiday in the Gardens – 10:00am-10:00pm – Moody Gardens
ICE – 11:00am-8:00pm – ICE at Discovery Green
Home for the Holidays – 12:00pm-5:00pm – Old Town Spring
The Best Christmas Pageant Ever – 12:30pm & 3:30pm – Main Street Theater at MATCH (3:30pm is Sensory Friendly Performance)
Bayou Bend Family Day "Seasonal Splendor" – 1:00pm-5:00pm – Bayou Bend Collection
A Christmas Carol – A Ghost Story of Christmas – 2:30pm & 7:30pm – Alley Theatre
Magical Winter Lights – 5:00pm-10:00pm – Gulf Greyhound Park
Galaxy Lights – 6:00pm-10:00pm – Space Center Houston
Santa's Wonderland – 7:00pm-11:00pm – College Station

Monday, November 18, 2019:
Trains Over Texas – Houston Museum of Natural Science
Holiday in the Gardens – 10:00am-10:00pm – Moody Gardens
Cheap Skate – 5:00pm-10:00pm – ICE at Discovery Green
Magical Winter Lights – 5:00pm-10:00pm – Gulf Greyhound Park
Galaxy Lights – 6:00pm-10:00pm – Space Center Houston
Santa's Wonderland – 6:00pm-11:00pm – College Station
Rockets vs Trail Blazers – 7:00pm – Toyota Center
Tuesday, November 19, 2019:
Trains Over Texas – Houston Museum of Natural Science
Holiday in the Gardens – 10:00am-10:00pm – Moody Gardens
ICE – 5:00pm-10:00pm – ICE at Discovery Green
Magical Winter Lights – 5:00pm-10:00pm – Gulf Greyhound Park
Galaxy Lights – 6:00pm-10:00pm – Space Center Houston
Santa's Wonderland – 6:00pm-11:00pm – College Station
Wednesday, November 20, 2019:
Trains Over Texas – Houston Museum of Natural Science
Holiday in the Gardens – 10:00am-10:00pm – Moody Gardens
Nature Storytime – 4:00pm – Nature Discovery Center
Children's BINGO – 4:30pm – Levy Park
ICE – 5:00pm-10:00pm – ICE at Discovery Green
Magical Winter Lights – 5:00pm-10:00pm – Gulf Greyhound Park
Galaxy Lights – 6:00pm-10:00pm – Space Center Houston (Reliant Wednesday: Bring your toy to the collection area at the entrance of Space Center Houston and receive a $5 coupon to redeem at any Space Center Houston ticket booth.)
Santa's Wonderland – 6:00pm-11:00pm – College Station
Thursday, November 21, 2019:
Trains Over Texas – Houston Museum of Natural Science
Free Museum Entry
Find a museum district restaurant HERE.
Holiday in the Gardens – 10:00am-10:00pm – Moody Gardens
Family Storytime – 10:00am – Levy Park
ICE – 5:00pm-10:00pm – ICE at Discovery Green
Magical Winter Lights – 5:00pm-10:00pm – Gulf Greyhound Park
Galaxy Lights – 6:00pm-10:00pm – Space Center Houston
Santa's Wonderland – 6:00pm-11:00pm – College Station

Friday, November 22, 2019:
Trains Over Texas – Houston Museum of Natural Science
Children's Story Hour – 10:00am – Hermann Park Centennial Gardens
Holiday in the Gardens – 10:00am-10:00pm – Moody Gardens
Young Writer's Workshop – 10:30am – Discovery Green
ICE – 5:00pm-11:00pm – ICE at Discovery Green
Magical Winter Lights – 5:00pm-11:00pm – Gulf Greyhound Park
Frostival – 6:00pm – Discovery Green
Sugar Land Holiday Lights – 6:00pm-10:00pm – Constellation Field
Galaxy Lights – 6:00pm-10:00pm – Space Center Houston
Santa's Wonderland – 6:00pm-12:00am – College Station
Georgia on my Mind: Celebrating the Music of Ray Charles – 7:00pm – Miller Outdoor Theatre
A Christmas Carol – A Ghost Story of Christmas – 7:30pm – Alley Theatre
Saturday, November 23, 2019:
Trains Over Texas – Houston Museum of Natural Science
Texas Renaissance Festival – Todd Mission, Texas
Real Snow Day – 10:00am-6:00pm – Children's Museum
Via Color Street Painting Festival – 10:00am-6:00pm – Streets Surrounding City Hall
Holiday in the Gardens – 10:00am-10:00pm – Moody Gardens
Young Writer's Workshop – 10:30am – Discovery Green
ICE – 11:00am-11:00pm – ICE at Discovery Green
Home for the Holidays – 12:00pm-5:00pm – Old Town Spring
Family Day: Coming to America – 1:00pm – Houston Maritime Museum
A Christmas Carol – A Ghost Story of Christmas – 2:30pm & 7:30pm – Alley Theatre
Lighting of the Doves – 3:00pm-9:00pm – Town Green Park at The Woodlands Waterway
Santa's Wonderland – 3:00pm-12:00am – College Station
Magical Winter Lights – 5:00pm-11:00pm – Gulf Greyhound Park
Zoo Lights – 5:30pm-9:30pm – Houston Zoo
Galaxy Lights – 6:00pm-10:00pm – Space Center Houston
Sugar Land Holiday Lights – 6:00pm-10:00pm – Constellation Field
Ann Hampton Callaway – 7:00pm – Miller Outdoor Theatre
Screen on the Green: Dumbo – 8:00pm – Discovery Green
Sunday, November 24, 2019:
Trains Over Texas – Houston Museum of Natural Science
Texas Renaissance Festival – Todd Mission, Texas
Via Color Street Painting Festival – 10:00am-5:00pm – Streets Surrounding City Hall
Holiday in the Gardens – 10:00am-10:00pm – Moody Gardens
Walk on the Wild Side – 10:30am – Nature Discovery Center
ICE – 11:00am-8:00pm – ICE at Discovery Green
Home for the Holidays – 12:00pm-5:00pm – Old Town Spring
The Best Christmas Pageant Ever – 12:30pm & 3:30pm – Main Street Theater at MATCH
A Christmas Carol – A Ghost Story of Christmas – 2:30pm & 7:30pm – Alley Theatre
Santa's Wonderland –3:00pm-11:00pm – College Station
Magical Winter Lights – 5:00pm-10:00pm – Gulf Greyhound Park
Zoo Lights – 5:30pm-9:30pm – Houston Zoo
Sugar Land Holiday Lights – 6:00pm-9:00pm – Constellation Field
Galaxy Lights – 6:00pm-10:00pm – Space Center Houston
Rockets vs Mavericks – 7:00pm – Toyota Center
Monday, November 25, 2019:
Trains Over Texas – Houston Museum of Natural Science
The Best Christmas Pageant Ever – 10:30am & 1:30pm – Main Street Theater at MATCH
ICE – 11:00am-11:00pm – ICE at Discovery Green
Galaxy Lights – 6:00pm-10:00pm – Space Center Houston
Santa's Wonderland – 6:00pm-11:00pm – College Station
Tuesday, November 26, 2019:
Trains Over Texas – Houston Museum of Natural Science
Toddler Yoga workshop with Barefoot Beginners – 10:00am – BIG Power Yoga
Holiday in the Gardens – 10:00am-10:00pm – Moody Gardens
The Best Christmas Pageant Ever – 10:30am & 1:30pm – Main Street Theater at MATCH
ICE – 11:00am-11:00pm – ICE at Discovery Green
A Christmas Carol – A Ghost Story of Christmas – 2:30pm & 7:30pm – Alley Theatre
Magical Winter Lights – 5:00pm-10:00pm – Gulf Greyhound Park
Zoo Lights – 5:30pm-9:30pm – Houston Zoo
Sugar Land Holiday Lights – 6:00pm-9:00pm – Constellation Field
Galaxy Lights – 6:00pm-10:00pm – Space Center Houston
Santa's Wonderland – 6:00pm-11:00pm – College Station
Wednesday, November 27, 2019:
Trains Over Texas – Houston Museum of Natural Science
Holiday in the Gardens – 10:00am-10:00pm – Moody Gardens
The Best Christmas Pageant Ever – 10:30am & 1:30pm & 7:30pm – Main Street Theater at MATCH
ICE – 11:00am-11:00pm – ICE at Discovery Green
Nature Storytime – 4:00pm – Nature Discovery Center
Children's BINGO – 4:30pm – Levy Park
Magical Winter Lights – 5:00pm-10:00pm – Gulf Greyhound Park
Zoo Lights – 5:30pm-9:30pm – Houston Zoo
Sugar Land Holiday Lights – 6:00pm-9:00pm – Constellation Field
Galaxy Lights – 6:00pm-10:00pm – Space Center Houston
(Reliant Wednesday: Bring your toy to the collection area at the entrance of Space Center Houston and receive a $5 coupon to redeem at any Space Center Houston ticket booth.)
Santa's Wonderland – 6:00pm-11:00pm – College Station
Rockets vs Heat – 7:00pm – Toyota Center
Thanksgiving, Thursday, November 28, 2019:
BakerRipley Turkey Trot – Galleria
HEB Thanksgiving Day Parade – 9:00am – Downtown Houston
Holiday in the Gardens – 10:00am-10:00pm – Moody Gardens
ICE – 11:00am-11:00pm – ICE at Discovery Green
Uptown Houston Holiday Lighting – 4:00pm-7:00pm – Post Oak Boulevard
Magical Winter Lights – 5:00pm-11:00pm – Gulf Greyhound Park
Zoo Lights – 5:30pm-9:30pm – Houston Zoo
Sugar Land Holiday Lights – 6:00pm-9:00pm – Constellation Field
Santa's Wonderland – 6:00pm-11:00pm – College Station
Friday, November 29, 2019:
Trains Over Texas – Houston Museum of Natural Science
Children's Story Hour – 10:00am – Hermann Park Centennial Gardens
Holiday in the Gardens – 10:00am-10:00pm – Moody Gardens
The Best Christmas Pageant Ever – 10:30am & 1:30pm – Main Street Theater at MATCH
ICE – 5:00pm-11:00pm – ICE at Discovery Green
A Christmas Carol – A Ghost Story of Christmas – 2:30pm & 7:30pm – Alley Theatre
Magical Winter Lights – 5:00pm-11:00pm – Gulf Greyhound Park
Zoo Lights – 5:30pm-9:30pm – Houston Zoo
Sugar Land Holiday Lights – 6:00pm-10:00pm – Constellation Field
Galaxy Lights – 6:00pm-10:00pm – Space Center Houston
Santa's Wonderland – 6:00pm-12:00am – College Station
Family Movie Night: Elf – 6:30pm – Levy Park
The Nutcracker – 7:30pm – Wortham Theater
Miracle on 34th Street – 8:00pm – AD Players The George Theater
Saturday, November 30, 2019:

Trains Over Texas – Houston Museum of Natural Science
Texas Renaissance Festival – Todd Mission, Texas
Holiday in the Gardens – 10:00am-10:00pm – Moody Gardens
Young Writer's Workshop– 10:30am – Discovery Green
The Best Christmas Pageant Ever – 10:30am & 1:30pm – Main Street Theater at MATCH
ICE – 11:00am-11:00pm – ICE at Discovery Green
Home for the Holidays – 12:00pm-5:00pm – Old Town Spring
The Nutcracker –2:00pm & 7:30pm – Wortham Theater
A Christmas Carol – A Ghost Story of Christmas – 2:30pm & 7:30pm – Alley Theatre
Miracle on 34th Street – 2:30pm & 8:00pm – AD Players The George Theater
Santa's Wonderland – 3:00pm-12:00am – College Station
Mayor's Holiday Celebration – 5:00pm-8:00pm – City Hall
Magical Winter Lights – 5:00pm-11:00pm – Gulf Greyhound Park
Zoo Lights – 5:30pm-9:30pm – Houston Zoo
Galaxy Lights – 6:00pm-10:00pm – Space Center Houston
Sugar Land Holiday Lights – 6:00pm-10:00pm – Constellation Field
Rockets vs Hawks – 7:00pm – Toyota Center

Sunday, December 1, 2019:
Trains Over Texas– Houston Museum of Natural Science
Texas Renaissance Festival – Todd Mission, Texas
Holiday in the Gardens – 10:00am-10:00pm – Moody Gardens
ICE – 11:00am-8:00pm – ICE at Discovery Green
The Nutcracker – 2:00pm – Wortham Theater
A Christmas Carol – A Ghost Story of Christmas – 2:30pm – Alley Theatre
Miracle on 34th Street – 2:30pm – AD Players The George Theater
Home for the Holidays – 12:00pm-5:00pm – Old Town Spring
Santa's Wonderland – 3:00pm-11:00pm – College Station
Magical Winter Lights – 5:00pm-10:00pm – Gulf Greyhound Park<
Zoo Lights – 5:30pm-9:30pm – Houston Zoo
Sugar Land Holiday Lights – 6:00pm-9:00pm – Constellation Field
Galaxy Lights – 6:00pm-10:00pm – Space Center Houston
Monday, December 2, 2019:
Trains Over Texas – Houston Museum of Natural Science
Holiday in the Gardens – 10:00am-10:00pm – Moody Gardens
Cheap Skate – 5:00pm-10:00pm – ICE at Discovery Green
Magical Winter Lights – 5:00pm-10:00pm – Gulf Greyhound Park
Zoo Lights – 5:30pm-9:30pm – Houston Zoo
Galaxy Lights – 6:00pm-10:00pm – Space Center Houston
Santa's Wonderland – 6:00pm-11:00pm – College Station
Tuesday, December 3, 2019:
Trains Over Texas – Houston Museum of Natural Science
Holiday in the Gardens – 10:00am-10:00pm – Moody Gardens
MFAH Playdate – 10:45am – Museum of Fine Arts Houston
ICE – 5:00pm-10:00pm – ICE at Discovery Green
Magical Winter Lights – 5:00pm-10:00pm – Gulf Greyhound Park
Zoo Lights – 5:30pm-9:30pm – Houston Zoo
Sugar Land Holiday Lights– 6:00pm-9:00pm – Constellation Field
Galaxy Lights – 6:00pm-10:00pm – Space Center Houston
Santa's Wonderland – 6:00pm-11:00pm – College Station
Wednesday, December 4, 2019:
Trains Over Texas – Houston Museum of Natural Science
Holiday in the Gardens – 10:00am-10:00pm – Moody Gardens
Miracle on 34th Street – 10:00am & 7:30pm – AD Players The George Theater
Be LOVE Parents & Kids Creative Movement & Dance Party – 10:30am – Studio NiaMoves
Nature Storytime – 4:00pm – Nature Discovery Center
Children's BINGO – 4:30pm – Levy Park
ICE – 5:00pm-10:00pm – ICE at Discovery Green
Magical Winter Lights – 5:00pm-10:00pm – Gulf Greyhound Park
Sugar Land Holiday Lights – 6:00pm-9:00pm – Constellation Field
Galaxy Lights – 6:00pm-10:00pm – Space Center Houston (Reliant Wednesday: Bring your toy to the collection area at the entrance of Space Center Houston and receive a $5 coupon to redeem at any Space Center Houston ticket booth.)
Santa's Wonderland – 6:00pm-11:00pm – College Station
Thursday, December 5, 2019:
Trains Over Texas – Houston Museum of Natural Science
Free Museum Entry
Find a museum district restaurant HERE.
Family Storytime – 10:00am – Levy Park
Holiday in the Gardens – 10:00am-10:00pm – Moody Gardens
PLAY 60 at the Park – 5:00pm – Evelyn's Park
ICE – 5:00pm-10:00pm – ICE at Discovery Green
Magical Winter Lights – 5:00pm-10:00pm – Gulf Greyhound Park
Zoo Lights – 5:30pm-9:30pm – Houston Zoo
Sugar Land Holiday Lights – 6:00pm-9:00pm – Constellation Field
Galaxy Lights – 6:00pm-10:00pm – Space Center Houston
Santa's Wonderland – 6:00pm-11:00pm – College Station
Screen on the Green: Miracle on 34th Street – 7:00pm – Discovery Green
A Christmas Carol – A Ghost Story of Christmas – 7:30pm – Alley Theatre
Miracle on 34th Street – 7:30pm – AD Players The George Theater

Friday, December 6, 2019:
Trains Over Texas – Houston Museum of Natural Science
Children's Story Hour – 10:00am – Hermann Park Centennial Gardens
Holiday in the Gardens – 10:00am-10:00pm – Moody Gardens
Trail of Lights – 4:00pm-9:00pm – Dewberry Farms
ICE – 5:00pm-11:00pm – ICE at Discovery Green
Dickens on the Strand – 5:00pm-9:00pm – Galveston
Magical Winter Lights – 5:00pm-11:00pm – Gulf Greyhound Park
Zoo Lights – 5:30pm-9:30pm – Houston Zoo
Buffalo Bayou Christmas Cruises – 5:30pm-8:30pm – Buffalo Bayou (45 minute cruises)
Galaxy Lights – 6:00pm-10:00pm – Space Center Houston
Sugar Land Holiday Lights – 6:00pm-10:00pm – Constellation Field
Santa's Wonderland – 6:00pm-12:00am – College Station
Christmas Train– 6:30pm-9:30pm – Alvin, Texas
A Christmas Carol – A Ghost Story of Christmas – 7:30pm – Alley Theatre
Miracle on 34th Street – 8:00pm – AD Players The George Theate
A Christmas Carol – 8:00pm – The Grand Galveston

Saturday, December 7, 2019:
Trains Over Texas – Houston Museum of Natural Science
Breakfast with Santa – Downtown Aquarium
Trafigura Run for the House – 8:00am – Sam Houston Park
Teddy Bear Check Up – 9:00am-12:00pm – The Health Museum
All Aboard the Christmas Trains – 10:00am-2:00pm – Second Baptist Woodway
Real Snow Day – 10:00am-6:00pm – Children's Museum
Young Writer's Workshop – 10:30am – Discovery Green
Stearman Santa Fly-In – 10:30am – Lone Star Flight Museum
Gingerbread Build Off – 10:00am-4:30pm – Hermann Square by City Hall
Dickens on the Strand – 10:00am-9:00pm – Galveston
Holiday in the Gardens – 10:00am-10:00pm – Moody Gardens
The Best Christmas Pageant Ever – 10:30am & 1:30pm – Main Street Theater at MATCH (1:30pm is ASL Performance)
ICE – 11:00am-11:00pm – ICE at Discovery Green
Home for the Holidays – 12:00pm-5:00pm – Old Town Spring
The Nutcracker – 2:00pm & 7:30pm – Wortham Theater
Elf, The Musical – 2:00pm & 8:00pm – Hobby Center
A Christmas Carol – A Ghost Story of Christmas – 2:30pm & 7:30pm – Alley Theatre
Miracle on 34th Street – 2:30pm & 8:00pm – AD Players The George Theater
A Christmas Carol – 3:00pm – The Grand Galveston
Santa's Wonderland – 3:00pm-12:00am – College Station
i·den·ti·fi·ca·tion– 4:00pm & 7:00pm – The Artz at Spring Street Studios (with family festival before the show!)
Amahl & the Night Visitors – 5:00pm – Opera in the Heights
Magical Winter Lights – 5:00pm-11:00pm – Gulf Greyhound Park
Buffalo Bayou Christmas Cruises – 5:30pm-8:30pm – Buffalo Bayou (45 minute cruises)
Zoo Lights – 5:30pm-9:30pm – Houston Zoo
Trail of Lights – 6:00pm-9:00pm – Dewberry Farms
Sugar Land Holiday Lights – 6:00pm-10:00pm – Constellation Field
Galaxy Lights – 6:00pm-10:00pm – Space Center Houston
Christmas Train – 6:00pm-10:00pm – Alvin, Texas
Rockets vs Suns – 7:00pm – Toyota Center

Sunday, December 8, 2019:
Trains Over Texas – Houston Museum of Natural Science
Holiday in the Gardens – 10:00am-10:00pm – Moody Gardens
ICE – 11:00am-8:00pm – ICE at Discovery Green
Home for the Holidays – 12:00pm-5:00pm – Old Town Spring
Dickens on the Strand – 12:00pm-6:00pm – Galveston
Real Snow Day – 10:00am-6:00pm – Children's Museum
Amahl & the Night Visitors – 2:00pm – Opera in the Heights
The Nutcracker – 2:00pm & 7:30pm – Wortham Theater
Elf, The Musical – 2:00pm & 7:30pm – Hobby Center
Miracle on 34th Street – 2:30pm – AD Players The George Theater
A Christmas Carol – A Ghost Story of Christmas – 2:30pm – Alley Theatre
Holiday in the Tre – 4:00pm-8:00pm – Emancipation Park
Magical Winter Lights – 5:00pm-10:00pm – Gulf Greyhound Park
Zoo Lights – 5:30pm-9:30pm – Houston Zoo
Sugar Land Holiday Lights – 6:00pm-9:00pm – Constellation Field
Trail of Lights – 6:00pm-9:00pm – Dewberry Farms
Galaxy Lights – 6:00pm-10:00pm – Space Center Houston
Santa's Wonderland – 6:00pm-11:00pm – College Station
Monday, December 9, 2019:
Trains Over Texas – Houston Museum of Natural Science
All Aboard the Christmas Trains – 10:00am-2:00pm – Second Baptist Woodway
Sensory Day – 10:00am-3:00pm – Children's Museum of Houston
Holiday in the Gardens – 10:00am-10:00pm – Moody Gardens
Cheap Skate – 5:00pm-10:00pm – ICE at Discovery Green
Magical Winter Lights – 5:00pm-10:00pm – Gulf Greyhound Park
Zoo Lights – 5:30pm-9:30pm – Houston Zoo
Sugar Land Holiday Lights – 6:00pm-9:00pm – Constellation Field
Galaxy Lights – 6:00pm-10:00pm – Space Center Houston
Santa's Wonderland – 6:00pm-11:00pm – College Station
Rockets vs Kings – 7:00pm – Toyota Center
Tuesday, December 10, 2019:
Trains Over Texas – Houston Museum of Natural Science
All Aboard the Christmas Trains – 10:00am-2:00pm – Second Baptist Woodway
Holiday in the Gardens – 10:00am-10:00pm – Moody Gardens
ICE – 5:00pm-10:00pm – ICE at Discovery Green
Magical Winter Lights – 5:00pm-10:00pm – Gulf Greyhound Park
Zoo Lights – 5:30pm-9:30pm – Houston Zoo
Sugar Land Holiday Lights – 6:00pm-9:00pm – Constellation Field
Galaxy Lights – 6:00pm-10:00pm – Space Center Houston
Santa's Wonderland – 6:00pm-11:00pm – College Station
Elf, The Musical – 7:30pm – Hobby Center
Wednesday, December 11, 2019:
Trains Over Texas – Houston Museum of Natural Science
All Aboard the Christmas Trains – 10:00am-2:00pm – Second Baptist Woodway
Holiday in the Gardens – 10:00am-10:00pm – Moody Gardens
Miracle on 34th Street – 10:00am & 7:30pm – AD Players The George Theater
Nature Storytime – 4:00pm – Nature Discovery Center
Children's BINGO – 4:30pm – Levy Park
ICE – 5:00pm-10:00pm – ICE at Discovery Green
Magical Winter Lights – 5:00pm-10:00pm – Gulf Greyhound Park
Zoo Lights – 5:30pm-9:30pm – Houston Zoo
Sugar Land Holiday Lights – 6:00pm-9:00pm – Constellation Field
Galaxy Lights – 6:00pm-10:00pm – Space Center Houston (Reliant Wednesday: Bring your toy to the collection area at the entrance of Space Center Houston and receive a $5 coupon to redeem at any Space Center Houston ticket booth.)
Elf, The Musical – 7:30pm – Hobby Center
The Nutcracker – 7:30pm – Wortham Theater
Thursday, December 12, 2019:
Trains Over Texas – Houston Museum of Natural Science
Free Museum Entry
Find a museum district restaurant HERE.
All Aboard the Christmas Trains – 10:00am-2:00pm – Second Baptist Woodway
Holiday in the Gardens – 10:00am-10:00pm – Moody Gardens
ICE – 5:00pm-10:00pm – ICE at Discovery Green
Magical Winter Lights – 5:00pm-10:00pm – Gulf Greyhound Park
Christmas Village at Bayou Bend – 5:30pm-9:00pm – Bayou Bend Collection and Gardens
Zoo Lights – 5:30pm-9:30pm – Houston Zoo
Sugar Land Holiday Lights – 6:00pm-9:00pm – Constellation Field
Santa's Wonderland – 6:00pm-11:00pm – College Station
Christmas Train – 6:30pm-9:30pm – Alvin, Texas
Screen on the Green: It's a Wonderful Life – 7:00pm – Discovery Green
Miracle on 34th Street – 7:30pm – AD Players The George Theater
Elf, The Musical – 7:30pm – Hobby Center
A Christmas Carol – A Ghost Story of Christmas – 7:30pm – Alley Theatre
The Nutcracker – 7:30pm – Wortham Theater
Friday, December 13, 2019:
Trains Over Texas – Houston Museum of Natural Science
Children's Story Hour – 10:00am – Hermann Park Centennial Gardens
All Aboard the Christmas Trains – 10:00am-2:00pm – Second Baptist Woodway
Holiday in the Gardens – 10:00am-10:00pm – Moody Gardens
Trail of Lights – 4:00pm-9:00pm – Dewberry Farms
ICE – 5:00pm-11:00pm – ICE at Discovery Green
Buffalo Bayou Christmas Cruises – 5:30pm-8:30pm – Buffalo Bayou (45 minute cruises)
Magical Winter Lights – 5:00pm-11:00pm – Gulf Greyhound Park
Zoo Lights – 5:30pm-9:30pm – Houston Zoo
Christmas Village at Bayou Bend – 5:30pm-10:00pm – Bayou Bend Collection and Gardens
Sugar Land Holiday Lights – 6:00pm-10:00pm – Constellation Field
Tomball German Christmas Market & Festival – 6:00pm-10:00pm – Tomball Train Depot
Galaxy Lights – 6:00pm-10:00pm – Space Center Houston
Santa's Wonderland – 6:00pm-11:00pm – College Station
Christmas Train – 6:30pm-9:30pm – Alvin, Texas
A Christmas Carol – A Ghost Story of Christmas – 7:30pm – Alley Theatre
The Nutcracker – 7:30pm – Wortham Theater
Miracle on 34th Street – 8:00pm – AD Players The George Theater
Elf, The Musical – 8:00pm – Hobby Center
Very Merry Pops – 8:00pm – Jones Hall
Saturday, December 14, 2019:
Trains Over Texas – Houston Museum of Natural Science
Breakfast with Santa – Downtown Aquarium
'Twas the Night Before Christmas – 10:00am & 11:30am – Jones Hall
All Aboard the Christmas Trains – 10:00am-2:00pm – Second Baptist Woodway
Real Snow Day – 10:00am-6:00pm – Children's Museum
Holiday in the Gardens – 10:00am-10:00pm – Moody Gardens
Tomball German Christmas Market & Festival – 10:00am-10:00pm – Tomball Train Depot
Young Writer's Workshop – 10:30am – Discovery Green
Walk on the Wild Side – 10:30am – Nature Discovery Center
Stearman Santa Fly-In – 10:30am – Lone Star Flight Museum
The Best Christmas Pageant Ever – 10:30am & 1:30pm – Main Street Theater at MATCH (10:30am is Audio Descriptive Performance)
ICE – 11:00am-11:00pm – ICE at Discovery Green
Home for the Holidays – 12:00pm-5:00pm – Old Town Spring
The Nutcracker Tea – 12:30pm – The Grand Galveston
Nutcracker– 2:00pm & 6:30pm– The Grand Galveston
The Nutcracker – 2:00pm & 7:30pm – Wortham Theater
Elf, The Musical – 2:00pm & 8:00pm – Hobby Center
Buffalo Bayou Christmas Cruises – 5:30pm-8:30pm – Buffalo Bayou (45 minute cruises)
Christmas Village at Bayou Bend – 5:30pm-10:00pm – Bayou Bend Collection and Gardens
Zoo Lights – 5:30pm-9:30pm – Houston Zoo
Trail of Lights – 6:00pm-9:00pm – Dewberry Farms
Christmas Train – 6:00pm-10:00pm – Alvin, Texas
Galaxy Lights – 6:00pm-10:00pm – Space Center Houston
Christmas Boat Parade – 6:30pm – Kemah Boadwalk
A Christmas Carol – A Ghost Story of Christmas – 8:00pm – Alley Theatre
Miracle on 34th Street – 2:30pm & 8:00pm – AD Players The George Theater
Santa's Wonderland – 3:00pm-12:00am – College Station
Amahl & the Night Visitors – 5:00pm – Opera in the Heights
Magical Winter Lights – 5:00pm-11:00pm – Gulf Greyhound Park
Lights in the Heights – 6:00pm-9:00pm – Woodland Heights
Sugar Land Holiday Lights – 6:00pm-10:00pm – Constellation Field
Carols on the Green – 7:00pm – Discovery Green
Rockets vs Pistons – 8:00pm – Toyota Center
Very Merry Pops – 8:00pm – Jones Hall
Sunday, December 15, 2019:
Trains Over Texas – Houston Museum of Natural Science
Tomball German Christmas Market & Festival – 10:00am-6:00pm – Tomball Train Depot
ICE – 11:00am-8:00pm – ICE at Discovery Green
Home for the Holidays – 12:00pm-5:00pm – Old Town Spring
Real Snow Day – 12:00pm-6:00pm – Children's Museum
Rainard School for Gifted Learners Open House – 1:00pm-3:00pm – Rainard
Family Tea and the Sea – 1:00pm-3:00pm – Maritime Museum
Amahl & the Night Visitors – 2:00pm – Opera in the Heights
Nutcracker– 2:00pm – The Grand Galveston
The Nutcracker – 2:00pm & 7:30pm – Wortham Theater
Elf, The Musical – 2:00pm & 7:30pm – Hobby Center
A Christmas Carol – A Ghost Story of Christmas – 2:30pm – Alley Theatre
Miracle on 34th Street – 2:30pm – AD Players The George Theater
Very Merry Pops – 2:30pm – Jones Hall
Santa's Wonderland – 3:00pm-11:00pm – College Station
Magical Winter Lights – 5:00pm-10:00pm – Gulf Greyhound Park
Christmas Village at Bayou Bend – 5:30pm-9:00pm – Bayou Bend Collection and Gardens
Zoo Lights – 5:30pm-9:30pm – Houston Zoo
Trail of Lights – 6:00pm-9:00pm – Dewberry Farms
Sugar Land Holiday Lights – 6:00pm-9:00pm – Constellation Field
Galaxy Lights – 6:00pm-10:00pm – Space Center Houston
Monday, December 16, 2019:
Trains Over Texas – Houston Museum of Natural Science
All Aboard the Christmas Trains – 10:00am-2:00pm – Second Baptist Woodway
Holiday in the Gardens – 10:00am-10:00pm – Moody Gardens
Cheap Skate – 5:00pm-10:00pm – ICE at Discovery Green
Magical Winter Lights – 5:00pm-10:00pm – Gulf Greyhound Park
Christmas Village at Bayou Bend – 5:30pm-9:00pm – Bayou Bend Collection and Gardens
Zoo Lights – 5:30pm-9:30pm – Houston Zoo
Sugar Land Holiday Lights – 6:00pm-9:00pm – Constellation Field
Galaxy Lights – 6:00pm-10:00pm – Space Center Houston
Santa's Wonderland – 6:00pm-11:00pm – College Station
Christmas Train – 6:30pm-9:30pm – Alvin, Texas
Rockets vs Spus – 7:00pm – Toyota Center
Tuesday, December 17, 2019:
Trains Over Texas – Houston Museum of Natural Science
All Aboard the Christmas Trains – 10:00am-2:00pm – Second Baptist Woodway
Holiday in the Gardens – 10:00am-10:00pm – Moody Gardens
ICE – 5:00pm-10:00pm – ICE at Discovery Green
Magical Winter Lights – 5:00pm-10:00pm – Gulf Greyhound Park
Christmas Village at Bayou Bend – 5:30pm-9:00pm – Bayou Bend Collection and Gardens
Zoo Lights – 5:30pm-9:30pm – Houston Zoo
Sugar Land Holiday Lights – 6:00pm-9:00pm – Constellation Field
Galaxy Lights – 6:00pm-10:00pm – Space Center Houston
Santa's Wonderland – 6:00pm-11:00pm – College Station
Christmas Train – 6:30pm-9:30pm – Alvin, Texas
Elf, The Musical – 7:30pm – Hobby Center
The Nutcracker – 7:30pm – Wortham Theater
Very Merry Pops – 7:30pm – Jones Hall
Wednesday, December 18, 2019:
Trains Over Texas – Houston Museum of Natural Science
All Aboard the Christmas Trains – 10:00am-2:00pm – Second Baptist Woodway
Holiday in the Gardens – 10:00am-10:00pm – Moody Gardens
Nature Storytime – 4:00pm – Nature Discovery Center
Children's BINGO – 4:30pm – Levy Park
ICE – 5:00pm-10:00pm – ICE at Discovery Green
Magical Winter Lights – 5:00pm-10:00pm – Gulf Greyhound Park
Zoo Lights – 5:30pm-9:30pm – Houston Zoo
Christmas Village at Bayou Bend – 5:30pm-9:00pm – Bayou Bend Collection and Gardens
Sugar Land Holiday Lights – 6:00pm-9:00pm – Constellation Field
Galaxy Lights – 6:00pm-10:00pm – Space Center Houston (Reliant Wednesday: Bring your toy to the collection area at the entrance of Space Center Houston and receive a $5 coupon to redeem at any Space Center Houston ticket booth.)
Santa's Wonderland – 6:00pm-11:00pm – College Station
Christmas Train – 6:30pm-9:30pm – Alvin, Texas
Elf, The Musical – 7:30pm – Hobby Center
The Nutcracker – 7:30pm – Wortham Theater
Miracle on 34th Street – 7:30pm – AD Players The George Theater
Thursday, December 19, 2019:
Trains Over Texas – Houston Museum of Natural Science
Free Museum Entry
Find a museum district restaurant HERE.
All Aboard the Christmas Trains – 10:00am-2:00pm – Second Baptist Woodway
Holiday in the Gardens – 10:00am-10:00pm – Moody Gardens
ICE – 5:00pm-10:00pm – ICE at Discovery Green
Magical Winter Lights – 5:00pm-10:00pm – Gulf Greyhound Park
Christmas Village at Bayou Bend – 5:30pm-9:00pm – Bayou Bend Collection and Gardens
Zoo Lights – 5:30pm-9:30pm – Houston Zoo
Sugar Land Holiday Lights – 6:00pm-9:00pm – Constellation Field
Galaxy Lights – 6:00pm-10:00pm – Space Center Houston
Santa's Wonderland – 6:00pm-11:00pm – College Station
Christmas Train – 6:30pm-9:30pm – Alvin, Texas
Screen on the Green: A Christmas Story – 7:00pm – Discovery Green
A Christmas Carol – A Ghost Story of Christmas – 7:30pm – Alley Theatre
Elf, The Musical – 7:30pm – Hobby Center
The Nutcracker – 7:30pm – Wortham Theater
Friday, December 20, 2019:
Trains Over Texas – Houston Museum of Natural Science
Children's Story Hour – 10:00am – Hermann Park Centennial Gardens
All Aboard the Christmas Trains – 10:00am-2:00pm – Second Baptist Woodway
Real Snow Day – 10:00am-6:00pm – Children's Museum
Holiday in the Gardens – 10:00am-10:00pm – Moody Gardens
The Best Christmas Pageant Ever – 10:30am & 1:30pm – Main Street Theater at MATCH
Trail of Lights – 4:00pm-9:00pm – Dewberry Farms
ICE – 5:00pm-11:00pm – ICE at Discovery Green
Buffalo Bayou Christmas Cruises – 5:30pm-8:30pm – Buffalo Bayou (45 minute cruises)
Magical Winter Lights – 5:00pm-11:00pm – Gulf Greyhound Park
Zoo Lights – 5:30pm-9:30pm – Houston Zoo
Christmas Village at Bayou Bend – 5:30pm-10:00pm – Bayou Bend Collection and Gardens
Sugar Land Holiday Lights – 6:00pm-10:00pm – Constellation Field
Galaxy Lights – 6:00pm-10:00pm – Space Center Houston
Santa's Wonderland – 6:00pm-12:00am – College Station
Christmas Train – 6:30pm-9:30pm – Alvin, Texas
A Christmas Carol – A Ghost Story of Christmas – 7:30pm – Alley Theatre
The Nutcracker – 7:30pm – Wortham Theater
Handel's Messiah – 8:00pm – Jones Hall
Elf, The Musical – 8:00pm – Hobby Center
Miracle on 34th Street – 8:00pm – AD Players The George Theater
Saturday, December 21, 2019:
Trains Over Texas – Houston Museum of Natural Science
Breakfast with Santa – Downtown Aquarium
The Light Has Come – Second Baptist Woodway Campus
All Aboard the Christmas Trains – 10:00am-2:00pm – Second Baptist Woodway
Real Snow Day – 10:00am-6:00pm – Children's Museum
Young Writer's Workshop – 10:30am – Discovery Green
Stearman Santa Fly-In – 10:30am – Lone Star Flight Museum
The Best Christmas Pageant Ever – 10:30am & 1:30pm – Main Street Theater at MATCH
ICE – 11:00am-11:00pm – ICE at Discovery Green
The Nutcracker –2:00pm & 7:30pm – Wortham Theater
Elf, The Musical – 2:00pm & 7:30pm – Hobby Center
A Christmas Carol – A Ghost Story of Christmas – 2:30pm & 7:30pm – Alley Theatre
Miracle on 34th Street – 2:30pm & 8:00pm – AD Players The George Theater
Santa's Wonderland – 3:00pm-12:00am – College Station
Buffalo Bayou Christmas Cruises – 5:30pm-8:30pm – Buffalo Bayou (45 minute cruises)
Magical Winter Lights – 5:00pm-11:00pm – Gulf Greyhound Park
Zoo Lights – 5:30pm-9:30pm – Houston Zoo
Christmas Village at Bayou Bend – 5:30pm-10:00pm – Bayou Bend Collection and Gardens
Trail of Lights – 6:00pm-9:00pm – Dewberry Farms
Christmas Train – 6:00pm-10:00pm – Alvin, Texas
Sugar Land Holiday Lights – 6:00pm-10:00pm – Constellation Field
Galaxy Lights – 6:00pm-10:00pm – Space Center Houston
Handel's Messiah – 8:00pm – Jones Hall
Sunday, December 22, 2019:
Trains Over Texas – Houston Museum of Natural Science
Holiday in the Gardens – 10:00am-10:00pm – Moody Gardens
ICE – 11:00am-8:00pm – ICE at Discovery Green
Real Snow Day – 12:00pm-6:00pm – Children's Museum
The Nutcracker –2:00pm & 7:30pm – Wortham Theater
Handel's Messiah – 2:30pm – Jones Hall
Miracle on 34th Street – 2:30pm – AD Players The George Theater
A Christmas Carol – A Ghost Story of Christmas – 2:30pm & 7:30pm – Alley Theatre
Trans-Siberian Orchestra – 3:00pm & 5:00pm – Toyota Center
Santa's Wonderland – 3:00pm-11:00pm – College Station
Magical Winter Lights – 5:00pm-11:00pm – Gulf Greyhound Park
Christmas Village at Bayou Bend – 5:30pm-10:00pm – Bayou Bend Collection and Gardens
Zoo Lights – 5:30pm-9:30pm – Houston Zoo
Sugar Land Holiday Lights – 6:00pm-9:00pm – Constellation Field
Trail of Lights – 6:00pm-9:00pm – Dewberry Farms
Christmas Train – 6:00pm-10:00pm – Alvin, Texas
Galaxy Lights – 6:00pm-10:00pm – Space Center Houston
Monday, December 23, 2019:
Trains Over Texas – Houston Museum of Natural Science
The Light Has Come – Second Baptist Woodway Campus
All Aboard the Christmas Trains – 10:00am-2:00pm – Second Baptist Woodway
Holiday in the Gardens – 10:00am-10:00pm – Moody Gardens
ICE – 11:00am-11:00pm – ICE at Discovery Green
Movie at the Museum – 11:30am – Lone Star Flight Museum
The Nutcracker –2:00pm & 7:30pm – Wortham Theater
Magical Winter Lights – 5:00pm-11:00pm – Gulf Greyhound Park
Sugar Land Holiday Lights – 6:00pm-10:00pm – Constellation Field
Christmas Village at Bayou Bend – 5:30pm-9:00pm – Bayou Bend Collection and Gardens
Zoo Lights – 5:30pm-9:30pm – Houston Zoo
Sugar Land Holiday Lights – 6:00pm-9:00pm – Constellation Field
Galaxy Lights – 6:00pm-10:00pm – Space Center Houston
Santa's Wonderland – 6:00pm-11:00pm – College Station
Christmas Train – 6:30pm-9:30pm – Alvin, Texas
Tuesday, December 24, 2019:
Trains Over Texas – Houston Museum of Natural Science
Breakfast with Santa – Downtown Aquarium
All Aboard the Christmas Trains – 10:00am-2:00pm – Second Baptist Woodway
Real Snow Day – 10:00am-8:00pm – Children's Museum
Holiday in the Gardens – 10:00am-10:00pm – Moody Gardens
ICE – 11:00am-7:00pm – ICE at Discovery Green
The Nutcracker –2:00pm – Wortham Theater
A Christmas Carol – A Ghost Story of Christmas – 2:30pm – Alley Theatre
Magical Winter Lights – 5:00pm-11:00pm – Gulf Greyhound Park
Sugar Land Holiday Lights – 6:00pm-9:00pm – Constellation Field
Santa's Wonderland – 6:00pm-11:00pm – College Station
Wednesday, December 25, 2019:
Holiday in the Gardens – 12:00pm-10:00pm – Moody Gardens
ICE – 1:00pm-7:00pm – ICE at Discovery Green
Magical Winter Lights – 5:00pm-11:00pm – Gulf Greyhound Park
Sugar Land Holiday Lights – 6:00pm-9:00pm – Constellation Field
Santa's Wonderland – 6:00pm-11:00pm – College Station
Thursday, December 26, 2019:
Trains Over Texas – Houston Museum of Natural Science
Free Museum Entry
Find a museum district restaurant HERE.
Real Snow Day – 10:00am-6:00pm – Children's Museum
Holiday in the Gardens – 10:00am-10:00pm – Moody Gardens
ICE – 11:00am-11:00pm – ICE at Discovery Green
The Nutcracker –2:00pm & 7:30pm – Wortham Theater
Magical Winter Lights – 5:00pm-11:00pm – Gulf Greyhound Park
Zoo Lights – 5:30pm-9:30pm – Houston Zoo
Christmas Village at Bayou Bend – 5:30pm-9:00pm – Bayou Bend Collection and Gardens
Sugar Land Holiday Lights – 6:00pm-9:00pm – Constellation Field
Galaxy Lights – 6:00pm-10:00pm – Space Center Houston
Santa's Wonderland – 6:00pm-11:00pm – College Station
Screen on the Green: A Dog's Way Home – 7:00pm – Discovery Green
A Christmas Carol – A Ghost Story of Christmas – 7:30pm – Alley Theatre

Friday, December 27, 2019:
Trains Over Texas – Houston Museum of Natural Science
Children's Story Hour – 10:00am – Hermann Park Centennial Gardens
All Aboard the Christmas Trains – 10:00am-2:00pm – Second Baptist Woodway
Real Snow Day – 10:00am-6:00pm – Children's Museum
Holiday in the Gardens – 10:00am-10:00pm – Moody Gardens
ICE – 5:00pm-11:00pm – ICE at Discovery Green
The Nutcracker –2:00pm & 7:30pm – Wortham Theater
Trail of Lights – 4:00pm-9:00pm – Dewberry Farms
Magical Winter Lights – 5:00pm-11:00pm – Gulf Greyhound Park
Zoo Lights – 5:30pm-9:30pm – Houston Zoo
Christmas Village at Bayou Bend – 5:30pm-10:00pm – Bayou Bend Collection and Gardens
Sugar Land Holiday Lights – 6:00pm-10:00pm – Constellation Field
Galaxy Lights – 6:00pm-10:00pm – Space Center Houston
Santa's Wonderland – 6:00pm-12:00am – College Station
A Christmas Carol – A Ghost Story of Christmas – 7:30pm – Alley Theatre
Saturday, December 28, 2019:
Trains Over Texas – Houston Museum of Natural Science
Art in the Park – 10:00am-12:00pm – Evelyn's Park
All Aboard the Christmas Trains – 10:00am-2:00pm – Second Baptist Woodway
Real Snow Day – 10:00am-6:00pm – Children's Museum
Young Writer's Workshop – 10:30am – Discovery Green
ICE – 11:00am-11:00pm – ICE at Discovery Green
Rudolph the Red-Nosed Reindeer – 1:00pm & 4:00pm – The Grand Galveston
The Nutcracker –2:00pm & 7:30pm – Wortham Theater
A Christmas Carol – A Ghost Story of Christmas – 2:30pm & 7:30pm – Alley Theatre
Santa's Wonderland – 3:00pm-12:00am – College Station
Magical Winter Lights – 5:00pm-11:00pm – Gulf Greyhound Park
Zoo Lights – 5:30pm-9:30pm – Houston Zoo
Christmas Village at Bayou Bend – 5:30pm-10:00pm – Bayou Bend Collection and Gardens
Trail of Lights – 6:00pm-9:00pm – Dewberry Farms
Sugar Land Holiday Lights – 6:00pm-10:00pm – Constellation Field
Galaxy Lights – 6:00pm-10:00pm – Space Center Houston
Rockets vs Nets – 7:00pm – Toyota Center
SHEN YUN – 7:30pm – Jones Hall

Sunday, December 29, 2019:
Trains Over Texas – Houston Museum of Natural Science
Real Snow Day – 10:00am-6:00pm – Children's Museum
Holiday in the Gardens – 10:00am-10:00pm – Moody Gardens
ICE – 11:00am-11:00pm – ICE at Discovery Green
SHEN YUN – 1:00pm & 6:00pm – Jones Hall
The Nutcracker –2:00pm & 7:30pm – Wortham Theater
A Christmas Carol – A Ghost Story of Christmas – 2:30pm – Alley Theatre
Magical Winter Lights – 5:00pm-11:00pm – Gulf Greyhound Park
Sugar Land Holiday Lights – 6:00pm-9:00pm – Constellation Field
Santa's Wonderland – 6:00pm-11:00pm – College Station
Magical Winter Lights – 5:00pm-11:00pm – Gulf Greyhound Park
Zoo Lights – 5:30pm-9:30pm – Houston Zoo
Christmas Village at Bayou Bend – 5:30pm-9:00pm – Bayou Bend Collection and Gardens
Sugar Land Holiday Lights – 6:00pm-9:00pm – Constellation Field
Trail of Lights – 4:00pm-9:00pm – Dewberry Farms
Galaxy Lights – 6:00pm-10:00pm – Space Center Houston
Monday, December 30, 2019:
Trains Over Texas – Houston Museum of Natural Science
Holiday in the Gardens – 10:00am-10:00pm – Moody Gardens
ICE – 11:00am-11:00pm – ICE at Discovery Green
Magical Winter Lights – 5:00pm-11:00pm – Gulf Greyhound Park
Christmas Village at Bayou Bend – 5:30pm-9:00pm – Bayou Bend Collection and Gardens
Zoo Lights – 5:30pm-9:30pm – Houston Zoo
Sugar Land Holiday Lights – 6:00pm-9:00pm – Constellation Field
Galaxy Lights – 6:00pm-10:00pm – Space Center Houston
Santa's Wonderland – 6:00pm-11:00pm – College Station
SHEN YUN – 7:30pm – Jones Hall
Tuesday, December 31, 2019:
Sharkey's New Year's Eve Celebration – Downtown Aquarium
New Year's Eve Family Celebration– – Kemah Boardwal
Trains Over Texas – Houston Museum of Natural Science
Holiday in the Gardens – 10:00am-10:00pm – Moody Gardens
ICE – 11:00am-7:00pm – ICE at Discovery Green
SHEN YUN – 1:00pm – Jones Hall
Magical Winter Lights – 5:00pm-11:00pm – Gulf Greyhound Park
Zoo Lights – 5:30pm-9:30pm – Houston Zoo
Rockets vs Nuggets – 6:00pm – Toyota Center
Sugar Land Holiday Lights – 6:00pm-9:00pm – Constellation Field (Fireworks!)
Galaxy Lights – 6:00pm-10:00pm – Space Center Houston
Wednesday, January 1, 2020:
Trains Over Texas – Houston Museum of Natural Science Holiday in the Gardens – 10:00am-10:00pm – Moody Gardens
ICE – 1:00pm-7:00pm – ICE at Discovery Green
SHEN YUN – 1:00pm – Jones Hall
Magical Winter Lights – 5:00pm-11:00pm – Gulf Greyhound Park
Zoo Lights – 5:30pm-9:30pm – Houston Zoo
Sugar Land Holiday Lights – 6:00pm-9:00pm – Constellation Field
Galaxy Lights – 6:00pm-10:00pm – Space Center Houston

Thursday, January 2, 2020:
Trains Over Texas – Houston Museum of Natural Science
Free Museum Entry
Find a museum district restaurant HERE.
Holiday in the Gardens – 10:00am-10:00pm – Moody Gardens
ICE – 11:00am-11:00pm – ICE at Discovery Green
PLAY 60 at the Park – 5:00pm – Evelyn's Park
Magical Winter Lights – 5:00pm-10:00pm – Gulf Greyhound Park
Zoo Lights – 5:30pm-9:30pm – Houston Zoo
Sugar Land Holiday Lights – 6:00pm-9:00pm – Constellation Field
Galaxy Lights – 6:00pm-10:00pm – Space Center Houston

Friday, January 3, 2020:
Trains Over Texas – Houston Museum of Natural Science
Children's Story Hour – 10:00am – Hermann Park Centennial Gardens
Holiday in the Gardens – 10:00am-10:00pm – Moody Gardens
ICE – 5:00pm-11:00pm – ICE at Discovery Green
Magical Winter Lights – 5:00pm-11:00pm – Gulf Greyhound Park
Zoo Lights – 5:30pm-9:30pm – Houston Zoo
Sugar Land Holiday Lights – 6:00pm-10:00pm – Constellation Field
Galaxy Lights – 6:00pm-10:00pm – Space Center Houston
Rockets vs 76ers – 7:00pm – Toyota Center
Saturday, January 4, 2020:
Trains Over Texas – Houston Museum of Natural Science
Young Writer's Workshop – 10:30am – Discovery Green
Holiday in the Gardens – 10:00am-10:00pm – Moody Gardens
ICE – 11:00am-11:00pm – ICE at Discovery Green
Magical Winter Lights – 5:00pm-11:00pm – Gulf Greyhound Park
Zoo Lights – 5:30pm-9:30pm – Houston Zoo
Sugar Land Holiday Lights – 6:00pm-10:00pm – Constellation Field
Galaxy Lights – 6:00pm-10:00pm – Space Center Houston

Sunday, January 5, 2020:
Trains Over Texas – Houston Museum of Natural Science
Holiday in the Gardens – 10:00am-10:00pm – Moody Gardens
ICE – 11:00am-8:00pm – ICE at Discovery Green
Magical Winter Lights – 5:00pm-10:00pm – Gulf Greyhound Park
Zoo Lights – 5:30pm-9:30pm – Houston Zoo
Sugar Land Holiday Lights – 6:00pm-9:00pm – Constellation Field
Galaxy Lights – 6:00pm-10:00pm – Space Center Houston