Plan out another great week and weekend, in Houston, with kids! This weekly events list is brought to you by our sponsor, YOU!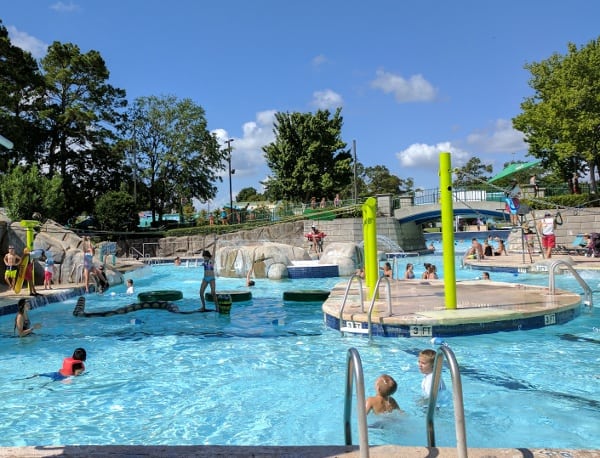 Picture links to the sponsor.
Enjoy the theater with kids... with The Wizard of Oz at Main Street Theater, Garbage Island 3.0 at the Rec Room and the Express Theatre's Hilltop Festival for Children at Miller Outdoor Theatre.
Watch some baseball with the Astros vs Twins at Minute Maid Park and the Skeeters vs Barnstormers at Constellation Field. Both events are great, but the Skeeters games are very family friendly, you can find some discount tickets on affiliate Goldstar and on Sunday, you can get free tickets for READING!
If you've been planning trip to Wet'n'Wild SplashTown, check out the Dive-In Movie: The Secret Life of Pets.
For the full list of things to do, brought to you by YOU, look below. And to plan you summer, go HERE for all the events scheduled in Houston!
Also, go HERE to get this list delivered to your inbox each week and HERE to get daily event updates on Facebook!

Things to Do Any Day:
Stay Cool this Summer… FREE Houston Splashpads, Pools & Air Conditioned Venues!
Free Summer Camps & Classes for Houston Kids for 2017
$1 Move Theater Movies
, all over Houston, all summer long.
FREE Houston Area Summer Reading Programs
(and earn really good rewards)
Kids Bowl Free All Summer
.
Explore Houston like an Insider
Visit a new
Houston Park
Find
Kid Friendly Restaurants
in Houston
Thursday, July 13, 2017:
Free Museum Entry
Children's Museum of Houston FREE 5:00pm-8:00pm
The Health Museum FREE 2:00pm-7:00pm
Houston Museum of Natural Science FREE 3:00pm-5:00pm
The Museum of Fine Arts, Houston FREE 10:00am-9:00pm
Find a museum district restaurant HERE.
Summer Art Explorers: Look, Discover, Create! – 11:00am – 2:00pm – Museum of Fine Arts Houston
Pippin – 8:15pm – Miller Outdoor Theatre
Friday, July 14, 2017:
Children's Story Hour – 10:00am-11:00am – Hermann Park
Dive-In Movie: The Secret Life of Pets – 10:00am-8:00pm – Wet'n'Wild SplashTown
Cool Nights – 5:00pm-8:00pm – Houston Zoo
Skeeters vs Barnstormers – 7:05pm – Constellation Field (Find some discount tickets on affiliate Goldstar)
Astros vs Twins – 7:10pm – Minute Maid Park
Pippin – 8:15pm – Miller Outdoor Theatre
Saturday, July 15, 2017:
HALS Free Train Rides – 9:00am-1:00pm – Zube Park
Young Writers Workshop – 10:30am – Discovery Green
Garbage Island 3.0 – 10:30am – Rec Room Downtown
The Wizard of Oz – 11:00am & 2:00pm – Main Street Theater
Express Children's Theatre – 1:00pm – Houston Library Express at Discovery Green
Skeeters vs Barnstormers – 6:05pm – Constellation Field (Find some discount tickets on affiliate Goldstar)
Astros vs Twins – 6:10pm – Minute Maid Park
Pippin – 8:15pm – Miller Outdoor Theatre
Sunday, July 16, 2017:
The Wizard of Oz – 12:30pm & 3:30pm – Main Street Theater
Family Zone – 1:00pm-4:00pm – Museum of Fine Arts
Astros vs Twins – 1:10pm – Minute Maid Park
Skeeters vs Barnstormers – 6:05pm – Constellation Field (On Sunday, you can get free tickets for READING!)
Pippin – 8:15pm – Miller Outdoor Theatre
Monday, July 17, 2017:
Skeeters vs Barnstormers – 7:05pm – Constellation Field (Find some discount tickets on affiliate Goldstar)
Astros vs Mariners – 7:10pm – Minute Maid Park
Tuesday, July 18, 2017:
Two for Tuesday (Buy One Get One Free) – Downtown Aquarium
Toddler Playtime – 10:30am – Houston Library Express at Discovery Green
MFAH Playdate – 10:45am – Museum of Fine Arts
Express Theatre's Hilltop Festival for Children: FREEDOM TRAIN – 11:00am – Miller Outdoor Theatre
Family Storybook Circle – 11:30am – Museum of Fine Arts
Skeeters vs Barnstormers – 7:05pm – Constellation Field (Find some discount tickets on affiliate Goldstar)
Astros vs Mariners – 7:10pm – Minute Maid Park
Wednesday, July 19, 2017:
Express Theatre's Hilltop Festival for Children: Sinbad the Sailor – 11:00am – Miller Outdoor Theatre
Skeeters vs Barnstormers – 11:05am – Constellation Field (Find some discount tickets on affiliate Goldstar)
Astros vs Mariners – 1:10pm – Minute Maid Park
Looking for more to do in your part of town? Check out…
365 Things to Do in Houston for grown-up things to do.
Fun2Go Misters for things to do near Humble.
Mac Kid SW Houston for things to do in SW Houston, Missouri City, Sugar Land.
Gish Picks… Curated Culture for Kids and Adults