McCheek's Academy Upcoming Clay Classes for You and Your Kids

McCheek's Academy
is a great little creative studio in the Houston Heights. My kids have taken classes here and had a great time. See our last post
HERE
.
McCheek's has several upcoming classes for you.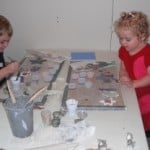 Saturday Kids Classes with RODEO themed projects
New series of four week kids classes on Saturdays starting March 3rd
Ages 3-5 (with parent), 10-11.30am
Ages 6-11, 2-3.30pm
You can contact us for a registration form HERE.
Teenage Kids Classes
There has been interest in classes for teenagers… but they are looking to fill the class.
If you are interested, contact McCheek's HERE.
Free Clay and Cabernet
For February and March, anyone who organizes a group of 6 or more for Clay and Cabernet can get their class free.
Go HERE for details.