Downtown Aquarium – Houston
Address: 410 Bagby St @ Memorial Dr, Houston, TX 77002
Cost:
Aquarium Adventure Exhibit:
Adults $9.25
Seniors (65+) $8.25
Children (2-12) $6.25
Children (under 2)FREE
Rides:
Shark Voyage $4.99
Diving Bell Ferris Wheel $3.99
Aquatic Carousel $2.99
Lighthouse Dive $3.99
All Day Adventure Pass $15.99
Appropriate Age: Any age
Our Review: Houston's Downtown Aquarium is located on the west side of Downtown on Buffalo Bayou.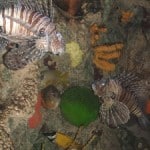 The land used to be home to Fire Station No. 1 and the Central Waterworks Building. It is now a 500,000-gallon aquarium with over 200 species of aquatic life. It is owned by Landry's and has a restaurant, bar, ballroom, aquatic & geographic exhibits, and small amusement park. The Downtown Aquarium has a parking lot that starts at $6 or is a short walk from the METRORail Preston Station.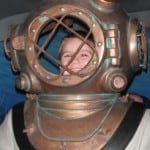 Periodically, the Downtown Aquarium has coupons on the website for a buy one get one free all day adventure pass. Go HERE to see what is available. I've seen the coupon for every Tuesday and also for every Saturday in a specific month. Lucky for us, there were Super Saturdays in January so we printed out our coupons and made our plans.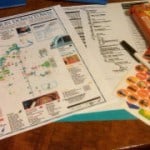 For my nephew's birthday, we decided to have a Downtown adventure. I packed adventure bags for all the kids with maps of downtown and METRORail, extra paper, pens, stickers and granola bars. We then headed over to Natachee's in midtown. Behind Natachee's we were able to park in the lot, all day, for $3 (or $2 on a weekday). Inside Natachee's the kids were able to play in the sandbox and watch the METRORail go by.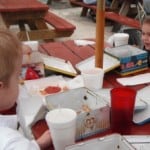 After the kids finished the meals, served in old fashioned lunch boxes, we went across the street the to the Ensemble/HCC METRORail Station. Tickets are $1.25 per person, with children under 5 being free. My kids were excited to have the extra adults on board, which meant they could sit in the "special seats" behind the engineer while I stayed back with the stroller.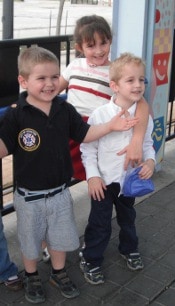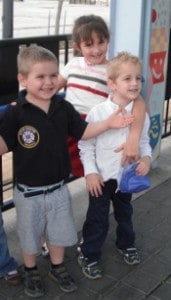 We jumped off at the Preston station and headed through the theater district to the Downtown Aquarium. It is a 6 block, easy walk on Preston. (Congress is a little busy.) We walked over Buffalo Bayou and arrived at the Downtown Aquarium with everyone in Houston.
It was Saturday around 2:00 and the line was about 20 families deep. I later noticed a ticket booth inside the amusement park area that also sold tickets. Next time it would be worth checking in there before standing in the main line. As it was, we were still able to get tickets in about 10 minutes.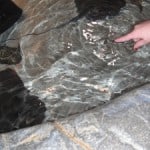 We used several Super Saturday coupons in 1 transaction. (Just be sure to bring multiple print outs of the coupon.) With this, we all got All Day Adventure passes giving us access to the Aquarium, Shark Voyage, Diving Bell Ferris Wheel, Aquatic Carousel and Lighthouse Dive. The tickets were $15.99, but then you got one free with the coupon, so it was really $8.00 per person.
We headed to the aquarium first but I later figured out you could go into the outdoor amusement park area first if you prefer. No tickets are needed to be in this area, just to ride the rides.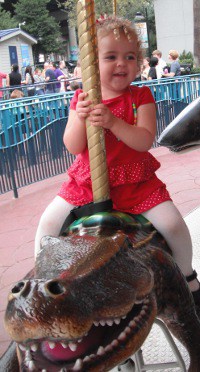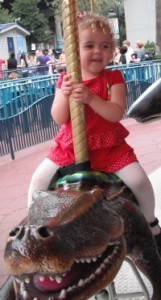 The aquarium is pretty small and it's best to take your time in each room (because you'll soon be at the exit). Still, each room has a lot going on and my kids were really excited to be there. Brooke even woke up from her nap to see what all the fuss was about. One of the highlights was the Discovery Rig where you can touch stingrays.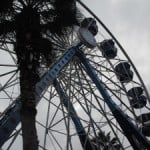 Outside we found the rides. You know that ferris wheel you see from I45 in downtown? Well Joe has now been on it. I used baby James as a really good excuse to keep my feet on solid ground. Next was the carousel that Brooke wanted to ride 10 times. (Good thing for the Adventure Pass… we were able to just keep riding it.) Finally we went on the train ride that we had been looking forward to since we saw the website.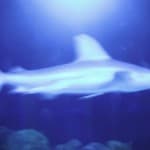 The Shark Voyage had a long line and we had to wait about 15 minutes to ride the train. Once on board, the train travels a short distance and goes under an aquarium where the sharks are swimming around you. It has a cool blue light and it looks wild. There is also a recording that talks about the sharks and how the aquarium cares for them. My kids got a kick out of the sharks swimming all over and Joe has been spouting out facts about the tank each day since we visited.
From what I could see, even with your all day pass, there were a lot of ways to spend more money. There were the concessions stands, restaurants, gift stores, face painting, drawings, games and much more. And people were spending a lot of money. I suggest you be prepared before you go and pack some water and snacks. Also, focus on the rides and not the other booths. Face painting was $5 to $10 each!
When it is warm, bring a swim suit for the kids. There was a splash pad that looked to be free to everyone. No tickets were needed.
Before leaving the park, Joe just had to ride on the Lighthouse Dive. I made him watch it several times, but he just HAD to ride it. He was over the 42 inchs line, so I told him he could go on with his aunt. Once again, I used baby James as a good excuse to stay on the ground. Check out his ride!
His face looked very concerned as he dropped from the sky, but never once has he admitted that it was scarey. But he hasn't asked to go on it again.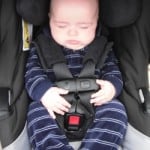 All in all, the kids enjoyed the trip to the Downtown Aquarium. I do not think it is as fun as the zoo or the Houston Museum of Natural Science, or other some other Houston attractions, but it is definitely somewhere you should check out when there is a Buy One Get One Free Coupon. We certainly had $8.00 worth of fun.  Even baby James had a big gigantic fun day.