Big Texas Train Show
Address: George R. Brown Convention Center
Dates:  October 8 & 9, 2011
Cost:  $9 for adults, $2 for children under 12, Free for kids free and under. With the coupon, you save $1 per person.
Appropriate Age:  All ages.
Our Overview:  On the days that Joe is not a fireman or police officer, he is a train conductor. He loves trains like his grandpa. Today we attended the Big Texas Train Show at George R. Brown and it was the highlight of the weekend.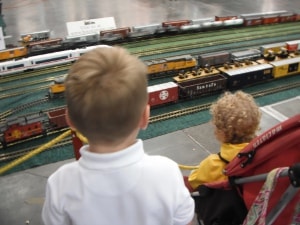 On Sundays, street parking is free and we found a spot next to Discovery Green. We arrived at the show in the pouring rain, but it did not put a damper on the attendance. The show was very busy with families and train enthusiasts.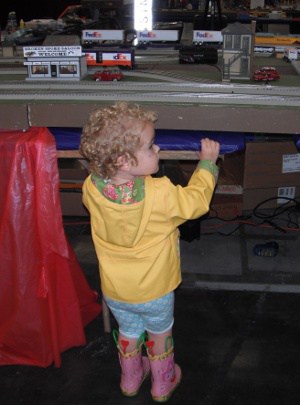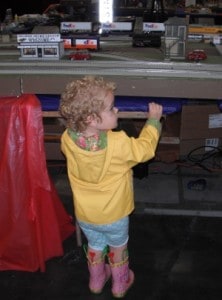 The hall was full of booths. There was a lot of train merchandise and many working model train layouts. My kids went from booth to booth looking at the layouts. Some were huge, some had Thomas the Tank Engine and one was made from Legos.  What could be better than Legos and trains all in one?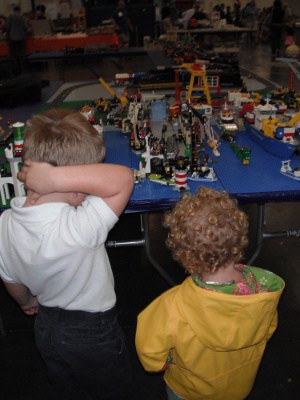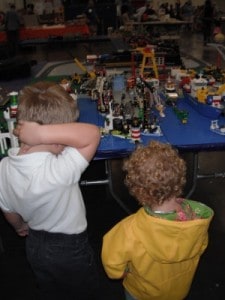 In the back of the show we also discovered a toddler play area and two train cars you could climb on. I knew Joe (the train conductor) would like the show, but with this, I'm sure that all kids would enjoy the show.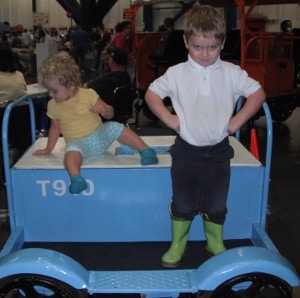 Brooke thought it was fun. So fun that she didn't want to leave. If you were there today, you probably noticed me walking out with a 4 year old walker, a newborn in the Baby Bjorn and a screaming 2 year old over my shoulder. Still, I'd say that the show was a success and we'll attended next time it is in town… but maybe we'll leave 10 minutes before Brooke "hits the wall"!