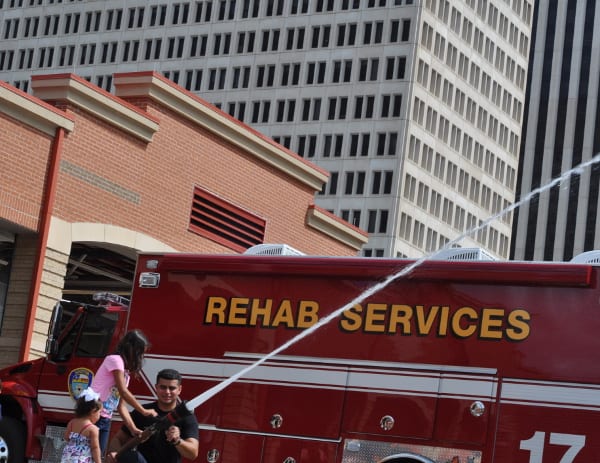 Each time we venture out into Houston with our kids, we come home with wild imaginations, dinnertime conversation, ideas for our next adventure and an even greater appreciation for our city. BigKidSmallCity Meet-Ups are opportunities to explore Houston with our kids and other families. All Meet-Ups are unique to our city and all are small in scale. We have visited several fire stations, city hall, a youth theater, a couple wildlife parks and an out-of-this-world furniture store.
The Meet-Ups are designed so that instead of sitting and watching kids play, we are actively exploring with them. In addition to this, the venues we visit are something we can only experience in our great city. Because of this, the size of the Meet-Ups is always limited to what the venue can hold and what is enjoyable for the attendees supervising (chasing) young kids.
I truly love meeting the people in the BigKidSmallCity community and these Meet-Ups will continue to be scheduled. We will keep up the tours and get more and more creative as we get behind the scenes looks at how Houston ticks and how local businesses/factories operate.
Many requests have been made for an opportunity to get exclusive access to the Meet-Ups. Parents are very busy people and not always around at 7:01pm to sign up for the next tour. We are offering a new service to a Members Club.
For those people that are tired of missing out on the opportunities and want Meet-Ups added just for them, they can join the BKSC Members Club.
BKSC Members Club Opportunities:
4 BKSC Members Only Meet-Ups. Including:

At least one "Hometown Heros" Meet Up. This will include the popular fire station tour or EMT, fire fighter or police demonstration.
An opportunity for a semi-private tour. Join just a few other families for a trip on the METRORail, to the mysterious red button, to the top of the JP Morgan Chase tower or another uniquely Houston adventure! Your suggestions will create the event.

Members will have the opportunity to sign up for the regular Meet-Ups as well. If you miss a spot, you will be added to the priority wait list.
In addition to this, BKSC Members will have access to:
One Complimentary business/blog consultation or speaking session.  This includes a 30 minute consultation on improving your blog or local business or a 60 minute speech/panel discussion to your group (church group, moms group, etc).
The Membership Term is one year and is $100/family. One membership per household please. Because of the personal attention each member will get, this group will be limited in size. Also because of the personal attention, the price will not go down! $100/family is an introductory rate and will go up the busier we get.
Sign up today and get ready for an insider's view of Houston, without the pain of the sign up form!
To sign up, submit payment and fill out the BKSC Membership Form. Both forms are below: