Miss Nelson is Missing! Main Street Theater March 2 – April 6, 2013
Address: 4617 Montrose Blvd, Houston, Texas 77006
Cost: Reasonable
Appropriate Age: Children 3 and older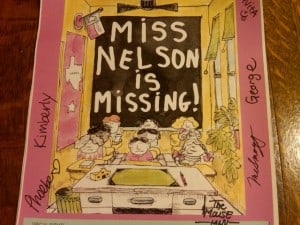 Miss Nelson is Missing! is open at Main Street Theater's Chelsea Market location from March 2 through April 6, 2013.  The show is open to schools during the week and to the public on weekends and during spring break.  And you need to go!
Miss Nelson is Missing!
is based on the book of the same name.  As the story goes, Miss Nelson's students are constantly misbehaving and she is desperate to turn their behavior around.  One day she disappears and is replaced by the mean Miss Swamp.  The kids are desperate to find Miss Nelson.  They hire a detective and actually study so they can not be forced to repeat the year with Miss Swamp.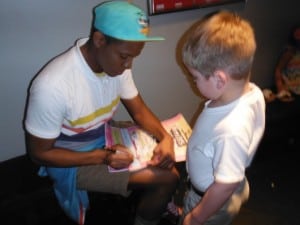 This fun story comes to life at Main Street Theater.  The 1 hour show, with a 15 minute intermission, is perfect for kids as young as 3 years old.  All the seats are close to the stage and the kids feel like they are close to the action.  We sat in the front row, on the side, and had the actors within a few feet of us.
My kids, ages 5 and 3, love Main Street Theater.  They fell in love at Pinkalicious and have been to every show since.  My kids will not sit through a movie but they beg to attend the youth theater shows.  They dance in their seats and are wide eyed when the set is flipped around for the next scene.  They have also come to recognize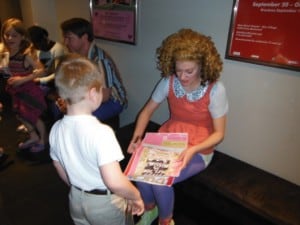 the actors.  When the nerdy Raymond (Nick Thomas) walked across the stage, Joe whispered to me, "That's Pinkalicious's brother.".
After the show, the actors sit outside and greet the children, pose for pictures and sign autographs.  We buy the $3 poster to have signed and hang in the kid's room.  We like to visit the funny Chioke Coreathers and smile until he recognizes his biggest fans.
On the way home, Brooke declared that Lavita (Brittny Bush) and Kimberly (Lauren Dolk) where her favorites.  I'm guessing it was Lavita's attitude and Kimberly's curly hair that Brooke liked best.  Joe liked the funny Detective McSmogg (Alan Hall) and the terrible student George (Mark Robbins).  Also in the show was Morris (Chioke Coreathers), Miss Nelson/Viola Swamp (Katie Harrison), the queasy nerd Phoebe (Jessica Knapp) and the angry nerd Raymond (Nick Thomas).
Be sure to See Miss Nelson is Missing! before it's over on April 6.  Also check out their summer camps for kids 4 and older.  We had a great experience last year.  But that's no surprise;  it's Main Street Theater!