Duck for President at Main Street Theater – September 29 to October 27, 2012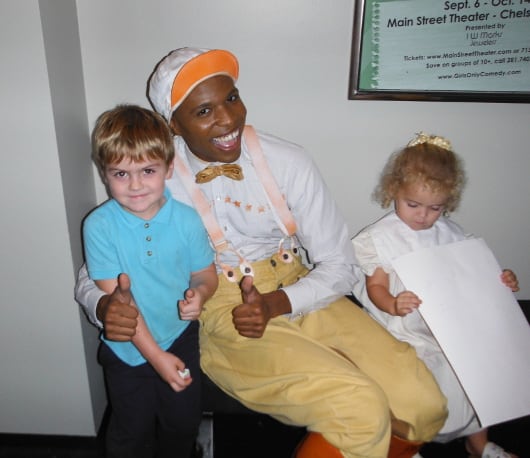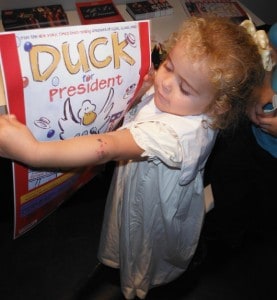 Duck for President is now on at Main Street Theater and you need to go!
Over the summer, my big kids and I saw Pinkalicious and have talked about it every day since.  They then saw the Duck for President postcard on my desk and began talking about Pinkalicious AND the upcoming Duck for President.  Thank goodness it opened today because I was not sure I could hold off the "When can we go?" questions (said with a bit of an inpatient whine) for another day.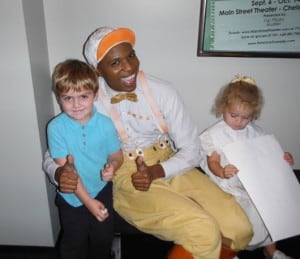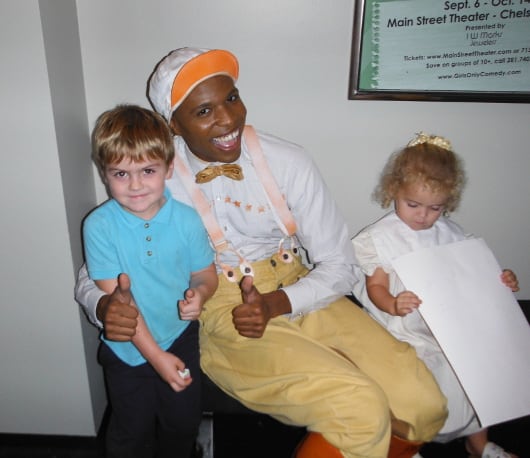 Duck for President is based on the BOOK
by Doreen Cronin and was adapted by James Grote.  "Unhappy with the working conditions on Farmer Brown's farm, Duck campaigns to put himself in charge." First he runs for farmer, then for governor and finally for president.
If you are wondering, like my kids were, the animals are all played by people.  Duck is played by Chioke Coreathers and, somewhat surprising to me, it is not at all awkward to have duck played by a man.  He's goofy, cute and talks with a little lispy quack.  Also in the play is Farmer Brown (Alan Hall), Hen (Lauren Dolk), Cow (Katie Harrison) and Pig (Jessica Knapp).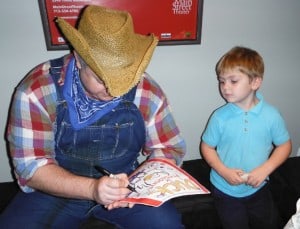 Duck for President is at Main Street Theater's Chelsea Market location.  Located on Montrose Blvd, it is easy to get to and has a huge (and free) parking lot.  Inside the theater is small and casual.  It is perfect for taking kids while wearing your best blue jeans.  Tickets can be purchased online or by phone, but should be reserved early for the best seats. Based on today's performance, Duck for President looks like it is going to be very popular.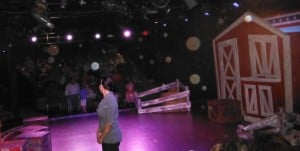 We arrived at the theater at 12:40 for the 1:00pm show.  This was plenty early to hit the restroom and find our seats.  Since we never seem to plan ahead anymore, we had just purchased tickets two days ahead of time and were in the side seating ($12 each).  I can't tell you what premium seating is like because we've never had it.  I can tell you that side seating is perfectly fine.  Everyone is so close to the stage that nothing is missed.
Walking to our seats is one of our favorite parts of the show.  To get across the room, you get to walk across the edge of the stage and see my kids goofy smiles.  Once in our seats, the lights started to go down and you could hear the excitement.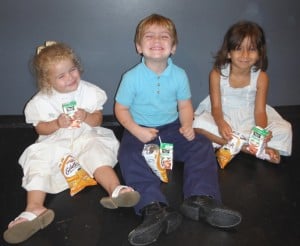 The show is about an hour long with a 15 minute intermission.  The theater is filled with kids (age 3 and older) and it's amazing how focused they are on the show.  There are certainly a few squeaks here and there, which are perfectly acceptable, but the kids are bright-eyed and tapping their toes.  At intermission, our friend looked over and said, "But I want to see more!".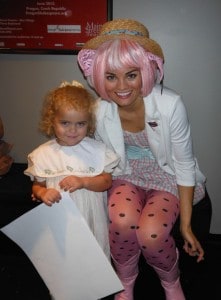 Fortunately, we did get to see more.  Along the way, the kids learned a little about elections, registration, voting and hard work.   Afterwards, the kids met the characters and got autographs on the movie poster ($3 for the poster).  Joe says Farmer Brown is his favorite and Brooke likes Pig.  I think it has a lot to do with the costumes.
Overall, we give the play 6 thumbs up.  We absolutely cannot wait to see A Little House Christmas starting November 7, 2012.