Sunday Family Zone at Museum of Fine Arts Houston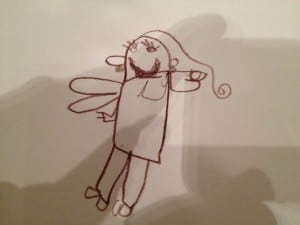 Every Sunday afternoon, 1pm – 4pm, it's Family Time at the Museum of Fine Arts Houston. Each Sunday there are signs in the main lobbies with details on where to go. You can read, sketch or investigate a work of art.
One of BigKidSmallCity's best friends went today and is raving about the experience.  Senia created the self portrait shown here.  In addition to the long luxurious hair, beautiful eyelashes and high heels, I couldn't help but notice the ears.
Just this morning I saw Senia and dropped off some new ear rings for her sister.  This drove Senia to lock herself in the bathroom because she does not have pierced ears (because she has the worst parents in the entire world).  And although I take full credit for this episode, I'd like to also point out that MFAH gave her the outlet to express herself.  Clearly, she sees herself as a girl with pierced ears.
My 4 year old friend and I are now on speaking terms again, so I am calling the MFAH Family Zone a huge success.  Does your little one have something they want to express?  If so (or if you want to find out), visit MFAH on Sunday afternoons.
General admission to MFAH is $10 for adults, $5 for children 6-18 and seniors, and free for children 5 and under.  Members are free.