Houston Children's Festival – One More Day – April 1, 2012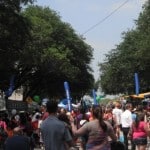 There is one more day for the Houston Children's Festival and you should go!  We went for the first time this year and I could not believe how big it was.  Each time we turned a corner we found a whole new part of the festival.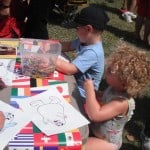 We took METRORail to the Main Street Square station.  We jumped off and walked a few blocks west toward City Hall.  We could see crowds from the train tracks, so it was not hard to find.  (If you drive, street parking is free on Sunday, and  I suggest parking somewhere near Main Street and walking over.  Many of the streets by City Hall are closed.)
We had purchased the Chron Daily Deal and redeemed the voucher online and printed out our tickets.  We presented these at the gate and walked right in.   If you do not have the voucher, you can buy tickets at the gate.  If you bring in any 2012 McDonald's receipt, you get $2 off each ticket (one receipt needed per ticket).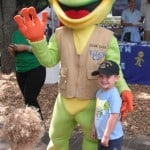 There are some great little kid activities just inside the Rusk and Smith entrance.  There are free games, bouncy houses, tile painting, coloring and a great Tot Spot for the little ones.   Here we also saw Cha Cha from Rainforest Cafe and got coupons for free kid's meals.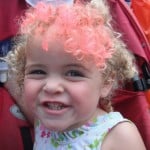 Everywhere we walked there were tents with food, retail items, samples and promotions.  We got discounts coupons for  zoo admission, free McDonald's smoothies and much more.  The streets were crowded but we found plenty of sections to get out of the stroller and explore.  Brooke liked getting her hair colored by Snip-Its.  Joe liked the treat we bought at the end.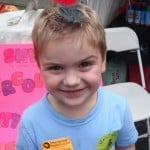 There was a huge section with carnival rides that I avoided since I'd had enough carnival fun at the rodeo.  All rides and food at festival took coupons rather than cash.  Tickets are $1.25 each or 9 for $10.  There are also All Day Ride passes.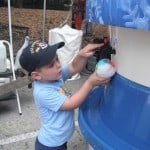 I told Joe that if we toured the entire festival and found our very favorite snack, I'd buy him one item.   At the end he got the snow cone for 3 tickets.  Brooke and James could hardly keep their eyes open at this point, so they missed out on the messy treat.
There is one more day of the Children's Festival, benefiting Child Advocates.  Go check it out tomorrow!