Downtown Houston Free Holiday Trolley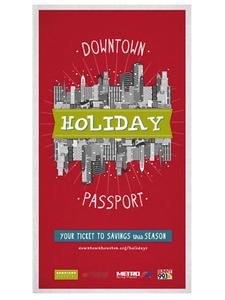 For the holidays, there is a free weekend trolley that goes around downtown Houston. The trolley makes a big loop, stopping at 12 locations. Go HERE for details.   Parking is free at the Macy's parking garage during trolley hours (Friday – Sunday). You can check the schedule HERE.
Once you are on the trolley, grab the passport. If you show this at certain downtown restaurants and shops, you receive a discount.
We plan to take the METRORail to the Main Street Square station and catch the trolley at Macy's.  We'll take the scenic loop over to the Ice at Discovery Green where I'll somehow manage to teach myself and my kids to ice skate.  (It should be quite a good laugh for my kids and the spectators. 🙂 )