Houston Ballet Nutcracker Market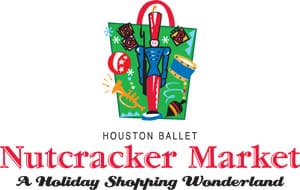 Address: Reliant
Hours:
Thursday, November 10, 2011, 10 AM – 9 PM
Friday, November 11, 2011, 10 AM – 9 PM
Saturday, November 12, 2011, 10 AM – 6 PM
Sunday, November 13, 2011, 10 AM – 6 PM
Cost: $12… but clip THIS coupon to save $1.
Half-price admission is available daily 3 hours prior to closing.
Children under 6 are free.
Appropriate Age: Any age can attend, but strollers are not allowed and it is very very crowded.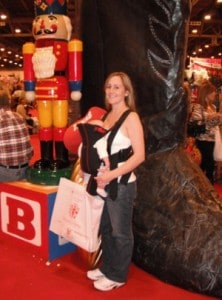 Our Overview: I've attended the Nutcracker Market for many years and it has become a tradition. I've gone with and without kids, and it is much easier without kids. No strollers are allowed and it is very crowded, so it's not easy to chase or carry kids. Last year Joe insisted that he could walk the whole time. I took him and ended up carrying a 40 pound boy on my shoulders through the market. This year I did not tell my 4 or 2 year old where I was going and slipped out with newborn in the Baby Bjorn.
I always park on La Concha, just before Kirby, near the Holiday Inn, to avoid the parking fee at Reliant. If you cross through the Holiday Inn lot, you enter the Reliant lot and walk to the building or catch the shuttle.
This year I went on Friday at 10:30 and it was already packed. Since I had exact change, I was able to buy a ticket from the Nutcracker volunteer roaming in front of the box office. Be sure to print out THIS coupon to get $1 admission.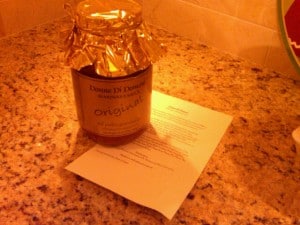 My only purchase this year was the Donne Di Domani marinara sauce. I've walked past this booth for years and it always has a mile long line until the sauce is sold out. When I walked by this morning, the line was just 5 people long, so I decided to see what all the fuss was about. I bought the original marinara sauce for $10. (All profits go to charity.)
My mom and I spend the rest of the time roaming and people watching… and there is a lot of this to do! There are over 323 merchants covering 8 aisles inside Reliant. Women, and a few good men, are shoulder to shoulder and searching for treasure. The booths are filled with clothes, toys, housewares, Christmas decorations, food and just about anything else.  Again this year, tons of people were carrying around the Reindeer Country personalized yard signs, Paul Michael garlands and Round Top purchases.  And the line at these booths were very long.  If you decide to buy some big items, there is a package check where you can drop them off, for a fee, and pick them up before you leave.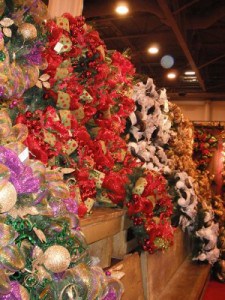 The merchandise at the market is not particularly cheap, but people were filling their bags like crazy. Partly I think it is because of the fun of the market and the unique items. I also think the bars have something to do with it. 🙂 There are several refreshment stands with beer, mimosas and hard alcohol, and the lines are very long. I spotted some drinks for $8 and $11, but do not have the full list.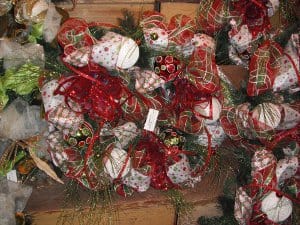 As for other refreshments, drinks are just plain expensive. A bottle of coke is $4 at every stand. I was excited to see Chick-Fil-A at the market this year, but even their small tea was $4. I suggest that you bring in a drink, and maybe a snack, in your bag. I was able to bring in a McDonald's tea in with no questions asked.
Food is expensive, but not as outrageous as the drinks. I saw huge loaded baked potatoes for $8. Big salads were about the same. There were a lot of options and I'm sure you can find something good. If you want to save a little money, bring in your own lunch.  You can take it to the back and watch the holiday programs while you eat.
My final tip is on the restrooms. Most of the men's rooms are converted to women's restrooms for the event, still, the lines are long. I suggest going to the back of the hall where there is less traffic and a much shorter line.
Go check out the Nutcracker Market and let me know what you think!