Fire Fest 2011
Address: 8030 Braniff St. Houston, Texas 77061
Hours: Saturday, October 22nd, 10:00am until 5:00pm
Cost: Free
Appropriate Age: Any Age
Our Review: This was the event of the year! I might be biased, being the mother of 2 (maybe even 3) junior fire fighters, but this event was fantastic.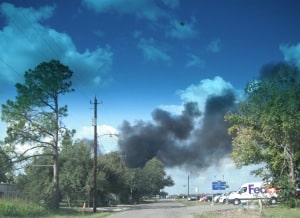 Fire Fest was held at the Houston Fire Department's Val Jahnke Training Facility, just south of Hobby Airport. As we approached, we saw a huge cloud of black smoke and we knew we were headed in the right direction. We soon arrived and parking was easy (and just a little bumpy) in the grass lot across the street.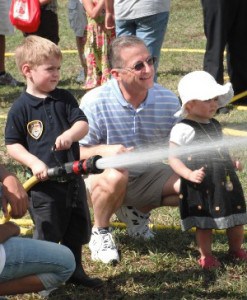 The event grounds were huge with plenty of space for people, tents, games and live fire rescue demonstrations. Right at the entrance was the kid's play area with bouncy houses, obstacle courses, fire safety classes, face painting and much more. Joe's favorite was using the real fire hose to shoot out the "flames" on the wooden house.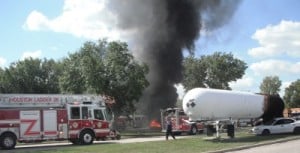 I was not sure I would be able to pull the kids away from the games, but soon we saw huge flames across the park. We ran over to see the Metro bus rescue. There was a huge fire, several fire trucks, and an announcer describing each truck's role in the rescue and the steps required in this kind of event.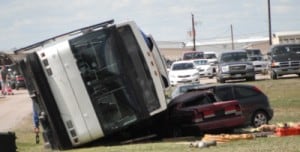 All over the event grounds there were piled up cars and buses and tankers. By the end of the day, there were huge fire rescue demonstrations on a diesel tank, bus, tanker truck and house. Joe also had the opportunity to help with the fire extinguisher demonstration.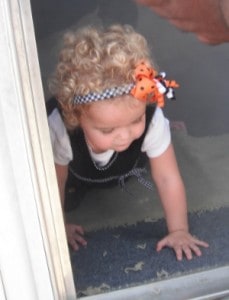 There were more free activities and events than we were able to do. One that we did do several times was the smoke filled house escape. There was a trailer, set up like a house, and filled with fake smoke. It was impossible to see and the kids had to crawl from the entrance to the exit. Brooke and Joe were fire drill champions.
We walked through the street of vendors, got a free snow cone from reliant, saw the line up of antique fire trucks and past the long line for BBQ. We even saw a fire fighter repel down the side of a building.
The event was full, but with so much to do, it was not crowded and there were very few lines.  Most things were free, and it wasn't like a typical festival that drains your wallet.  The only things that would have made this better were cooler weather and fewer mosquitos. But I guess you can't have the "Houston" Fire Fest if you're not in Houston, so I'll take it just the way it was.    We'll be talking about Fire Fest 2011 for a long time.