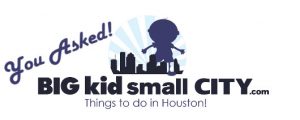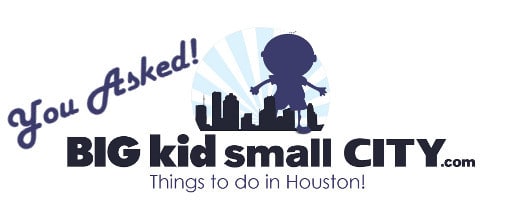 Why did you start BigKidSmallCity?
I was expecting my 3rd child but trying to live life like before I had kids. I was trying to do everything perfectly, and failing. I was trying to have a perfectly clean house, a perfect scrapbook and execute on perfect plans. The more I did this, the more I felt trapped.
At this same time, my oldest son started preschool. One Tuesday a mom asked me if I wanted to go to the Aquarium. I was shocked that you could just go to the Aquarium on any old Tuesday. The next day, another mom asked if I wanted to go to the Houston Zoo. Again, I was shocked that you could just go on an adventure without making a perfect plan.
That is when it hit me. While I was at home picking up toys and planning my life, these moms were out living and making memories with their kids. This is when I created BigKidSmallCity.com. It is to motivate myself to get out the door, it is my "perfect enough" scrapbook and it is to encourage other parents of young kids.
Are you a full time blogger?
I'm a full time mom, a full time blogger and a full time electrical engineer. I like being an engineer, I love being a blogger and I adore being a mom to my 3 kids. As an engineer, I work for a big telecommunications company, designing mobile devices like tablets and cell phones. I am very fortunate to do this job from my home office and travel to customer sites a few times a month. Since I work mainly with the west coast and Asia, my mornings are often free. On the flip side, I work very late in the evening to keep up with the other time zones.
How do you make time to do it all?
I'm busy, but no busier than anyone else living life with children. I think that no matter how many kids you have or how many jobs you do, you are maxed out. You just make things work your way, and not the way that lady at Target or daycare or the family reunion suggests you do things.
Since creating BigKidSmallCity.com, I've made a deliberate effort to give up tasks that are not important to me. When I spent my free time cleaning, and my kids made a mess 10 minutes later, I was frustrated. Now I don't worry about the dust and go on adventures instead. And, while we are out and about, no mess is being made at my house. Along the same lines, I quit spending time cooking. We eat dinner of course, but if I make it, it's usually all the vegetables in the house, tossed in a pan. And I stopped spending time shopping for boring things. Instead of dragging 3 kids through an hour long trip to the mega-store, I shop online as much as possible. (When I go shopping, it's at a local store and it is in search of treasures!)  These little changes give me just enough time to explore Houston with my kids.
And finally, I'll tell you the secret to how I maintain some sanity…  I pay someone to fold my laundry. I wash it, they fold it. This is the trick that keeps the Jarvis house running.
Are you a Things-to-Do-Blogger or a Mommy-Blogger?
BigKidSmallCity is focused on Things to Do in Houston, with Kids, so that makes me a Things-to-Do-Blogger. It is our mission to help parents of young children get out of the house and enjoy all that Houston has to offer. That said, I am a Mom, so I often act like a mom and say mom-like things!
Why create another blog? 
If there are already millions of blogs on the internet, why create another one? Well, because this one is specific to things to "Things to Do in Houston, with Kids" and to encourage parents to get out of the house and explore. And, it encourages me to round up 3 kids, find 6 shoes, located 3 drinks, 3 snacks, 1 diaper bag, strap in 3 car seats and get out into our great city. Even if no one read it, I would still write the blog. But let me tell you a secret…  I'm thrilled that you are reading it.
Are you worried about competition from other bloggers?
No, I believe their is room for everyone and that success is not a zero sum game. One person does not need lose for another to win. In fact, the more people that work together, the more we can all succeed. Or, as Zig Ziglar said, "We can all get what we want if we just help enough other people get what they want". Note that I did not say that others should do my work or I should do other's work. But I do think with hardwork and cooperation, everyone can be successful.
Do you cover things to do all over Houston? 
BigKidSmallCity focuses on innerloop Houston but extends our reviews across the city, state and country.
Do you really do all the things on your blog?
Yes, if we are reviewing it, we did it. We know just how hard it is to drag your family out of the house each morning, buckle car seats, find parking, pull out strollers, find snacks, find bathrooms, find sippy cups, and repeat. We also know, first hand, how fun it can be to explore Houston with kids!
Where should I start on the BigKidSmallCity website?
If you are looking for weekend events, you will see them posted each Tuesday night on the website. There will also be updates on Facebook and Twitter. Every week I confirm each weekend event, so the list is current.
For recommendations on what to do any day of the week, look at the "What to Do" tab on the top of the website and find the best of the best places in the pull down menu. After that, browse through the menu on the right hand side and find lots and lots of things to do in Houston. If you have questions or need a special recommendation, just click the "email" icon and ask me!
Is there a schedule for your posts?
We do have a regular schedule for blog posts. Of course, this is subject to change with the seasons, based on feedback and, of course, the number of kids that are currently crying at my house.
Monday – Where in Houston?, Quick & Easy Dinner Ideas! + Another Things to Do in Houston Post
Tuesday – Where in Houston Answer+ Things to Do this Week and Weekend
Wednesday – BigKidSmallCity's search for Houston's best restaurants for kids
Thursday – Books for Kids to Read + Your Questions Answered! + Email Newsletter Delivered (Sign up on the right side of this screen!)
Friday – Lunch Box Ideas (School Year) + Houston Park Reviews (Summer)
Saturday – Administrative Updates!
Sunday – Books for Kids to Read
We also add in Joe the Garbage Man posts, reviews of Houston attractions and events, Birthday Party Venue information and more!
Can I make a recommendation for a review or event?
Of course! We focus on inner-loop Houston but make our way across the entire city, state and country. If you have an idea,  send us an email (Jill @ BigKidSmallCity . com – just remove the spaces.)
Can I contribute to BigKidSmallCity?
Yes! If you have a picture to share for "Where in Houston?" or an idea to share, send it to me at Jill @ BigKidSmallCity .com. You can also write a guest post on something interesting to other BigKidSmallCity readers. This could be Houston events, attractions, restaurants, birthday party venues or any other idea you want to propose. I love to hear your ideas!
Note that I do not pay for contributions. I will link back to your website and I will post your original pictures.
If you are looking to advertise your business or services to Houston parents, I will post interesting content. It will include a statement about it being a sponsored posts.
Where in Houston do you live?
We live in Montrose and we love it.
We moved to Houston from San Diego. We moved to San Diego from New York (and I got to New York via Nebraska, Wisconsin and Connecticut).
We were looking for a walk-able neighborhood in the middle of the city. We narrowed in on the Montrose, Midtown, Museum District Area and got out a map. We drew circles, with a 1 mile radius, around grocery stores, libraries, post offices and parks. Where these circles overlapped, we searched for a house.
We really like this part of town. It is urban, the neighborhood is buzzing with activity, there is a lot to do, and there is a good community. Neighbors don't get into your business but they do know who belongs in Montrose. At the grocery store, I get many offer of help from familiar faces. And if 1 of my kids were to run down the street, I know that a neighbor would stop them and send them back to the right house. Our Montrose neighbors take good care of us.
Check out this clip from the upcoming One Square Mile Texas PBS series that features Montrose!
What is your favorite thing to do in Houston?
We like to explore and find new things. We like all parts of town, but my kids will tell you they love Downtown Houston. We ride METRORail, walk to Discovery Green or Market Square Park. The mysterious bubble in the Buffalo Bayou is always worth some giggles and the Buffalo Bayou bike trails are a new favorite.
What do you do if your kids melt down in public?
Obviously someone knows my kids often act like kids in public. If we are at a restaurant and 1 of the kids decides to melt down, we take our parade (3 kids, 1 mom) to the bathroom or car and wait it out. After it has passed, we walk over to the tables next to us and apologize for interrupting their lunch.
We've only actually had to do this a few times. Now I can usually whisper something about apologizing to the other patrons and the tantrum dissipates.
If you have a clever way of stopping tantrums, let me know!
Who is Felicia?
Felicia is the newest member of the BigKidSmallCity team. I met her at pre-school a few years ago and we've been friends since. While I was home trying to organize my life, she was out exploring Houston with her 2 young girls. She inspired me to get out of the house and enjoy life.
Felicia has 2 daughters, Aylen (7) and Senia (5). Both are incredible readers. I'm talking about reading Harry Potter, on their own, the summer after Kindergarten. AMAZING.
Felicia has been reading to the girls, around the clock, since birth, and they truly love books. Because of this, she is in charge of all BigKidSmallCity book reviews.
What is Felicia's favorite children's book?
Apparently it is an impossible question to answer. She loves too many books. When pressed, she was able to create a short list:
Coraline
Hugo Cabre
Harry Potter, The Sorcerer's Stone
Out of My Mind
That's Disgusting
Today I Will Fly
Beegu
I Want My Hat Back
Who is Shanna? 
Shanna has joined the BigKidSmallCity team and is contributing articles each week! She's visiting a new Houston Park, each week, in the summer. During the school year, I'm sure she'll still have lots to tell us about.
Shanna has 2 kids, Keira (6) and Xander (4), that attended preschool with my kids. Shanna does a lot of research and everyone looks to her for guidance. So, for instance, when we don't know if we should apply to magnet schools, we see what Shanna is doing and copy her. We know she's done the homework, so we trust her decisions.
This same thoughtfulness and planning goes into Shanna's birthday parties. Without a big budget, Shanna throws some fabulous parties for her kids. They have treasure hunts.. where aphoto shows the next clue. And at the last dragon themed party, the treasure chest at the end of the hunt was full of eggs, made of ice, with a baby dragon inside. And everything she does is like this. Well thought out.
Shanna is also the mom that was out doing everything in Houston,while I was at home trying to clean, organize and plan a perfect outing. In fact, she is the mom that asked me if I wanted to go to the Downtown Aquarium on a Tuesday. The impromptu playdate request shocked me. I had never imaged just going on an adventure, without a grand plan, on just any old Tuesday.
And when I recovered from my shock, I created BigKidSmallCity.com. I wanted to be the mom that was out living and making memories with my kids. And I want to encourage others to do the same… just like Shanna encouraged me!
How did Joe the Garbage Man start his little business?
In February 2012, Joe started his own little Garbage Can Curbside Service. We had seen the idea in a magazine and Joe decided he would like to start something on our street. He asked our neighbors if he could roll out, and then back in, their garbage cans on trash day. In return, they would pay him 25¢ each week. Through the business, he is learning a lot of valuable lessons and a lot about entrepreneurship. You can view all the BigKidSmallCity Garbage Man Joe stories HERE.
Do you force Joe to do the work?
Joe gets to make all the decisions for his business. He can keep the business going or he can quit. We do insist that he is responsible and does the work each Sunday if he has not given notice to his neighbors. You can learn about the strategies in the free download on the right side of THIS page.
How did Joe get on the News?
Joe has been featured on Fox & Friends, NewsFix, Huffington Post, Sunny 99.1, WGN Radio, Chron.com, Big Jolly Politics & Waste & Recycling News. How? Well, Joe started his businesses and I blogged about it periodically. After a year, I told the City of Houston Solid Waste Management about him hauling Houston trash cans. They featured him on their Facebook page. After this, I was told about Waste & Recycling News. I contacted them and Joe was interviewed the next day.
Once the video came out, I sent it around Houston. NewsFix contacted us and interviewed Joe the next day. Soon after this, my husband got an email asking if he was the father of "Joe the Garbage Man". Fox & Friends had tracked him down from the NewsFix video. We now refer to ourselves as the parents of Joe the Garbage Man.
After the Fox&Friends interview, the other news channels followed.
It was a very exciting ride and it all started with the City of Houston Solid Waste Management. Want to know Joe's favorite part of it all? The fancy car that Fox & Friends sent to drive us to the studio.
Why so many kids, so close together?
A man at Fiesta once informed me that I was reproducing at a rapid rate. I don't think 3 is that many but it seems like 3 kids, 2 years apart, is a lot to some.
This wasn't my original plan. I was going to have my kids 3 years apart. But, when Joe was 7 months old I got very sick. I lost sight in my right eye and found out I had optic neuritis. This is commonly a presenting sign of MS, but after many MRIs and a spinal tap, nothing was conclusive. MS is very tricky and the MRI or spinal tap can be clear one day and show problems the next. Still, the doctors never figured out what was attacking my optic nerve. But I did hear them say that if it is not MS, you don't even want to hear about the other possibilities.
After a week of intravenous steroids and I was back to normal. I had also decided that if chances were high that I could have a hidden illness, and I wanted to have more kids, I had better get moving. So, Brooke was born 22 months after Joe.
Now, once you have 2 kids, why not have a 3rd kid 28 months later? This was James.
As for the optic neuritis, I have not had another issue since 2008. My theory, based on no medical information at all, is that it was brought on by the large amounts of Diet Coke I used to drink. I dropped fake sugar and now drink large amounts of iced tea.
 How do you get out of the house with so many young kids?
We just put one foot in front of the other. It's not always pretty, but we get ourselves out the door.
For school, we don't have much choice. We need to wake up and get to school. For our outings, we find it is best to go first thing in the morning or on the way home from school or appointments. If we stay home too long and get busy with playing and projects, it is really hard to get the Jarvis family moving.
Also, the other secret is that Baby James takes naps and eats in the stroller and car seat. This poor guy has no set schedule or routine. Coincidentally, he's also turning into my most easy going kid.
How many kids do you want to have?
A lot. I want 4 biological kids and to adopt 4 more (later). But, it turns out that kids take a lot of time and money. So I'll stick to 3 for now and do the best I can raising them.
How old is BigKidSmallCity?
I started BigKidSmallCity in the summer of 2011.
When I started the blog, I was expecting Baby James, my 3rd child, and feeling trapped in my house. I saw other mothers out and about and I decided that this is what I wanted to do. BigKidSmallCity.com was created to motivate myself and to encourage other parents of young children.
At the start, BigKidSmallCity.com had about 10 page views a day, and I think they were mostly from my mom and my friend, Felicia. Early on, I had decided to post 3 times a day to build up my site. I'm a very determined (hard-headed) person and kept with this for the 1st year.
Along the way I tried different types of posts and learned what I liked and what was popular. For a while I had a Turn on the Oven Tuesday post, which I abandoned when I decided I did not have time to do everything, I was a terrible cook and, frankly, I just hated turning on the oven. (Coincidentally, if you like to turn on the oven, I have a weekly spot for you on BigKidSmallCity!)
I also wrote about Joe the Garbage Man. Joe had started his little Garbage Can Service and I wrote about it to fill space. And to my surprise, this was very popular and attracted local and national media attention.
And, of course, I wrote about Houston. And eventually I got some of my own media attention.
As I found what worked (worked = post had good feedback & writing it did not make me crazy), I started to set a schedule for posts. And then it got exciting… People wanted to contribute.
Felicia, Shanna, Juliette, Alex, Sunni and others have contributed to weekly posts. And the Facebook Fans have helped answer reader questions and provide regular feedback.
For 2 years, BigKidSmallCity.com was an online community. It was just before the 2nd birthday that we decided to meet up in real-life. It has been great to meet other Houston parents in person, and not from just behind the computer screen.