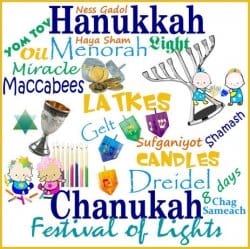 They say everything is bigger in Texas. And when it comes to Chanukah fun, it will be big too! Houston will have a variety of celebratory events going on chock full of music, latkes and even balloons! Here is the events list put together by Rachel at Oogiah!
Wednesday, November 27: Families can watch the Houston Rockets play basketball, and celebrate the first night of Chanukah at the same time. There will be a special appearance by Clutch the Bear, and a half time candle lighting.
Saturday, November 30: Kids will love watching a giant menorah being lit, along with dancing Chanukah gelt at The Menorah Lighting at Houston City Hall!
Sunday, December 1: Houston we have a concert! This is not to be missed, and will be such an inspiring evening! The Yeshiva Maccabeats Concert & Latke Dinner will feature the original tunes and covers made famous by these Yeshiva University boys!
Sunday, December 1: At the ERJCC Hanukkah Balloon Blast families will be amazed by inflatable art by Katie Balloons, while they eat latkes and light candles too.
Sunday, December 1: Because this is Texas, BBQ will served along with latkes at the Fourth Annual Chanukah Extravaganza! Kids will love the pony rides, bounce house and fun dreidel piñata too.
Wednesday, December 4: A twelve foot menorah will be lit along with live choir music and gifts for kids at The Galleria Lights event.
More local events can be found here.
And don't forget the Treats! You can get Star of David topped Sprinkles Chanukah Cupcakes at the Sprinkles Highland Village shop from November 27 to December 5. Three Brothers Bakery will be selling Chanukah goodies such as special cookies, cakes and sufganiyot (jelly donuts).
Happy Chanukah!
******************
Rachel Teichman is the founder of OOGIAH, an online resource for Jewish families who are moving or traveling throughout the US. The site includes a blog full of creative ways for families to play, craft and cook together. She also sells original OOGIAH products. Rachel managed the online shopping channel for the Austin American-Statesman while living in Austin. And while living in Oakland she edited the SF Bay Area family events calendar for Red Tricycle. She has contributed to articles in the Wall Street Journal's blog, "The Juggle," as well as to the Holistic Moms Network, Kveller.com and "ModernMom Magazine." You can learn more about her at OOGIAH and follow her on Twitter at @OOGIAH.