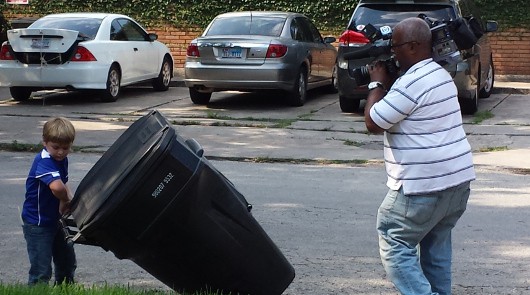 What's new with Joe the Garbage Man?
Joe the Garbage Man is my oldest son. Two years ago, when he was 4, we started a little trash can service in our neighborhood. For a quarter, Joe would haul out a neighbor's trash can, and then return it the next day.
It is a simple business but has taught our kids a lot about hard work, responsibility and money. It also brought national news coverage. You can learn all about it HERE.
I have not posted an update to the series in a while, but Joe is still doing the work. Each Sunday, our little parade marches down the street and Joe pulls out the trash cans. After school on Monday, we do it again.
This simple task has automatically taught the kids a lot of valuable life lessons. I haven't had to sit them down to talk about being dependable or managing money… it has just happened through the weekly work.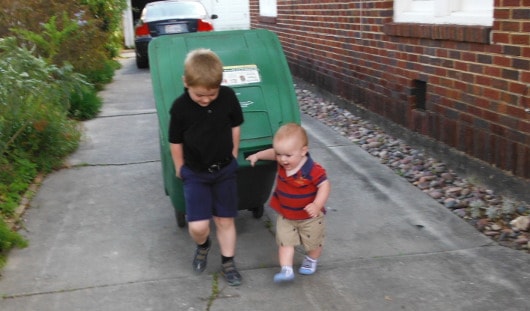 Right now we are expanding and 4 year old Brooke is joining the team. It won't be long until 2 year old James is old enough to take over the whole business. (That kid is passionate about taking out the trash.)
So what's next for Joe? Well, it looks like he has a bright future in direct sales. If you walked near the the BigKidSmallCity tent at the last Discovery Green FUNomenal Family Festival, chances are you were approached by a 6 year old salesman.
I heard him telling people that if they wanted to know more about things to do in Houston, with their kids, to head over to the BigKidSmallCity booth. His sales pitch was quite long and I had nothing to do with it.
So based on this, I think some day soon you will see Joe riding a bike through the neighborhood, with a basket full of merchandise, and a really good sales pitch for passerby-ers.