We had so much candy from Halloween that I each day, while the kids were at school, I would steal a dozen pieces from each loot bag. Soon the kids were down to no candy and knew something was up. And since it disappeared slowly, they thought I had just taken a few pieces... and I just had to smile and thank them for sharing with me.
So here I was with a giant bag of candy when our sponsor, Imperial Sugar, asked me to make some Thanksgiving cookies.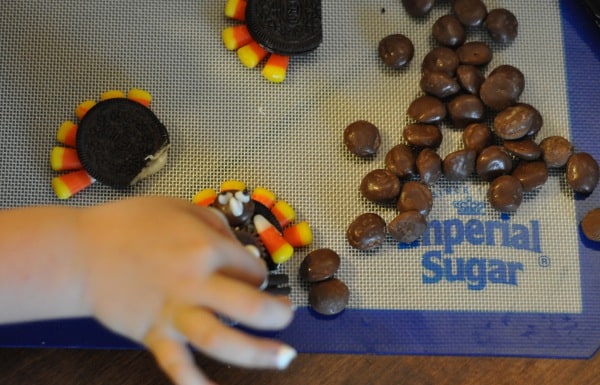 The
Kids in the Kitchen
section of their website is full of Thanksgiving cookies and projects... but my kids picked the turkey!
For these we needed... Biscoff style cookie dough (or Oreos), Royal Icing, Candy Coating, Peanut Butter Cups, Candy Corn and Malted Milk Balls. So I climbed up on the counter top and quietly grabbed the candy bag hidden at the top of the cabinet.
After messing up a few turkeys, we finally figured out how to make these guys. Let gravity help you by laying out the candy corn features in an arch on the table. Take the cookie, cover the back with candy coating and place it on the features. Then add the chocolate tummy and head and details.
Once the turkey is built and the candy coating is dry... run a knife under it to loosen it from the table... and set it upright.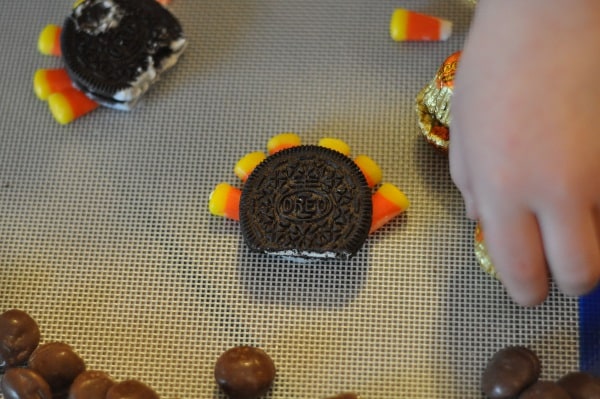 We are a little messy in our house, so when you see our little turkeys, just remember that yours could look a lot more like the cookies on the Imperial Sugar website. Still, we don't let some messy cookies keep us from the fun of making them!
Find the instructions HERE.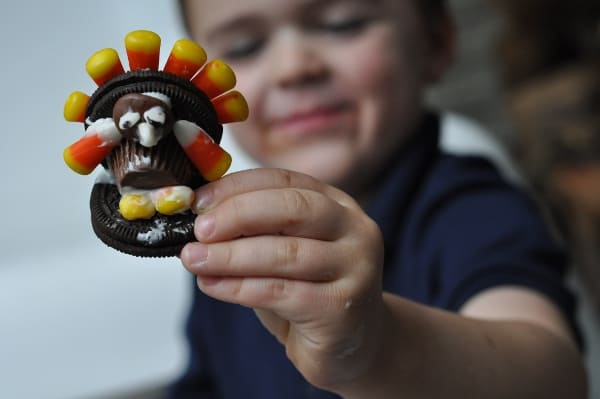 The kids had a good idea of using these as placeholders on Thanksgiving... but we ate them all. We'll have to have another
turkey
making day closer to the holiday!