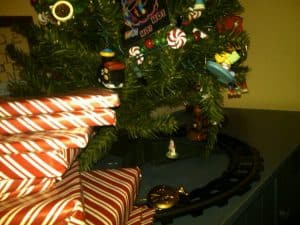 Last Christmas I saw that MoneySavingMom had the great idea of wrapping up Christmas books and letting the kids unwrap one each day until December 25. This year I decided to try the same.
I've gathered up all Christmas books from my house and started wrapping them. I plan to head to the library to check out some more. (And I'll be sure to unwrap, read and return the library books before they are due!)
I had planned to keep this a secret from my kids until December 1, but apparently I can't get away with anything at my house. Joe found the wrapped stack of books, was super excited about the plan and was determined to start reading books tonight.
Since I was hoping for excited kids and I want them to read as much as possible, I gave in and we're starting Christmas early around here. The kids unwrapped and read Firefighter's Night Before Christmas
tonight.
The kids did not care that they already owned the book and it was just wrapped up. They were delighted to pick out the "gift" and unwrap it at bedtime. I'm happy it has worked out... but I'll need to get a dozen extra library books to last us until Christmas!