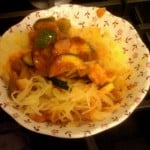 When it comes to cooking, I lack motivation.  For me, it's a job that creates a huge mess and has little reward.  I do like to eat, but I rather do it at a restaurant.  That said, since I do not have an unlimited restaurant budget nor unlimited dining out time, I must somehow feed 3 kids at home.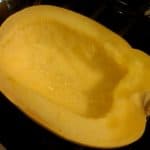 I'd be okay with salads and sandwiches but I've decided that I should probably show my kids that ovens are for more than just storage.  This is why I started Turn on the Oven Tuesday.  I try to cook something new for my kids each week.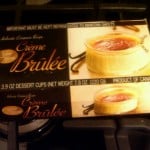 Now, I've already made Spaghetti Squash for the kids, but since it's May and all parents of school aged children seem to be going crazy this month, I decided it would be okay to repeat the meal.  This time I made it even more exciting with a Crème Brûlée dessert.
Check HERE for how to make the spaghetti squash.  It is super easy and makes for super healthy spaghetti.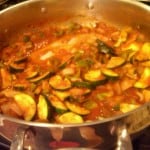 Once I sliced open the squash and cooked it in the microwave, I ran a fork through it to make spaghetti.  At the same time, I cooked every vegetable in the house and added some spaghetti sauce on the stove.  These vegetables included peppers, zucchini, onions and a little garlic.   Once the veggies were soft and the sauce was warm, I topped my "noodles".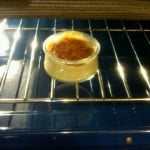 The crème brûlée is my new super secret recipe.  I went to the grocery store, bought pre-made crème brûlées, in glass ramekins, and broiled them for a couple of minutes.  After cooling, I served them and got rave reviews.  (This is my favorite kind of cooking.)