Well, it's not Tuesday and I did not turn on the oven. But I did make a good (and super easy) dinner in the crockpot. Did you know you could make lasagna in the slow cooker? You can, and my kids approve.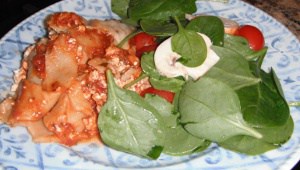 The recipe calls for the following:
Nonstick cooking spray
1 26oz jar pasta sauce
1 15oz carton ricotta cheese (or cottage cheese)
½ cup shredded carrot (and other veggies you want)
6 regular lasagna noodles (or more if you want)
1 ½ shredded mozzarella cheese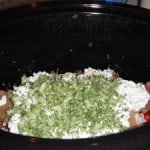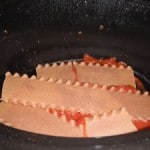 You need to spray the crock pot with cooking spray and then put about ½ cup of sauce in the bottom. Put a layer of noodles over the sauce. Spoon on up to half of the ricotta cheese and veggies. Next add mozzarella cheese and up to half of the remaining sauce. Continue to layer noodles, ricotta cheese, veggies, mozzarella cheese, sauce. Cover and cook on low for about 3 hours or until the noodles are tender. Let it sit for 20 minutes so it is easier to slice.
I didn't actually measure anything. I just layered the ingredients until I ran out. Today I added chopped up mushrooms and broccoli because I had them. Also, I hate ricotta cheese (and all stinky cheeses) so I used cottage cheese. Do not tell my Italian mother-in-law.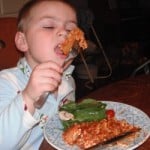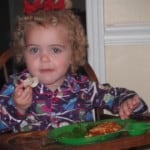 After I spent a whole 10 minutes preparing the lasagna, I set the timer for 3 hours. At dinner time I made a quick spinach salad and dinner was done. Joe ate all of his food and asked for seconds. Brooke ate her food and then mischievously stole all the tomatoes from Joe's plate. (Darn sisters.)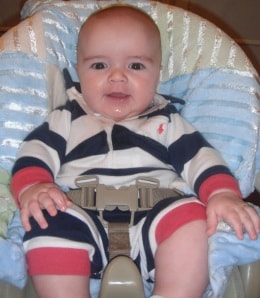 James just smiled and wanted to know where he could find his lasagna.