Turn on the Oven (Fat) Tuesday – Falafil, Pita Bread and King Cake!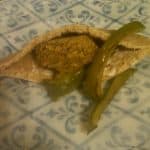 If you have been following along, you know that I try to turn on the oven every Tuesday.  It's never all that exciting, but I do  try to show my kids that the fridge and microwave are not the only working appliances in the house.  This week we make falafil sandwiches and, since it is Fat Tuesday, King Cake.  You'll soon notice that most of the items were pre-made at the store, but I did turn on the oven!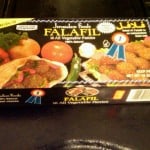 At my favorite Phoenicia grocery store, we picked up some frozen falafil.  The instructions say to fry it or bake it.  In an effort to be a little healthier, we put it on a pan and dusted it with a little oil.  I added some sliced green peppers to the pan and put everything in the oven at 375 for 25 minutes.   I sliced pita bread and added hummus, cooked peppers and falafil.  I served it with a small spinach salad.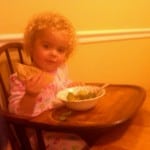 Brooke and Joe were happy with the funny bread sandwiches (as they called it).  They are used to eating salad, but we did sing our Hungry Hungry Herbivore song for fun.
After dinner, we ate the King Cake (purchased from the store).   King Cake comes from the festival of Epiphany when the wise men brought gifts to Baby Jesus.  The cake is closely associated with Mardi Gras and is served from Epiphany to Fat Tuesday.  Inside the cake is usually a small plastic baby, representing Baby Jesus.  Whoever gets the slice with the baby either gets to buy the next cake or is the King or Queen of the party, depending on your tradition.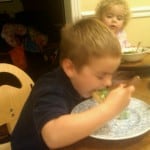 Since it was Fat Tuesday, we decided to serve our own King Cake.  No one found the baby, but then again, the box from HEB did not say "choking hazard", so I'm guessing there is no hidden trinket.   Joe was a little disappointed, but when he saw that his sister did not get the baby either, he seemed okay with everything.  Brooke was never unhappy.  She just licked the frosting off her cake and told everyone she was the Queen.