Trick or Treat without going door to door!
There are a lot of spots to trunk-or-treat (where you go trunk to trunk in a closed off parking lot) or trick-or-treat at businesses and churches. See our list below… and tell us what to add!
For the full list of festivals, farms and pumpkin patches, go HERE!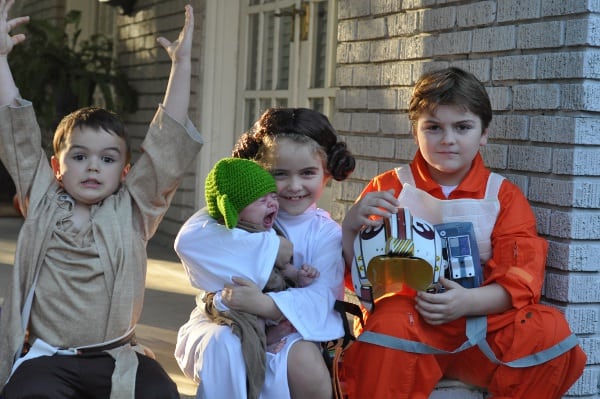 Pictured: Luke, Leia, Luke and Mad Yoda
Trunk or Treat and Fall Festival
– Saturday, October 21, 2017 – 4:00pm-7:00pm – Abiding Word Lutheran Church
Haunted High School – 5:00pm-7:30pm – La Porte High School (I haven't been but hear it's kid friendly)
Pre-Halloween Bash & Trunk-or-Treat Alley – Friday, October 27, 2017 – 6:30pm-8:00pm – Faith Lutheran Bellaire
Trunk or Treat 2017 by Global Martial Arts – Friday, October 27, 2017 – 6:00pm-8:00pm – Tomball
Annual Fall Festival & Trunk or Treat – Friday, October 27, 2017 – 6:00pm-8:30pm – Bethany Methodist Weekday School
Trunk or Treat at Al Garza Martial Arts – Friday, October 27, 2017, 2017 – 6:30pm-9:00pm – League City
Truck or Treat Halloween Family Food Festival – Saturday, October 28, 2017 – 12:00pm-11:00pm – Heritage Place Amphitheater, Conroe
Special Needs Halloween Indoor Trick or Treat – Saturday, October 28, 2017 – 2:00pm-4:00pm – Helen Hall Public Library, League City
Lake Houston Church Of The Nazarene – Saturday, October 28, 2017 – 4:00pm-6:00pm – Humble
Trunk or Treat – Saturday, October 28, 2017 – 5:00pm-7:00pm – Bay Harbour United Methodist Church, League City
Trunk or Treat Street Party – Sunday, October 29, 2017 – 5:00pm-7:00pm – First United Methodist Church – 2314 Grand Blvd, Pearland, Texas 77581
Trick or Treat – Monday, October 30, 2017 – 5:30pm-6:30pm – Tanger Outlets, Texas City
Memorial City Monster Mash Spooktacular – Tuesday, October 31, 2017 – 5:00pm-7:00pm – Memorial City Mall
Trunks 'n' Treats – Tuesday, October 31, 2017 – 5:00pm-7:00pm – Trinity Lutheran Church Downtown
Halloween Trick or Treat – Tuesday, October 31, 2017 – 5:00pm-8:00pm – CityCentre
Trunk or Treat – Tuesday, October 31, 2017 – 6:00pm-7:30pm – Clear Lake United Methodist Church
Trunk or Treat – Tuesday, October 31, 2017 – 6:00pm-8:00pm – Life Church Humble
Trunk or Treat – Tuesday, October 31, 2017 – 6:00pm-8:00pm – Helmers Street Baptist Church