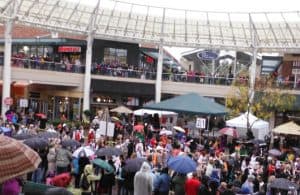 Thrill the World is an annual, international, dance event. Zombies of all ages meet to attempt to break the world record and raise money for charity.
I happen to be on a never-ending business trip to Seattle and found myself surrounded by hundreds of zombies at Redmond Town Square today.
The video below is from Redmond, BUT, a bunch of Houston Zombies also danced to Michael Jackson's Thriller. Go HERE to check out the Thrill the World Houston Facebook page.
In case you were wondering, the World Record for most zombies dancing to Thiller is 13,597 in Mexico City.
Enjoy the Redmond Zombies (and please ignore the terrible audio). The construction man zombie and the couple in the brown plaid are my favorite!