We've reviewed Picnic in the past HERE and have good things to say. We went again today and have 3 reasons why you should give it a try.
1. The food.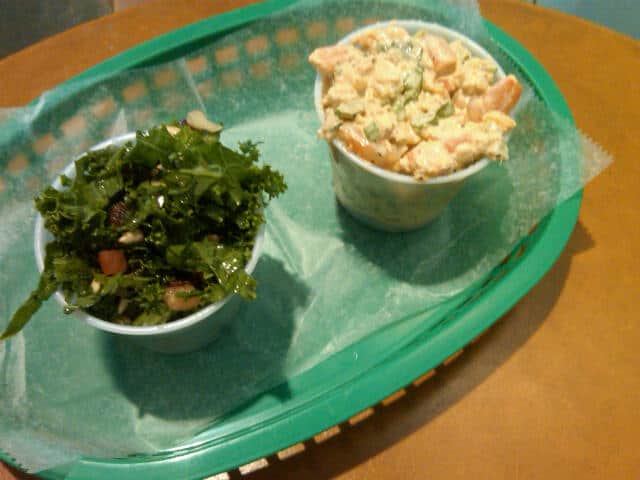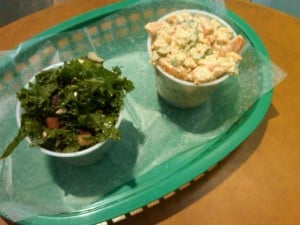 We don't go to Picnic because it is cheap. As I walked in with my 5 year old, I told him we would just grab a snack because it was a little expensive for his second lunch of the day. He agreed and went to the deli counter to select 2 items. He could pick between chicken salad, potato salad, coleslaw, pasta salad and more. My young man selected the most expensive salad available:  shrimp salad at $4.95 for 5oz. The second item was kale salad at $2.95 for 5oz. This expensive snack was as much as a picnic box, but I couldn't argue with a 5 year old who likes to each shrimp and kale salads.
Joe guarded his food closely but I did sneak in a few bites. The dressing on the kale was light and the greens were crispy. The shrimp was fresh and  full of flavor and 5oz was satisfying. The food is worth the money.
2. The atmosphere.
Picnic is very chill. There is a big open space with lots of sunlight and clean and cool surfaces. The floor and walls are concrete and a big picnic table runs down the middle of the restaurant with small tables surrounding it. There is no question whether or not it is clean and still there are no concerns about the kids making a mess.
3. The rooster.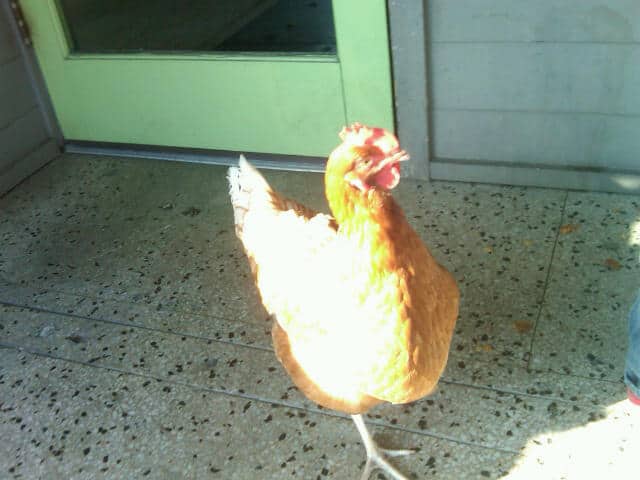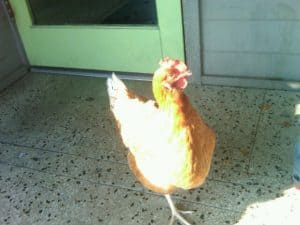 I do not know how or why, but a rooster lives outside Picnic, right on Bissonnet, in the middle of Houston. Soon after we ordered our food, we look at the glass door and saw a rooster looking back at us.
Joe and I went to the doorstep and he just looked back at us and considered running inside. Once Joe was sure we were not going to eat him, he thought it was cool to have him around.
I asked the gentleman working at the counter and he said the rooster is usually around and waiting outside Picnic.
I think he must know about the good food and chill atmosphere.