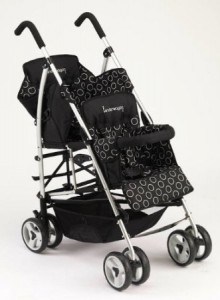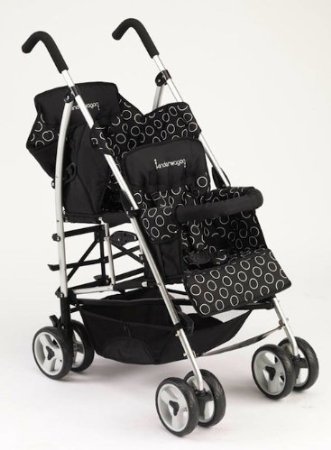 My oldest child is 5 years old and I have owned 8 strollers since he was born. A few I bought new, a couple I bought used, a couple I inherited and 1 I picked up on the side of the road. Half of them have been single strollers and half have been doubles.
What I have learned is that the smaller and lighter the stroller, the better. The easier it is to pack in the trunk, load on an airplane, navigate through the mall and jump curbs on the sidewalk, the better. There are some situations for which jog strollers win, but for general every day use, the umbrella stroller is the way to go.
The problem with the umbrella stroller is that they like to tip over when my diaper bag, hung on the handle bars, is heavier than the baby. And, umbrella strollers are only available in the single variety. Until now.
The Kinderwagon Tandem Umbrella Stroller
has taken all the great qualities of the umbrella stroller, fixed some of the flaws, and made the world's best double stroller. But, this should not be a surprise, because it was designed by a mom.
This stroller is compact, light weight, easy to fold and easy to drive. It holds 2 kids, up to 50 pounds each. The children can sit in the front or back and the stroller will not tip. You can also hang your diaper bag on the handlebars and it will not tip.
This stroller was out of stock in the Fall, which gave me a lot of time to try to find another one to buy. In my research, I could not find one that was small enough to easily navigate on all of our city adventures. Here is the video that sold me on it:
When I did buy it, and rolled it to pre-school, I was stopped by several moms asking to test drive it.
This stroller is easy to squeeze between racks at the store, weave between people at the park and has withstood many mile long walks on bumpy sidewalks.
The stroller comes in red and black. If you are looking for some negatives, they are that it is a little tall with the sunshade. I'm 5'2″ and can see over it, but anyone shorter may have trouble with the sunshade on. Speaking of the sunshade, it covers the back seat completely but you will need a cap and sunscreen for the child in the front seat. The basket under it is not very big but the stroller comes with a little pouch (and does not tip if you load the diaper bag on the side or back).
The Kinderwagon Tandem Umbrella Stroller
is about $300. This is not cheap, but I was prepared to by $500 based on the high prices of double strollers.
My only complaint with this stroller is that my 3 kids like to fight over the 2 seats in the stroller.