I may not be much of a cook... but I am one heck of an apple baker. And this is because the only thing tricky about baking with apples is peeling them... and this is magically done by the "super awesome" apple peeler (as named by my kids).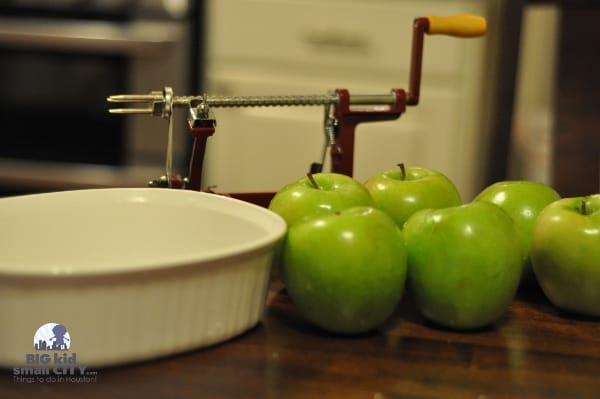 This device, which you can get for as low as about $12.00, is easy enough for kids to use and magically peels and cores the apples. Find it (affiliate)  
HERE
.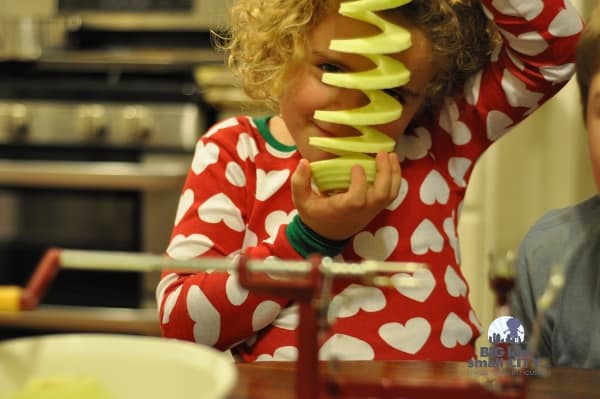 You just use the suction cup to attach the device to your table, attach the apple to the fork-like side, and turn the handle. (And if you are like my kids, you eat the peel as it comes off the apple.)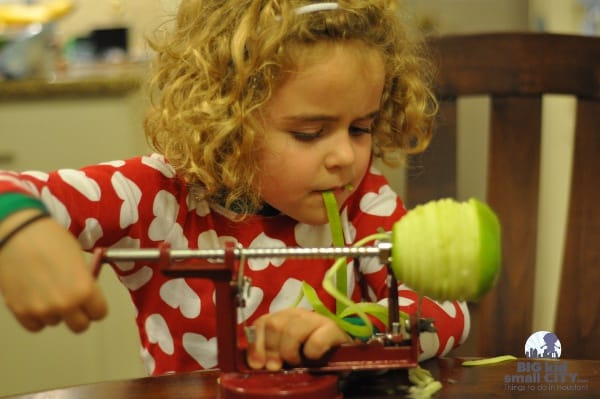 Occasionally the peeler does not want to stick to the table, so we hold it down with our non-turning hand. And occasionally we will fight over who gets to peel which apple.
Once I had 6 peeled apples (2 for each kid... because no way one would settle for less than their siblings), I was practically done with the No-Crust Apple Pie!
Here's how to make this easy dessert (which happens to be my husband's birthday cake this year):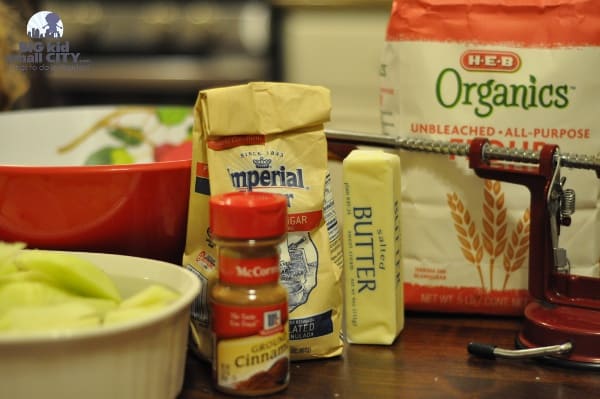 Topping Ingredients:
1 Cup
Imperial Sugar
1 Stick Butter (Softened)
1 Heaping Cup
Flour
Filling Ingredients:
Enough Apples to Fill the Pie Plate (I use Granny Smith for baking)
1 Tbs Flour
1 Tbs Imperial Sugar
1 tsp Cinnamon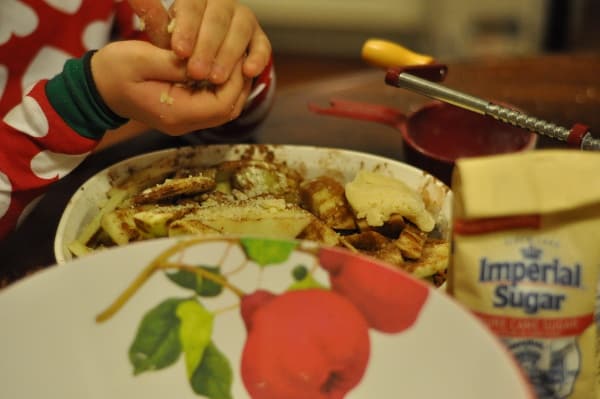 To make the topping, blend together sugar and butter. Add the flour and blend with sugar and butter. Set aside.
To make the filling, in a bowl, slice enough apples to fill your pie plate. Mix together flour, sugar and cinnamon and add to the apples.
Pour apples into the pie plate. (I use a deep Corningware dish.)
Make the topping into meatball sized balls, flatten and lay them across the apples. It does not need to be perfect and the kids can easily do this step. Just cover up all the apples.
Bake at 350º for 45 minutes.
It's easy... and you get to use the
super awesome apple peeler
!