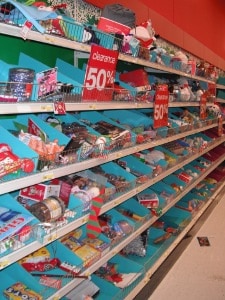 Head over to Target (and Walmart and…) to see what bargains you can get. As of yesterday, Target was still at 50% off, but it will so go to 75% off, and then 90%.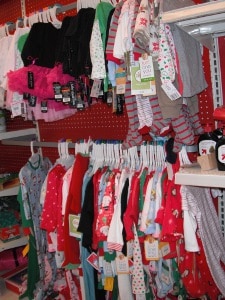 There is a lot of wrapping paper, lights, stocking stuffers and kid's pajamas. Be sure to also look around the store for other bargains. Most gift packages or "seasonal" items will also be on sale.
Yesterday we found a lot of Dunkin Donuts coffee for 50% off at $3.98. In the food aisle you can also find seasonal Goldfish and several cookies for 50% off. Look in the kid section for clothes and pajamas. Also look for Santa themed diapers and gift boxes with baby wash. In the beauty/personal care section, look for gift boxes with Olay, Burts Bees and more.
Many items are not marked as being on sale, but will ring up at a discounted price.  Just find a seasonal item, scan it, and see if you have a bargain!