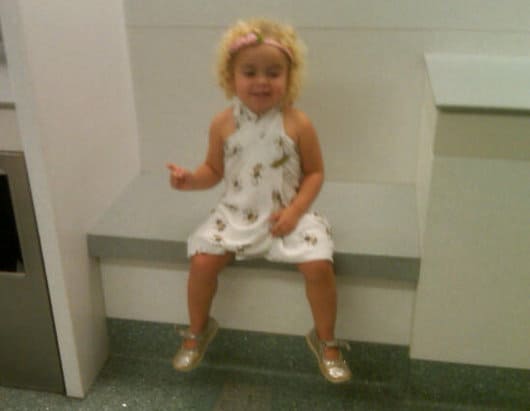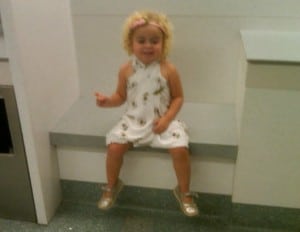 My posts are a little delayed because I'm on a whirlwind trip. Yesterday the kids and I flew from Texas to New York to see Grandma and Grandpa. Today I'll take off for a business trip to Asia.
The trip yesterday went very well, especially considering I had James strapped to my chest, Brooke in a stroller and Joe walking beside me. The one glitch was Brooke and the spilled apple juice.
On the first flight to Chicago, Brooke spilled her entire cup down her shirt and into her lap. And then cried. A lot.
I handed off Baby to a nice looking stranger and cleaned up my girl. I realized that James had 6 outfits in my carry-on bag, but nothing for Brooke.
Having only new undies and the Aden + Anais Swaddle Blanket
(which is the best baby blanket ever), I made Brooke a little sarong dress. I wrapped it up and around her neck and used her brand new United wings to pin it closed.
Brooke thought she looked pretty darn good in her long dress and thought I should also get one with monkeys on it.