Address: 2111 Norfolk (Near Shepherd and Richmond), Houston, TX 77098
Our Review:   Star Pizza is a funky hole in the wall restaurant. When we went at 12:30 on a Friday, it was packed, but we found a spot to sit in the back. It's location, between two one way streets, makes it somewhat tricky to just "happen across". That said, we found the signs and arrows helpful and pulled in with no problem.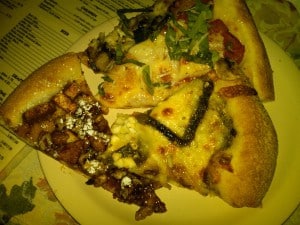 The restaurant is casual and kids are welcome. Weekdays from 11:00 - 2:00, there is a salad and pizza buffet. I got this for $8.95 and was happy to find all the fancy pizzas listed in the
menu
. The salad bar also had spinach, romaine, a variety of veggies, dressing and toppings. My favorite thing was probably dessert pizza with apples, nuts and cinnamon (but that's no surprise).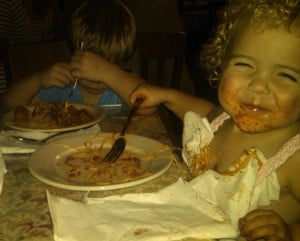 My kids shared the spaghetti and meatball kids meal for $5.50. They devoured it and left they own mark on the restaurant table. (Spaghetti is a finger food, right?) Good thing the restaurant is casual enough not too care to much about a little marinara sauce.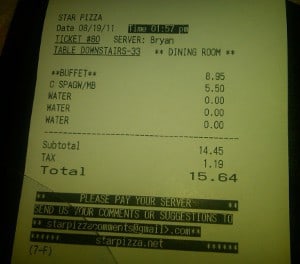 Overall, our bill was $15.64 and I became a fan of Star Pizza. They deliver for free, so I see some more gourmet pizza in our near future.