Address: 1601 West Main Street, Houston, Texas 77006
Hours: Tuesday – Saturday, 6:00 – 10:00 pm
Cost: Reasonable to Expensive
Appropriate Age: Any age… but mostly adults are dining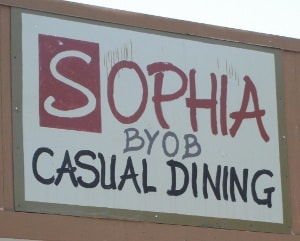 Our Review: Sophia is located in a quiet Montrose neighborhood right near the Menil. It is in the old Cafe Artist coffee house building at the corner of West Main and Mandell.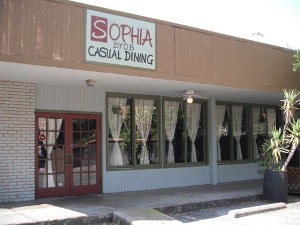 I have always thought that Sophia was a little confusing. It has a beat up old store front, cinder block interior walls and fine food on the menu. When it first opened, I went and felt like I was eating really good food in a gymnasium. That said, I have been watching it for years and the parking lot is always full.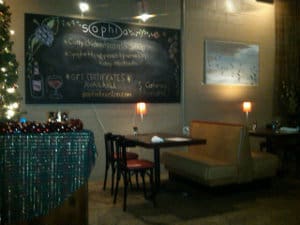 My husband and I went back on a week night recently. Sophia does have high chairs and a few items for the kids (cheese pizza and spaghetti), but since the restaurant can be quiet, we decided to go on our own. Of course, the place is casual enough for a messy kid… and it's not your fault if their little voice bounces off the cinder block wall.
We were able to walk in and be seated without a reservation. Our waiter told us that on Friday and Saturday, it is best to call ahead. The restaurant is small and one big group could fill the room easily.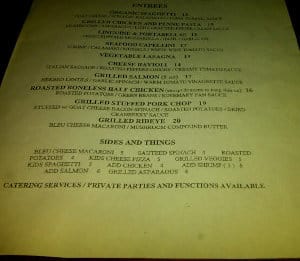 The menu is limited, but there are still many options and daily specials. We ordered the house salad ($3 with entree), curry chicken and potato soup ($6), chicken pesto pizza ($9) and grilled salmon ($17). We were impressed wit the $3 salad. It had mixed greens, several vegetables and light dressing. I did not even know you could make curry soup, but now I am a fan.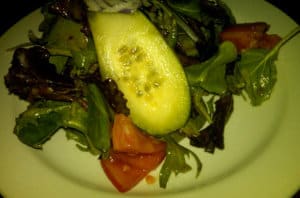 The entrees arrived very quickly and looked great. My pizza was very good and reasonably priced. My only complaint was that it was not sliced for me, so I did my best to mangle it with a butter knife. The salmon was prepared well and tasted good. It came with lentils and stewed tomatoes. We prefer less "stuff" on fish, but that's our preference and no fault of the restaurant.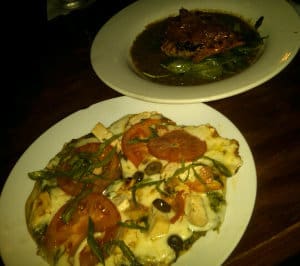 Sophia is BYOB. For $5, Sophia will open your bottle and provide everything you need. Some people like this and some do not. My feeling is that if you like to drink wine with dinner, it is more economical to buy your own bottle and spend $5 on the corking fee than to buy a bottle from a restaurant.   It also assures that you get the wine you want with dinner.  However, if you do not really care if you drink wine with dinner, you probably prefer to eat dinner at Sophia and head home for drink (and save your $5).  We went with option #2, but a lot of tables went with #1.
Wine or no wine, we were happy with our dinner.  Throughout dinner, our waiter was very attentive and the restaurant owner was busy keeping the restaurant in order.  It was interesting how the mood of the restaurant morphed as the night went on.  At 6:00 it was very quiet and formal.  As a large party arrived it became more lively and exciting.  This is one fun feature of the small and open restaurant.
The best part about our dinner was the bill. Our total came to $41.14 ($3 x 2 for salad + $6 for soup + $9 for pizza + $17 for salmon + tax). I had a Restaurant.com voucher, which Sophia accepted with no concern, for $25 which I had purchased for $2. When the voucher was subtracted, we paid only $16.14 plus tip. Since the voucher cost my $2, our dinner for two cost $18.14 plus tip.
After this latest visit, I have to say that as confused as she is, Sophia has won me back. It is a small restaurant, providing fine food to a fine neighborhood in a building as quirky as Montrose. The food was good, the waiter was attentive and the owner was busy working as we enjoyed our dinner. I plan to go back again, and bring along my kids.